Most brides have an idea of what they want their wedding dress to look like, but have you ever considered wedding dress colors?  Of course a lot of brides go with the traditional white bridal gown, but there are so many other options available from ivory to champagne to non-traditional colors such as pink or aqua.
So how do you choose wedding dress colors? There are many factors to take into consideration such as your complexion, the color of your wedding, the season and so forth. As well, you want to choose a color that is indeed one of your favorites since it is after all, your wedding gown! We have compiled some tips from bridal gown experts on how to choose your wedding dress color.
How To Choose The Right Wedding Dress Colors
Source: Gem Harris Photography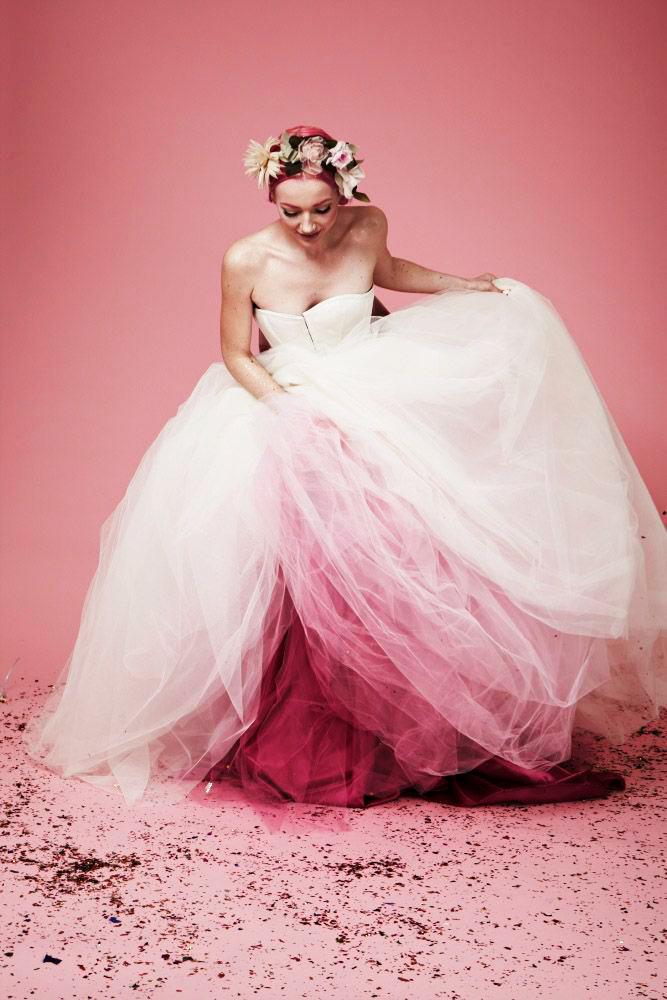 Theme
Your wedding dress style and color should fit the theme of your wedding. If you are having a fall wedding, you certainly don't want to wear a pastel pink mini dress. As well, if you have a beach themed wedding, you don't want to wear a dark blue ball gown. Make sure that your theme and the color of your wedding dress coincide to a reasonable degree.
Season
You should definitely consider the season in which you are getting married when thinking about the wedding dress colors. Your bridal gown coincides with that time of year you are holding your wedding.
For a summer wedding, you will want to opt for a gown in a rich, dark color such as emerald green, dark sapphire blue, ruby red, deep pink, yellow, orange and so forth.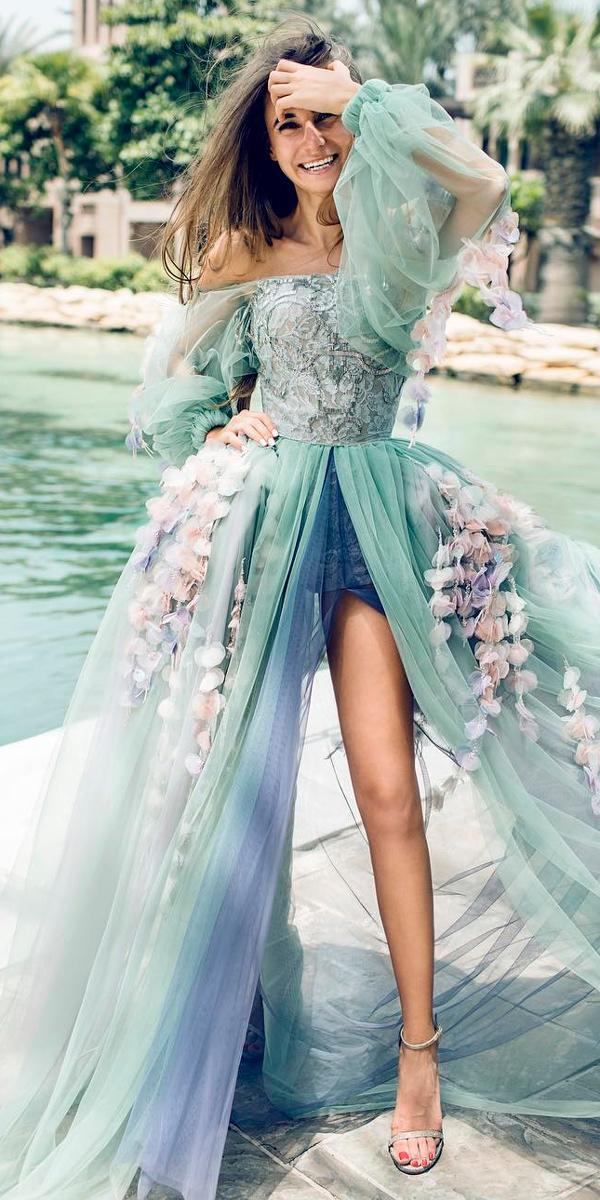 For a fall wedding you can choose from warm and earthy fall wedding dress colors such as orange, yellow, red, brown or so forth.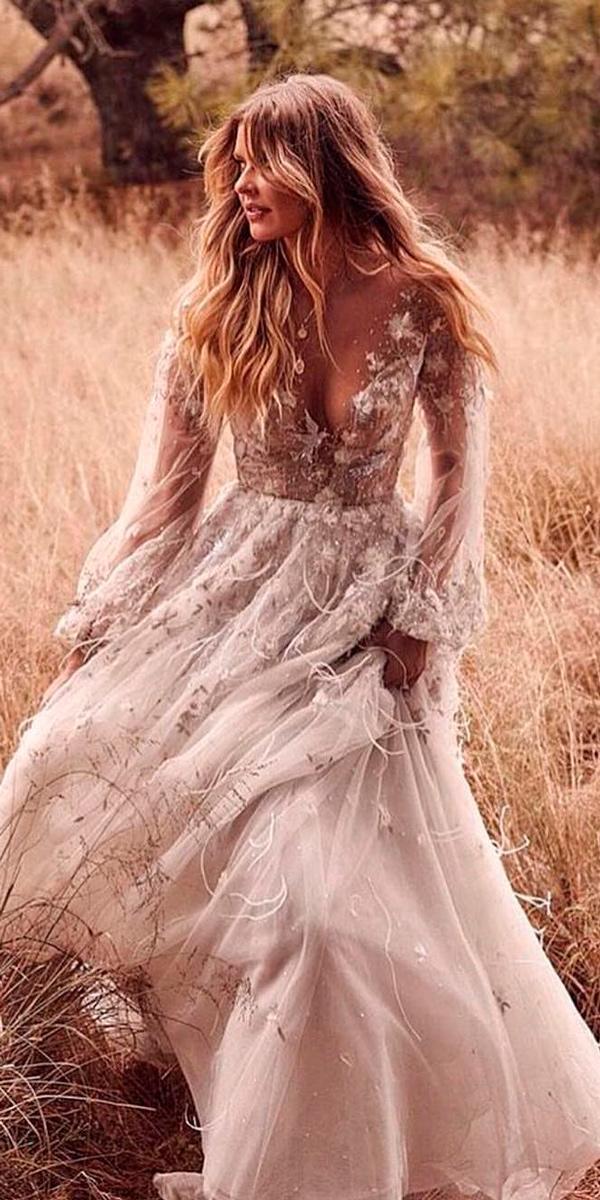 If your wedding is in the winter months, you can select a gown in bright holiday colors such as red, green, ivory, champagne or traditional white.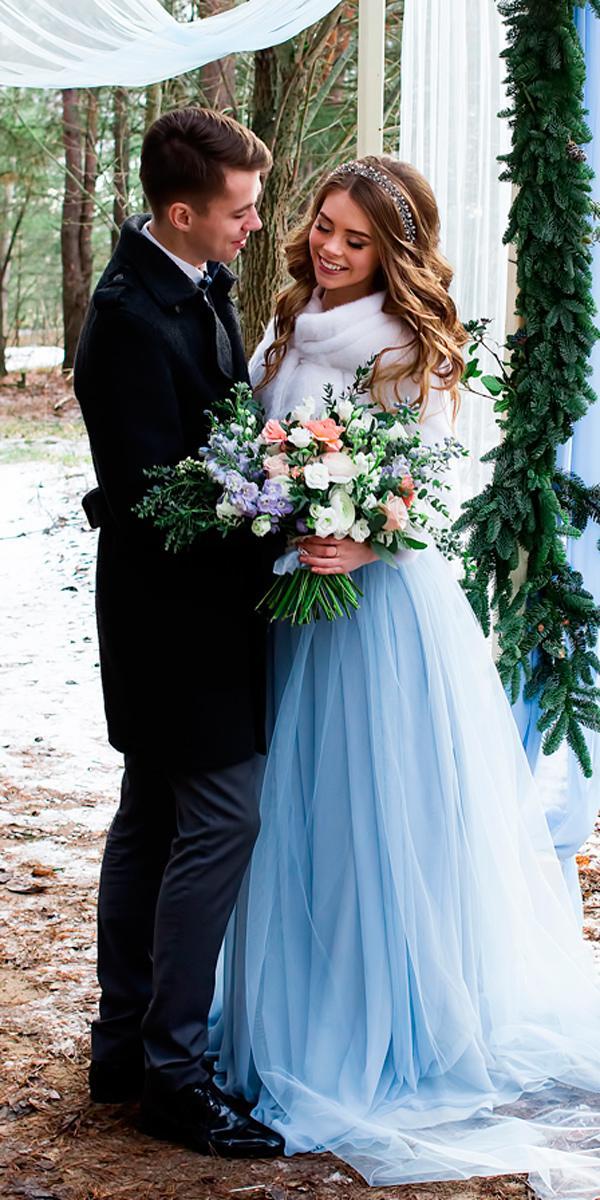 For a spring wedding you can choose a pretty pastel gown in mint green, baby pink, baby blue, sky blue, lilac or mint green.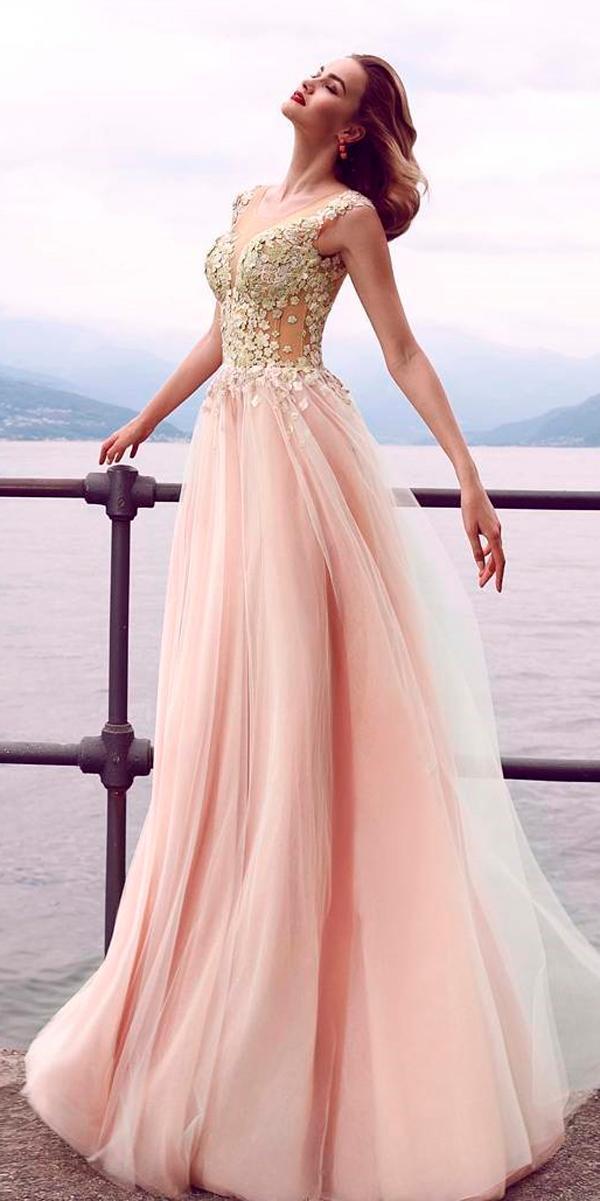 Venue
Consider the color palette of your venue for the carpets to the drapes to the walls and so forth? Are they light and natural or bright and vibrant? If the venue has an explosion of color and the gown does not fit the color scheme, it can draw attention away from the bride
Mood
The color of your gown can help set the mood for your wedding. If you want a romantic wedding, choose soft colors such as pastels. If you are going for a more dramatic vibe, then opt for dark or jewel tones.
Complexion, Eye Color and Hair Color
You probably know by know what colors work on you. You want to choose a gown that will suite your eyes, hair and skin tone. You don't want to look pale or washed out. If you are still unsure of what colors are most flattering for you, you can always ask your bridal consultant for assistance. They have a lot of experience so they will be able to help you find the color that works best for you.
Choosing Your Color Palette For Your Wedding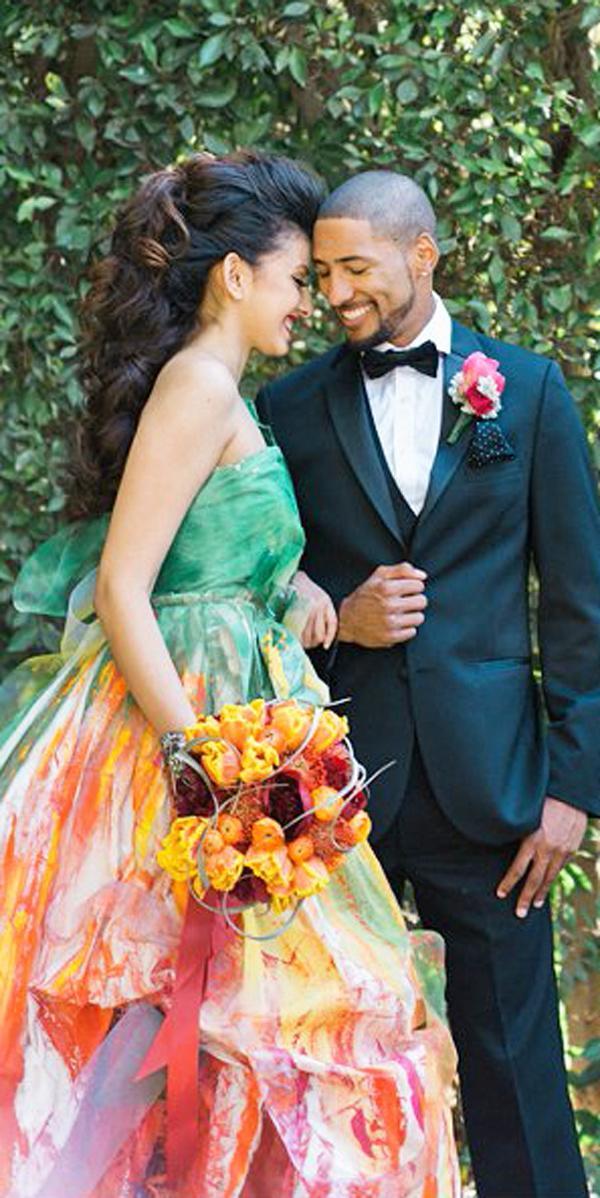 Colors have a way of evoking certain emotions as well as expressing certain feelings. Say you are a passionate person; you can choose a fiery red as red is associated with passion and excitement. Or if you are hopeless romantic champagne, ivory, softy pinks and other pastels will work. For those who are traditional whites, blacks and neutral tones are classy. For those who are cheerful and outgoing, think bright shades of yellows, vibrant pinks or oranges. If you're a subbed person, earthy tones like blues and greens will suite you.  Let the color of your wedding dress express your true personality.
Think about what colors you are naturally drawn to. Then work with those colors to find a combination that fits the above criteria (your theme, venue, etc). Use these colors to form your color pallet for your wedding. Next, you would choose two of these colors to be your theme colors or leading colors. Then you can base your dress based on one of these colors, of course making sure that it also is a color that will be flattering on you as well.
 Additional Tips
Here are some extra tips to keep in mind when choosing the color of your wedding gown:
Choose your main color and then mix and match your accessories.

If you want a white dress, don't be afraid to add a pop of color such as a sash, ribbon or colorful floral accent.

If you don't want a white gown, but do not want to go over the top, you can opt for an ivory, cream colored, champagne or soft pink gown.

If your wedding theme and decor consists of a lot of color, keep your dress simple.

If you have a wild side and are willing to take a chance and express it, then go for it. It is

your

wedding after all!

Don't let anyone else influence you. You can ask for advice, but stay true to yourself!
There you have it! Some simple advice on how to choose the best color for your wedding gown! Have fun playing around with different color pallets and opinions. You will know when you find the color gown that best suits you!