The popularity of blush wedding dresses is picking up steam. So, it's about time that we catch you up on the latest styles and hottest trends. More and more brides are looking for wedding gowns, ceremonies, and receptions that stand out and leave a long lasting impression. A quirky wedding theme is certainly one way to stand out, but blush wedding dresses are a great way to make your mark without completely deviating from traditional wedding expectations, which is an attractive option for many brides. 
Perhaps this is not your first wedding and you are shying away from white. Or, maybe you just want some uniqueness. Either way, a blush wedding dress compliments every skin tone under the sun and offers enough variety to achieve (depending on the choices you make) an elegant, sexy, or down to earth style. 
We've curated 18 of our favorite blush dresses for wedding events that are sure to inspire. Keep scrolling to find the examples you've been searching for.
The delicate details and textured interest of lace is always an attractive option for bridal gowns. A blush lace wedding dress is a unique combination that fits in with traditional and other elegant wedding themes. This combo also has a lot for the camera to love. Expect an overload of confidence and gorgeous wedding album results.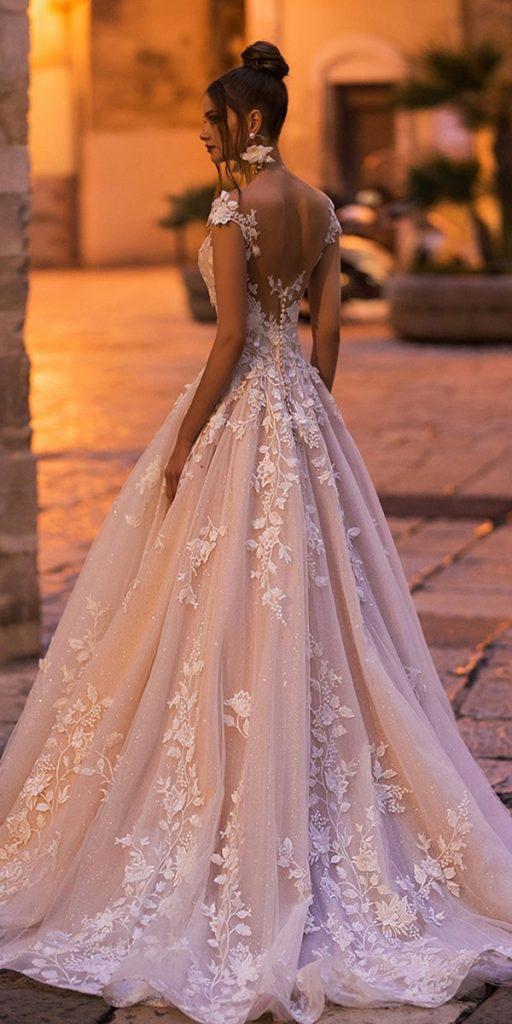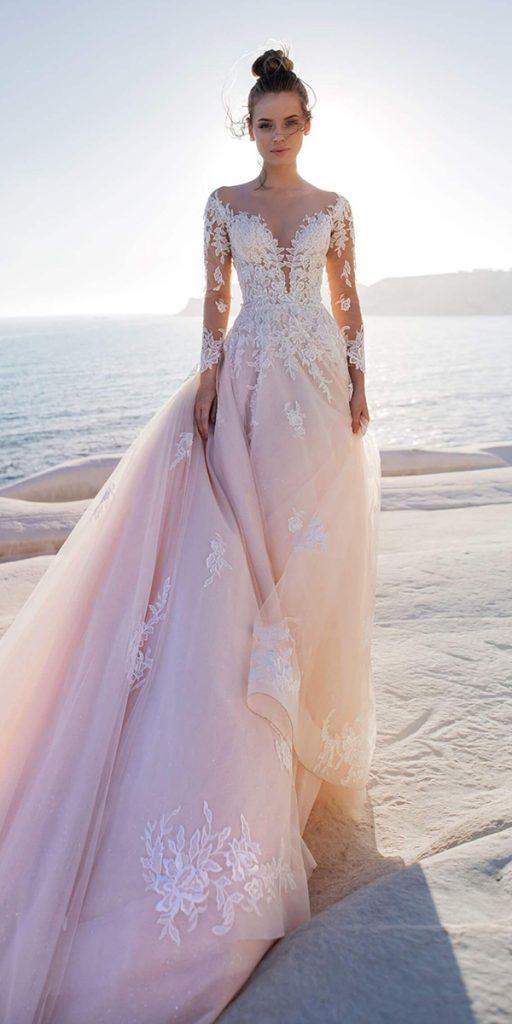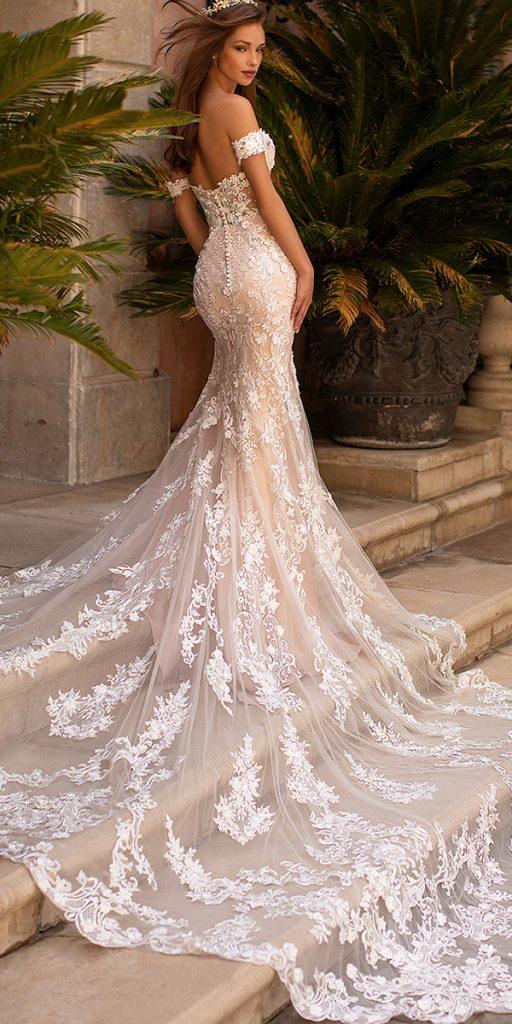 What do you get when you combine the delicate athleticism of a ballerina and the timeless beauty of a fairytale princess? That's right, brides draped in pink tulle wedding dresses. This look performs equally indoors and outdoors, but we prefer the contrast that brick and cobblestone venues provide to the overall vibe. Ruching tulle will provide a more form fitting structure if you're not into the glowing airiness style.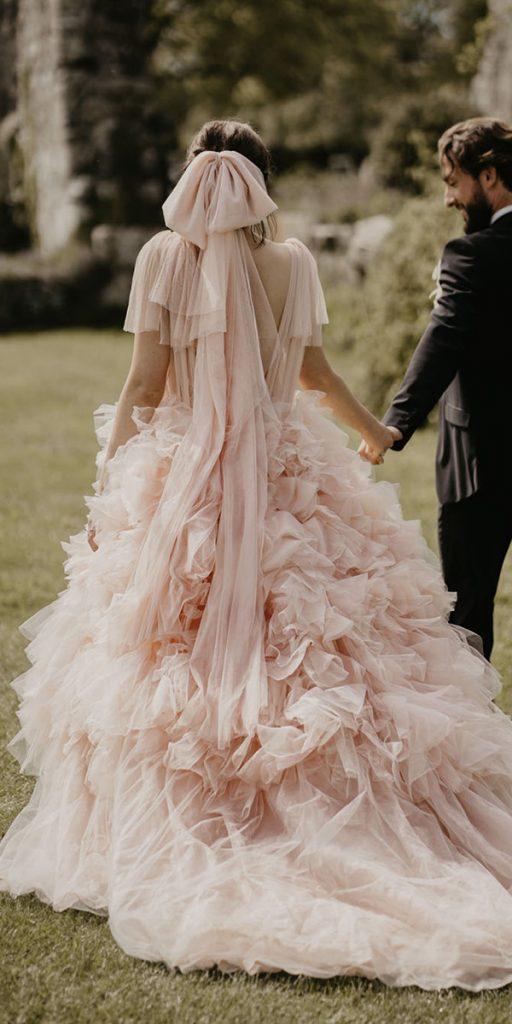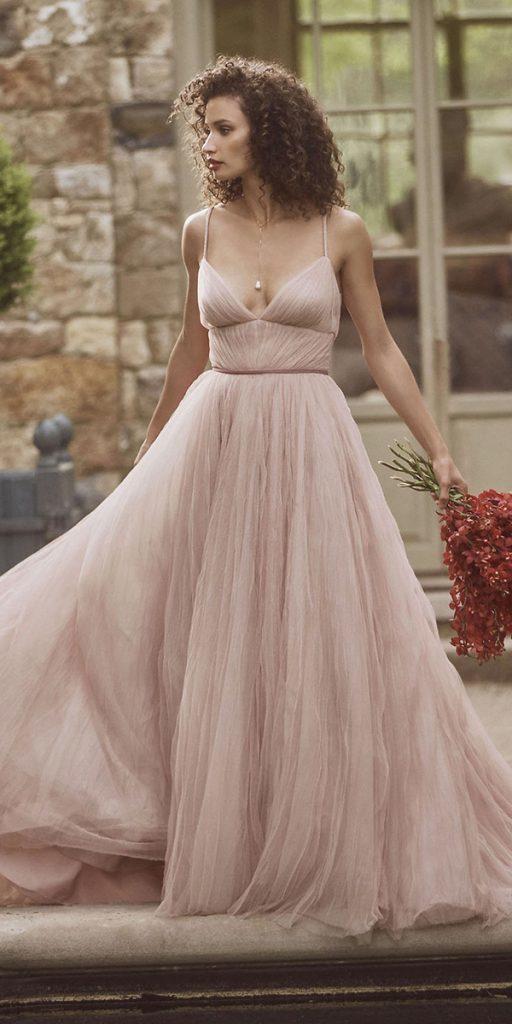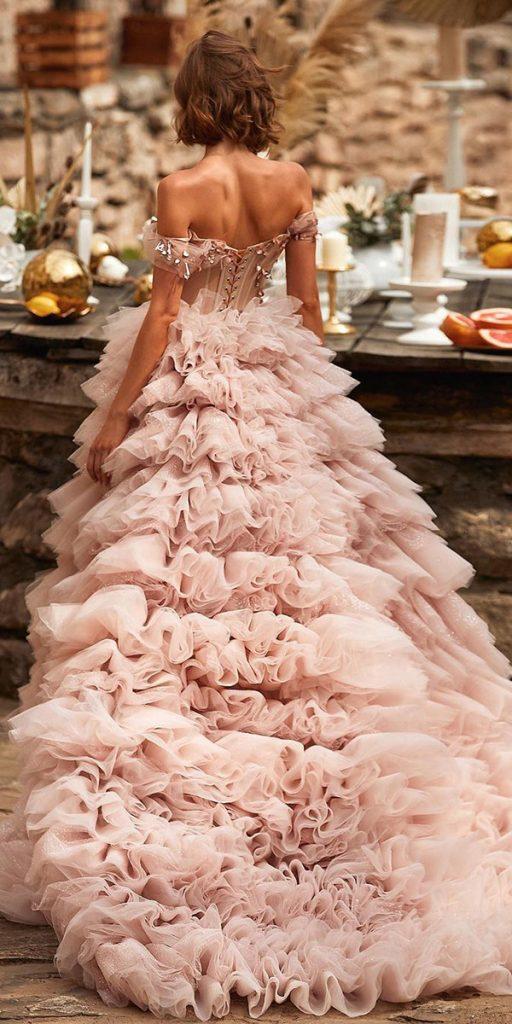 For a more romantic, sensual appeal, consider the off the shoulder wedding gown style. The wonderful thing about this blush wedding dress option is that you can choose any silhouette you want and still make it your own by showing a little extra skin. From form-fitting A-lines to sexy and whimsical mermaid frames, this is a look you can wear all year around.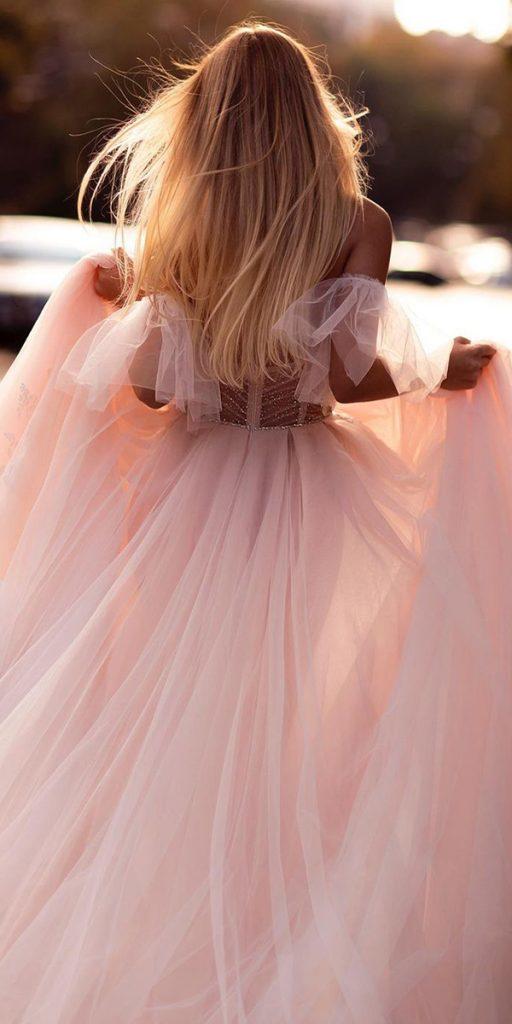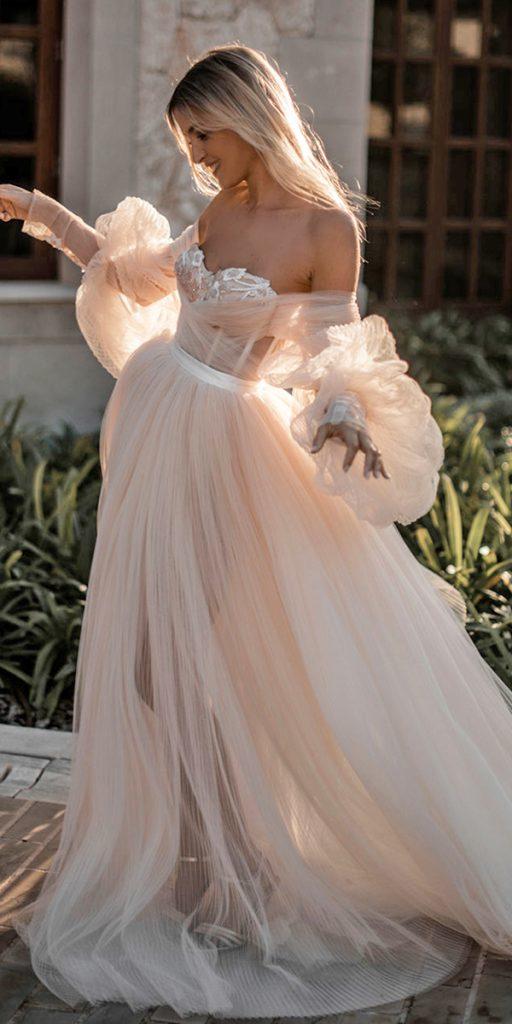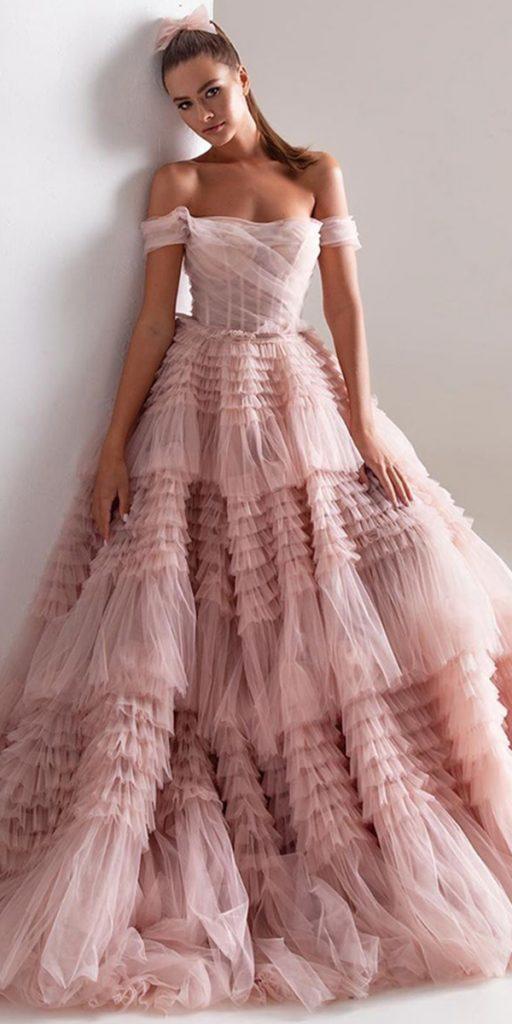 What color goes with blush wedding dress?
Any neutral color would look lovely next to a blush wedding dress, including black, white, ivory, nude, and mocha. Depending on your color scheme, a darker color can also complement your dress while still helping you to stand out; consider navy, mauve, or eggplant dresses.
Light Blush Wedding Dresses
Light blush wedding dresses are the perfect option for the bride who wants only a modest shift from traditional gowns. This delicate approach to delicate wedding attire looks best in a natural setting such as a springtime garden theme or late-summer rustic wedding. Sunshine and in-season flowers really work their magic and bring out all of the inherent characteristics of light blush gowns as well as the bride.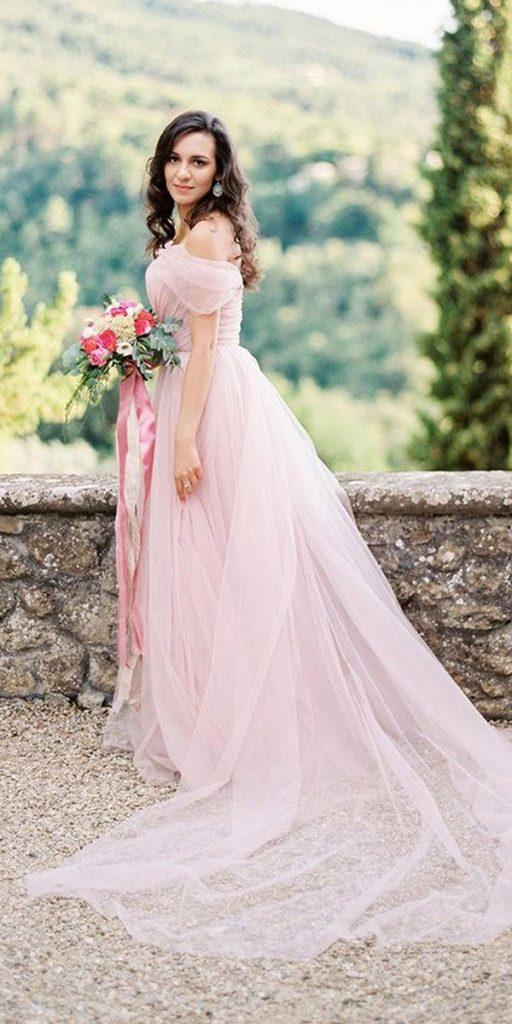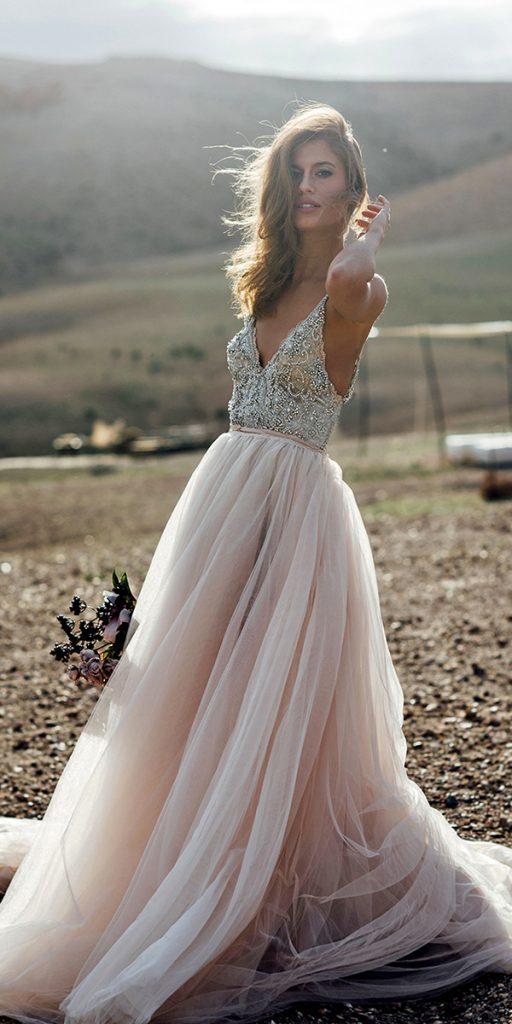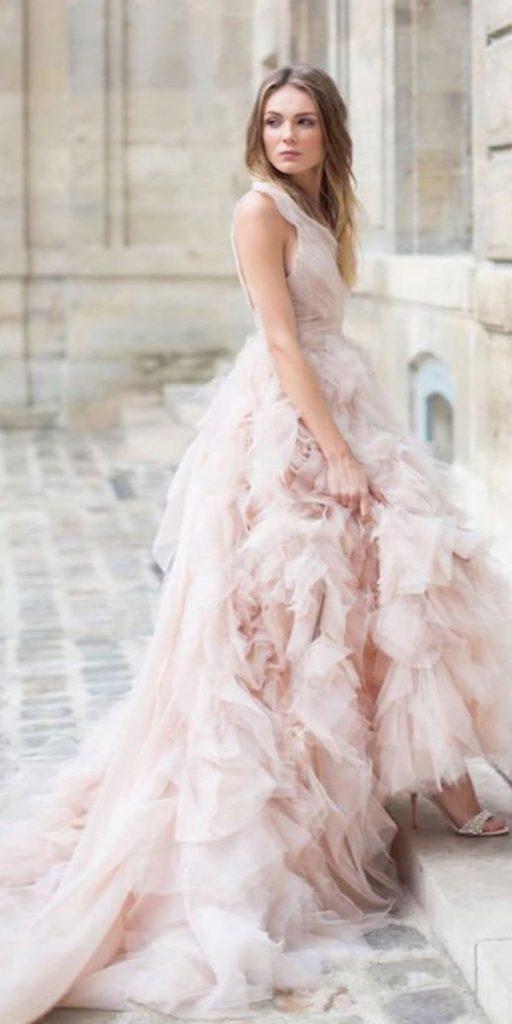 Moving away from the traditional stark white wedding gown with a slight champagne tint produces gorgeously regal results. Champagne is not a specific color. Rather, it's a range of tints that you can pick and choose from until you find the perfect match for your skin tone and wedding theme's color pallet.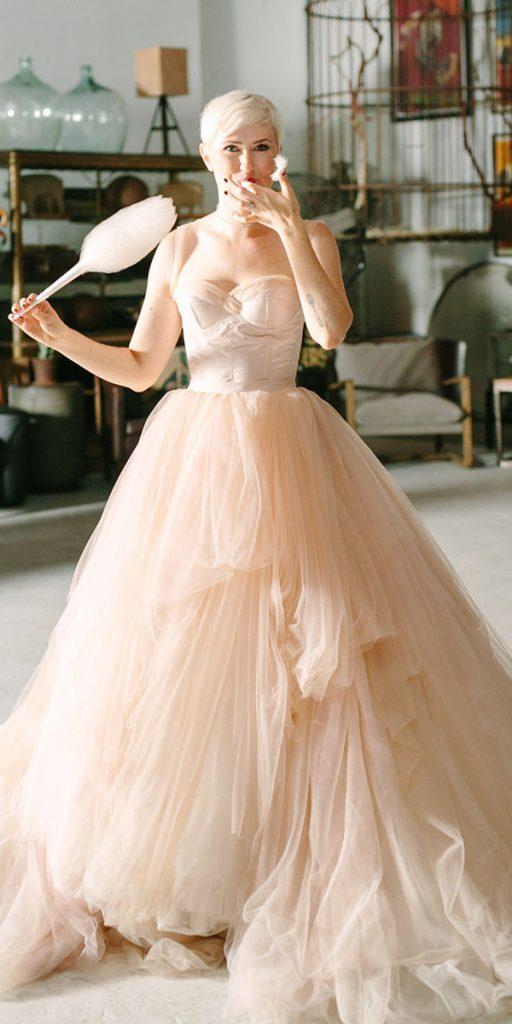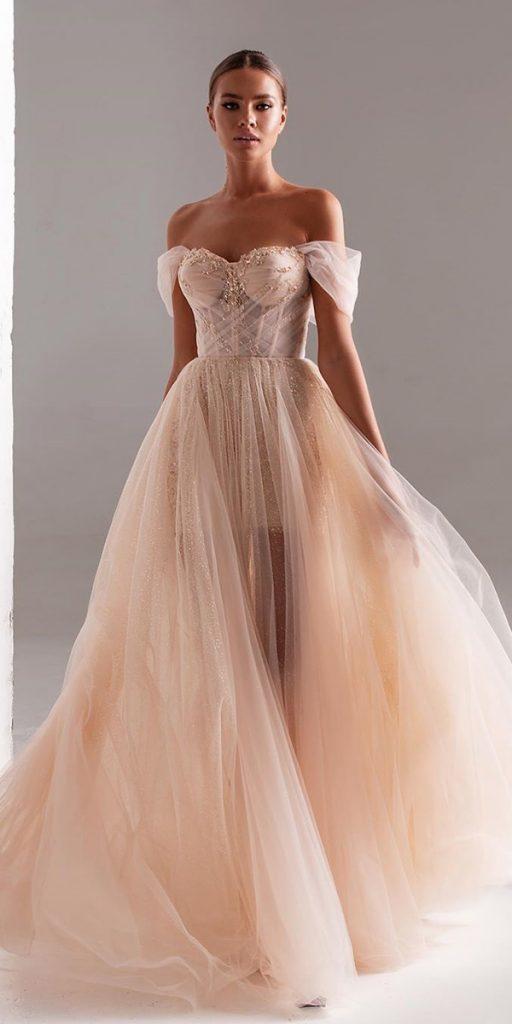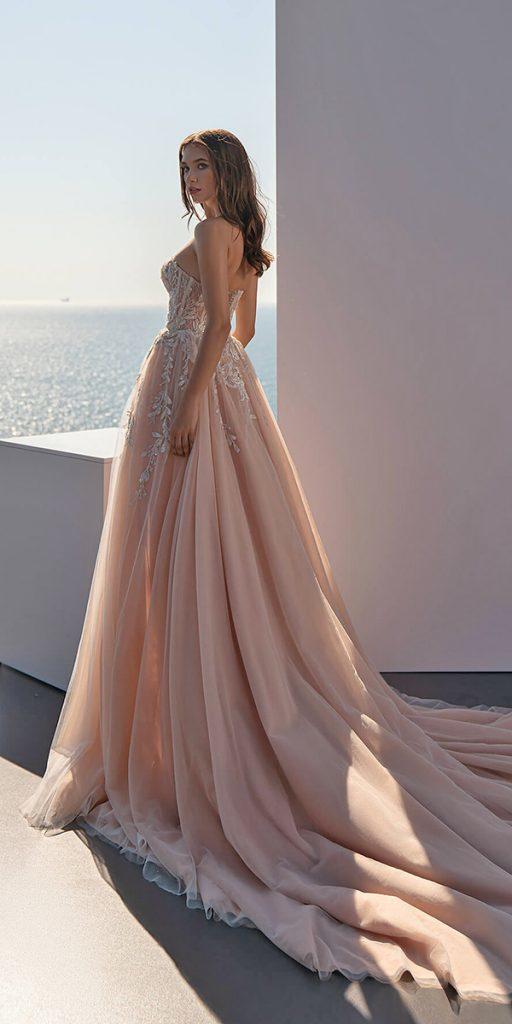 Whether you prefer a dramatic or light blush wedding dress, the variation you choose is certain to result in a unique look that you won't you will be proud of. It's a stunning choice that possesses magical attributes that standard white wedding gowns simply can't compete with. If your goal is romance, femininity, and individuality, this is your look.