Rustic wedding dresses are becoming more popular, as there are a lot of couples who choose barn wedding themes. Its simple, yet classy style appeals to many newlyweds. Natural fabrics, delicate floral design, and intricate lace – all these features make barnyard wedding dresses very popular among brides. They set a more lay-back atmosphere of celebration. Usually, rustic weddings are associated with country style, but they can also have a vintage or bohemian flair.
Like with any wedding, the first thing to consider is the style of the wedding dress. There are so many options that you might feel a little bit overwhelmed. It is always a good idea to limit the options when making such an important choice.
Why don't you start with finding a silhouette that suits you the most? The right rustic wedding gown will flatter your body type and bring out all your best-loved traits. It doesn't matter if you are petite, or plus size, curvy or lean. There is a perfect wedding rustic wedding dress for everyone, just choose wisely.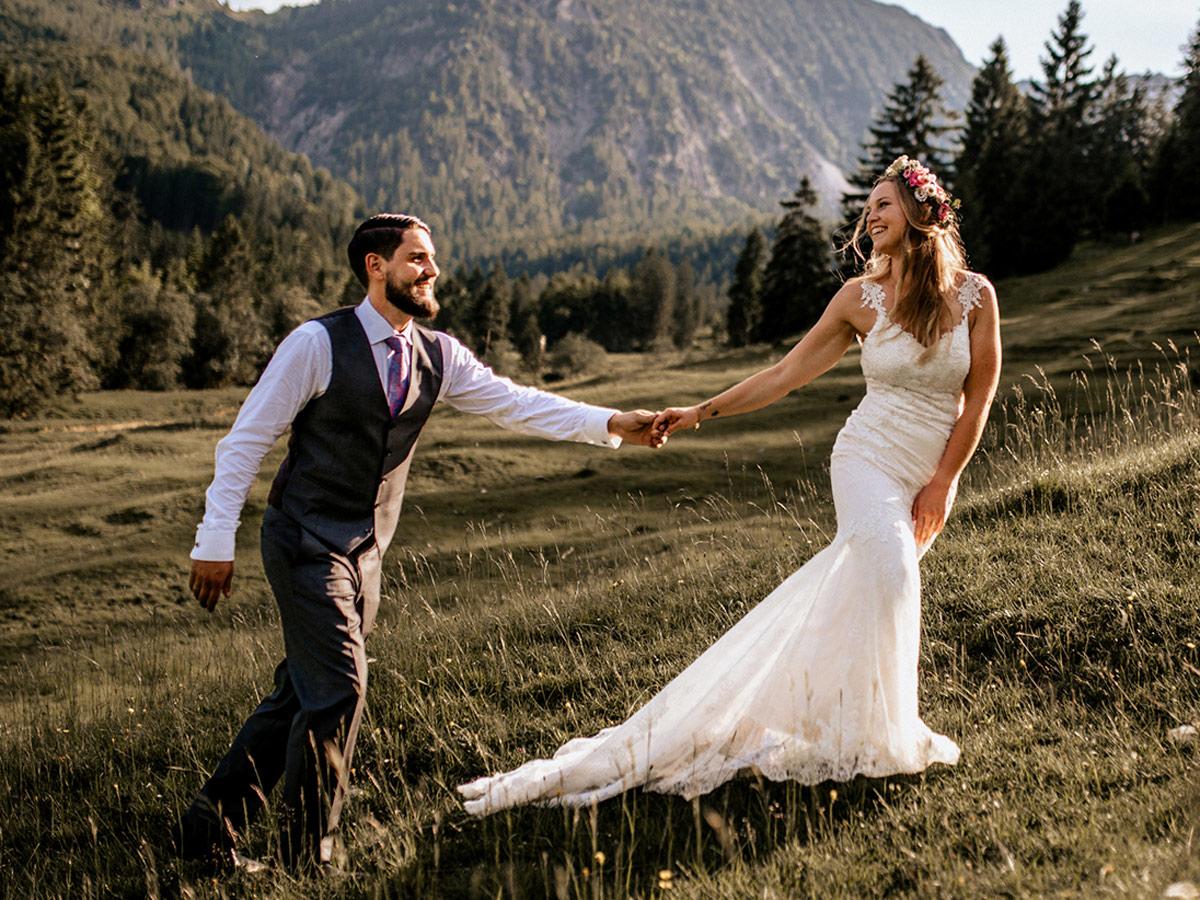 Petite brides should highlight the fragility of their frame by wearing an airy sheath or trumpet-style gown. A simple rustic wedding dress is the best choice for this body type: sometimes more is less. This kind of wedding gown fits perfectly into a rustic styled wedding with its simplicity.
Plus size or busty brides will look lovely in a long A-line rustic-themed wedding dress. An A-line wedding gown would flatter the curves and give you a most feminine look. It would also make easier your equestrian photoshoot, which is so popular at rustic-themed weddings. A square neckline would help you keep everything in place and look sexy, but not too revealing.
Lean and straight brides might want to add some curves – in that case, a more voluminous skirt might be an answer. Ball gown dresses and A-line style rustic wedding dresses would definitely do the trick.
The next step to choosing the perfect dress is the color palette. Think of your wedding gown – would it be a simple white dress? Outdoor venue, wood and moss, flowers, and surrounding nature – all these characteristics influence the choice of the wedding gown.
Choosing the right rustic wedding dress is a very special moment in planning your big event. Don't forget that you need to be picture-perfect on your special day, which means everything is important. You might want to consider some delicate shades for your wedding gown. Surrounded by nature, wood, leaves, and hay brides look simply stunning in champagne or teal rustic wedding dresses.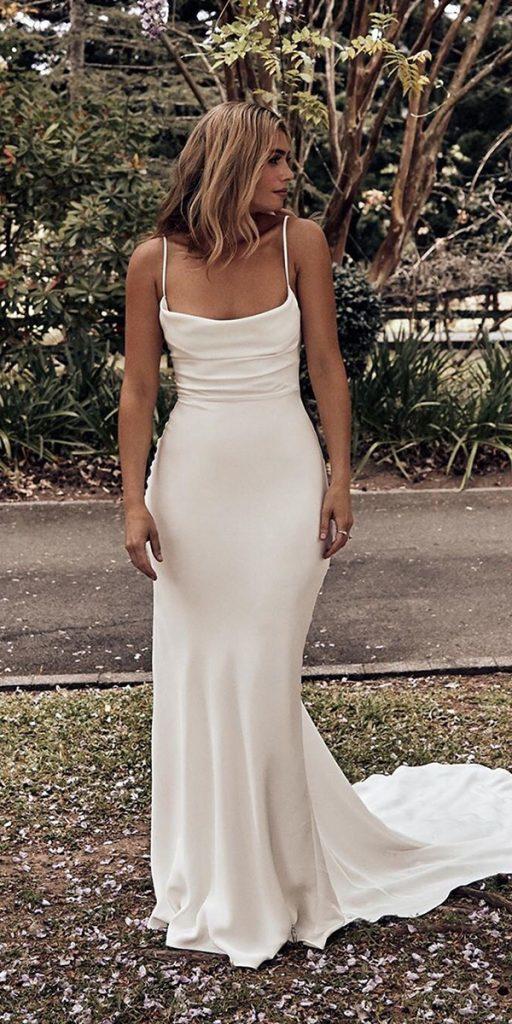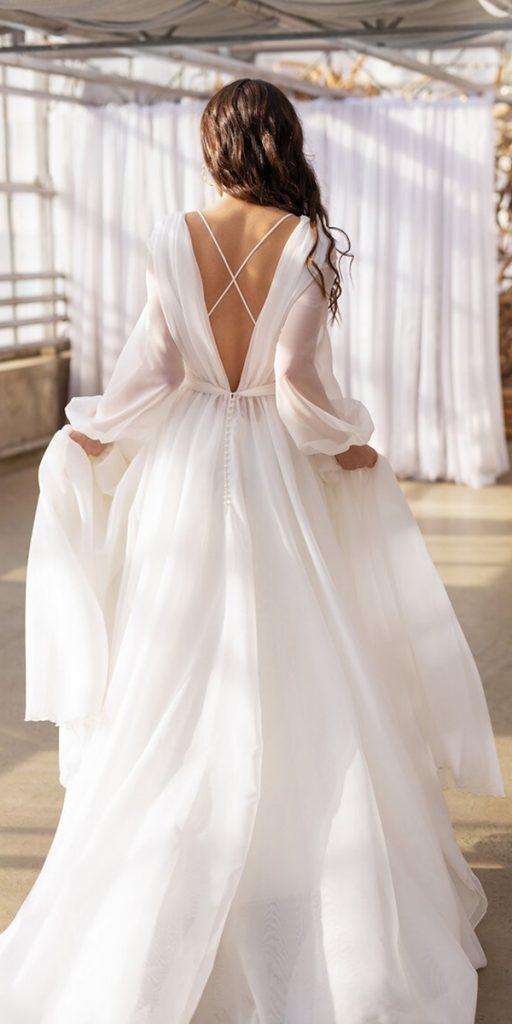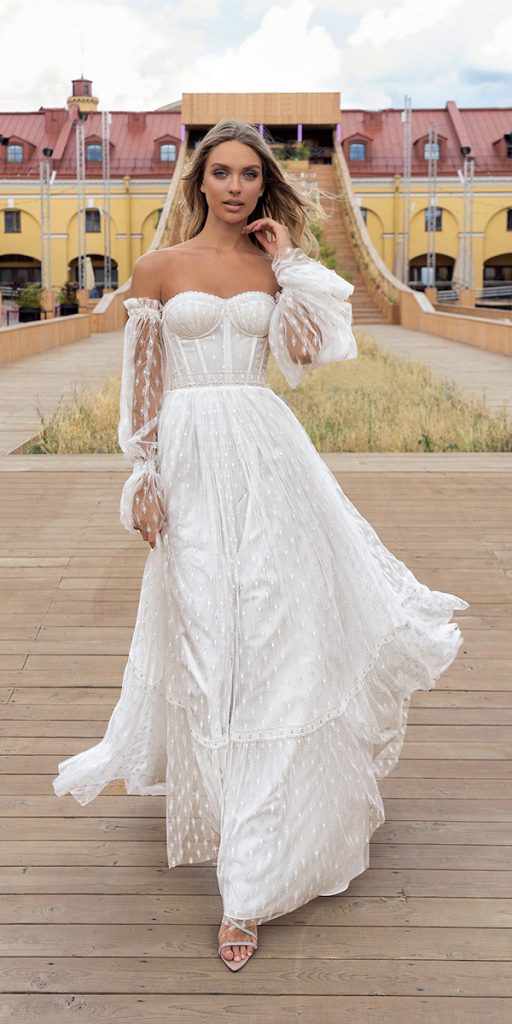 Country style is always in fashion, it is a statement of your true passion for country lifestyle and its traditions. It comes as no surprise that country-style wedding gowns are most popular among other rustic outdoor wedding dresses.
Take a look at these amazing dresses. Any of them will make you look simply stunning on your wedding day. Complete the image with a cowboy hat. Do take a ride with the photographer and your Mr Right across the pastures. There is a reason equestrian photoshoots are so popular.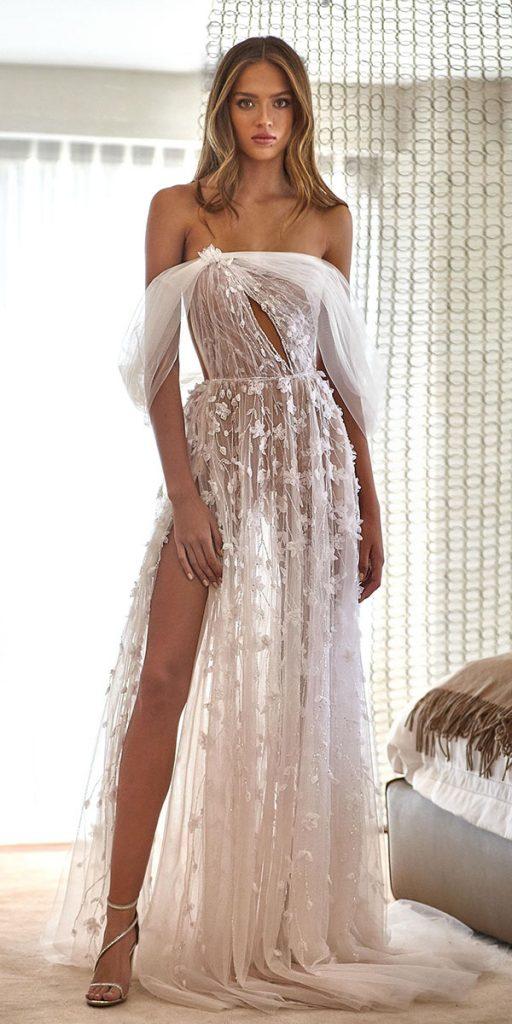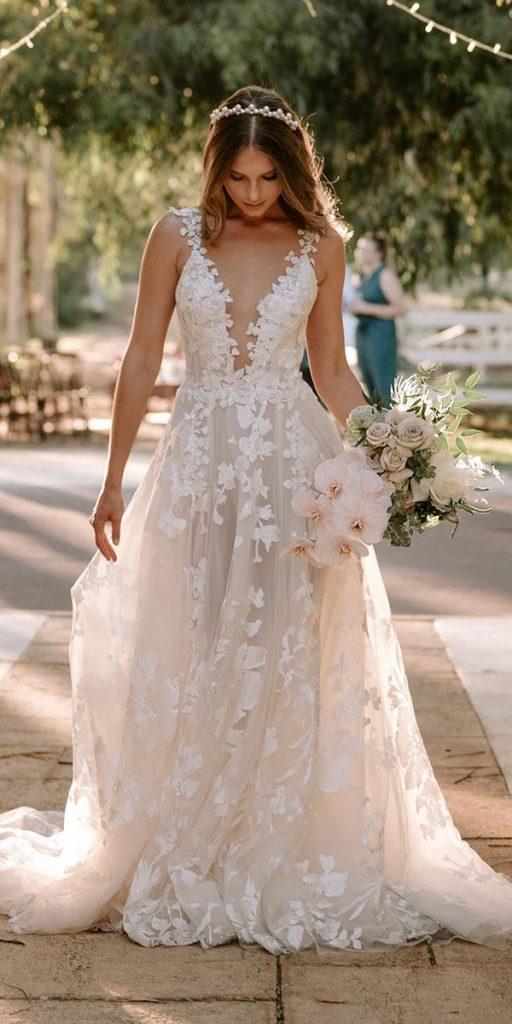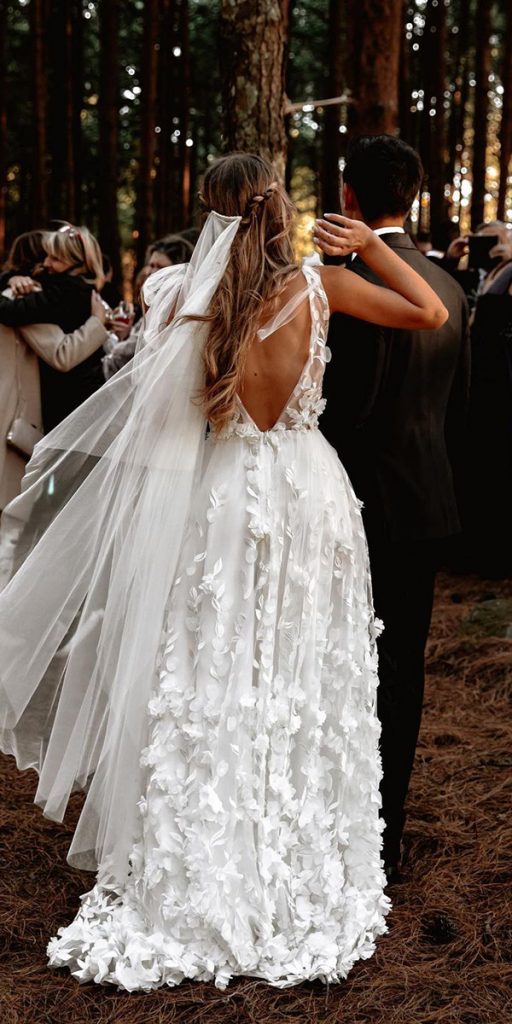 Lace has always been a special feature of wedding fashion.  Rustic lace wedding dresses look magical and romantic. They will enchant you with their simple elegance. Their intricate lace design will add charm to your image.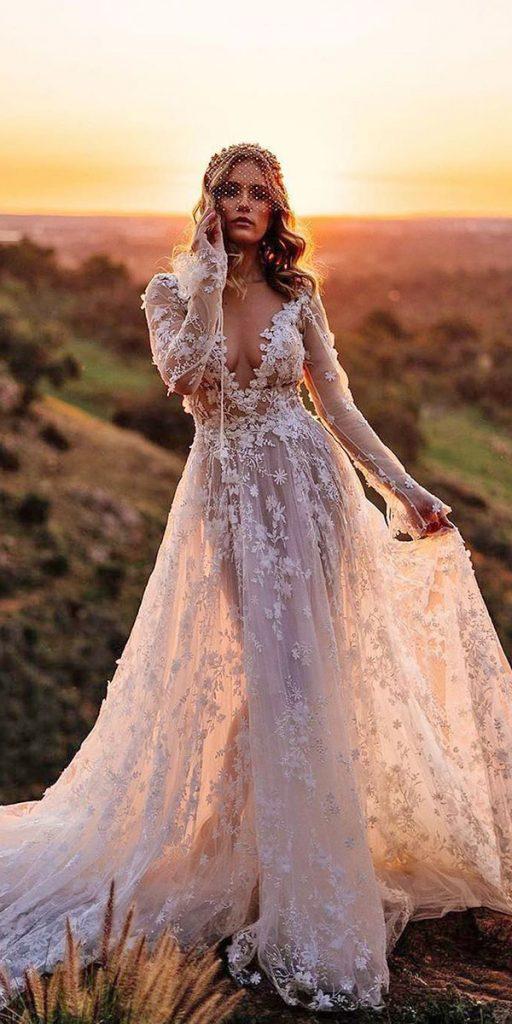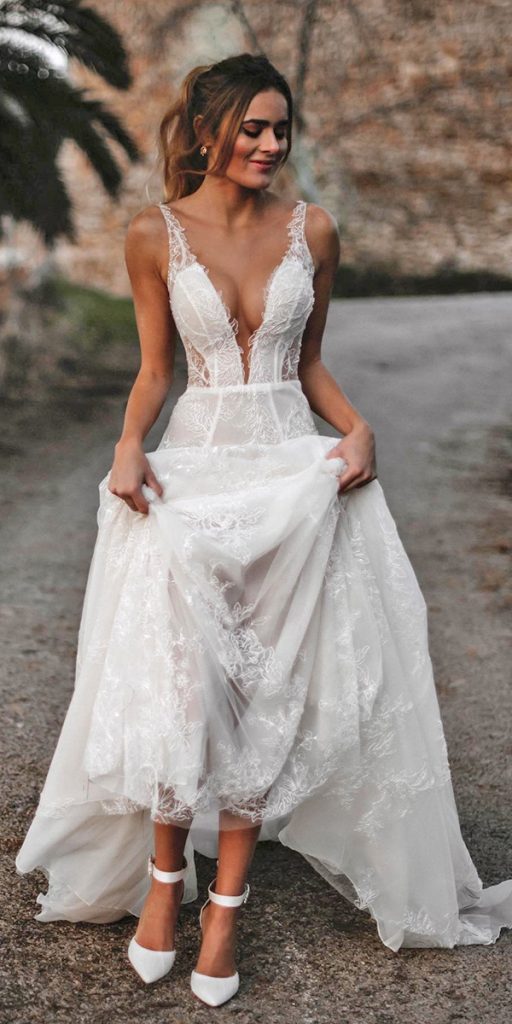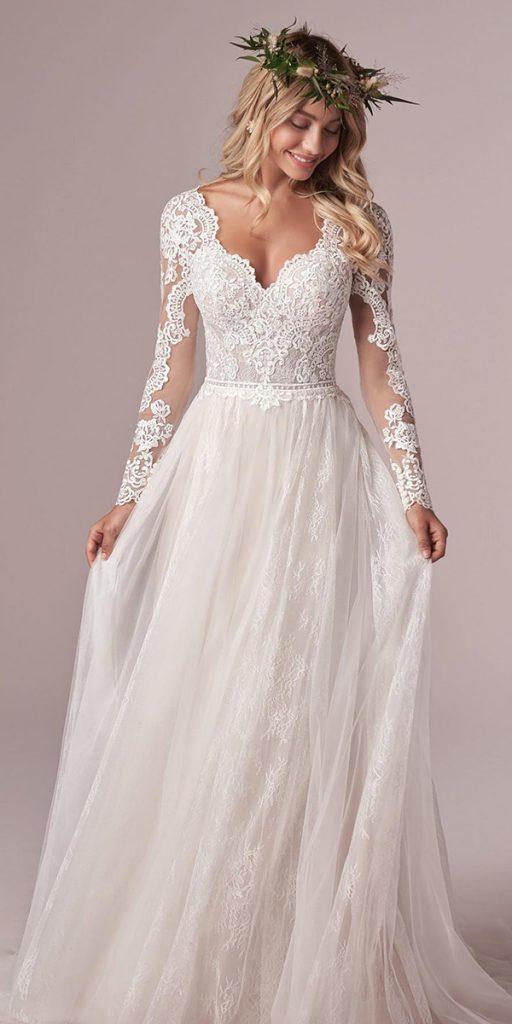 Rustic Bridal Dresses With Sleeves
If your celebration takes place in a cold season, you might consider these gorgeous rustic wedding dresses with sleeves. They will help to keep you warm and make you look more modest and innocent on your special day. It is also quite helpful in case your house of worship has strict rules on clothing. You might also want to choose rustic bridal dresses with sleeves to give your silhouette a more distinctive hourglass shape.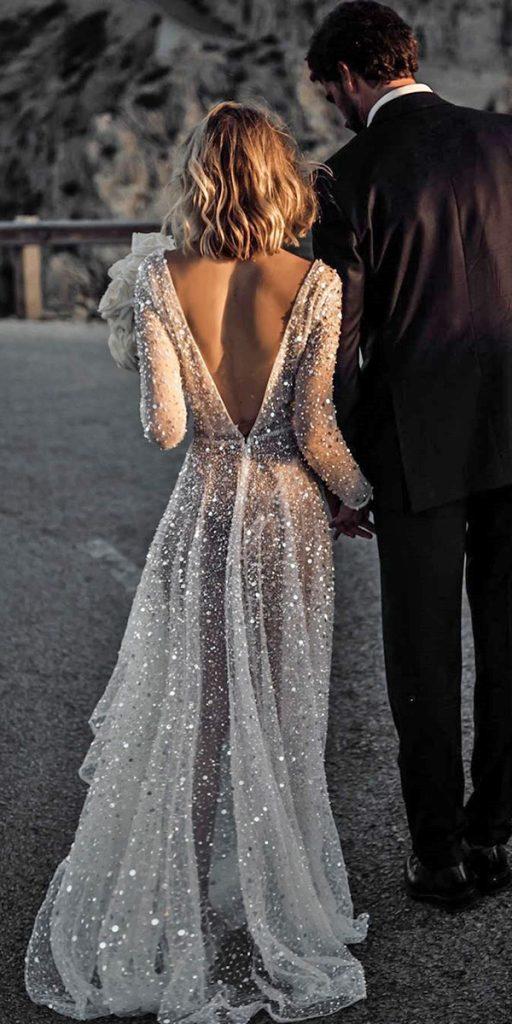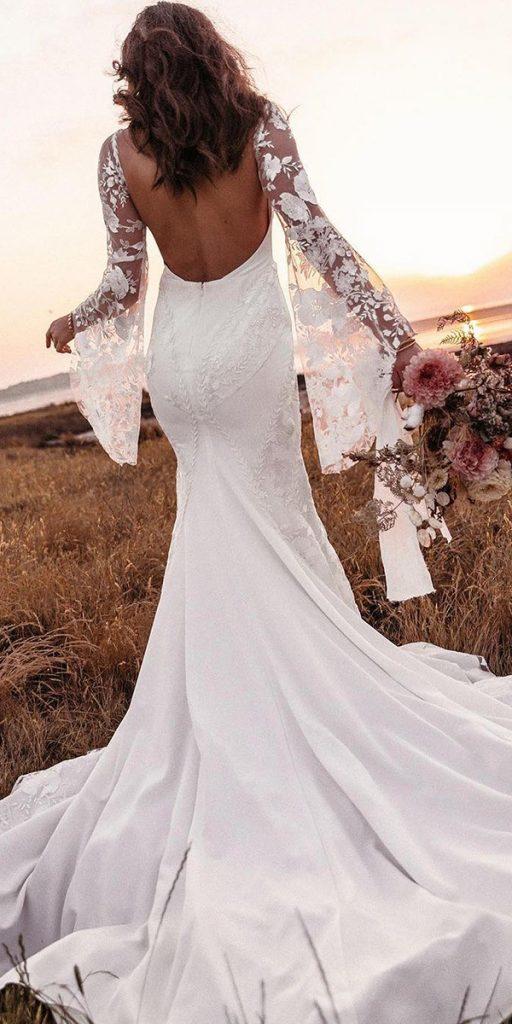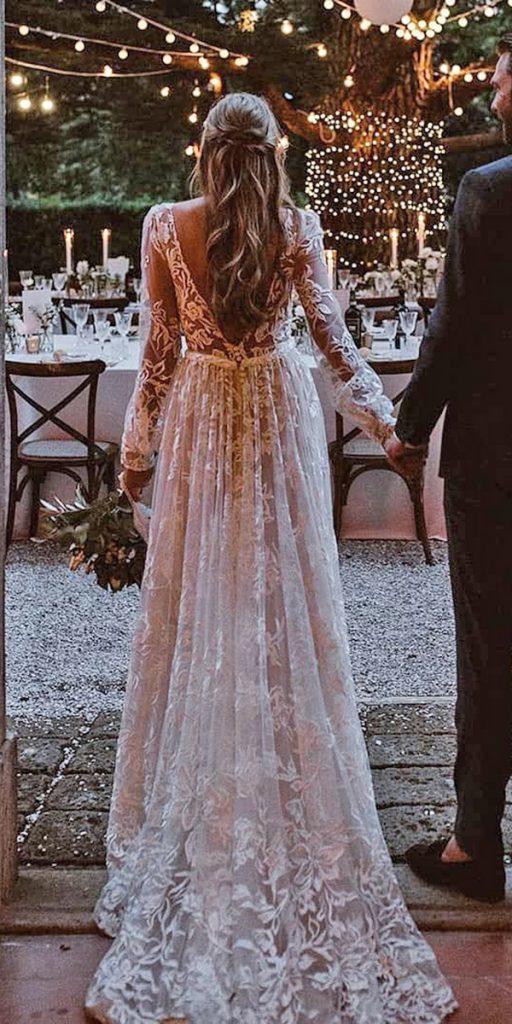 Rustic Vintage Bridal Dresses
'Something old, something new…' – well, there is a trend that never gets old. What can be better to complete the image of the good old days than a rustic vintage wedding dress? Get a vintage car to go with it in the photos and nail that look!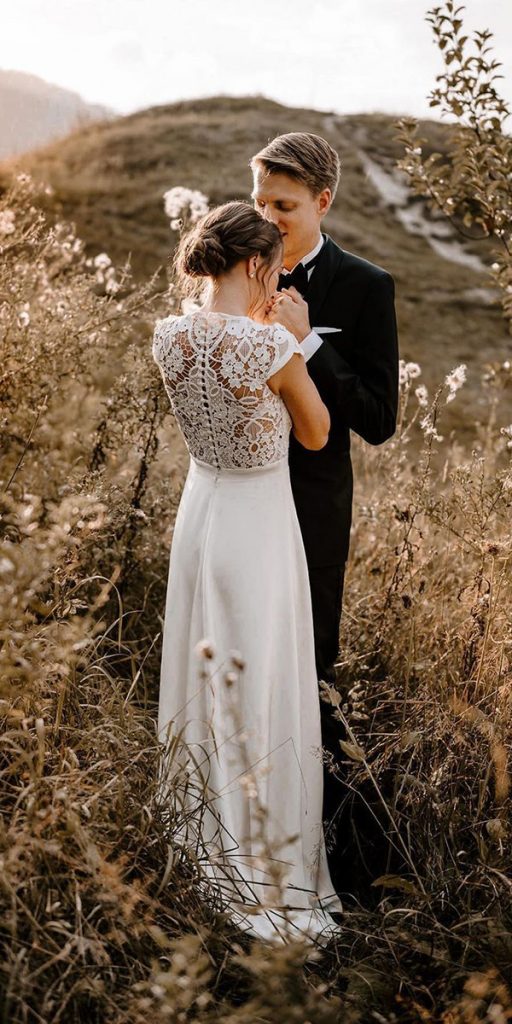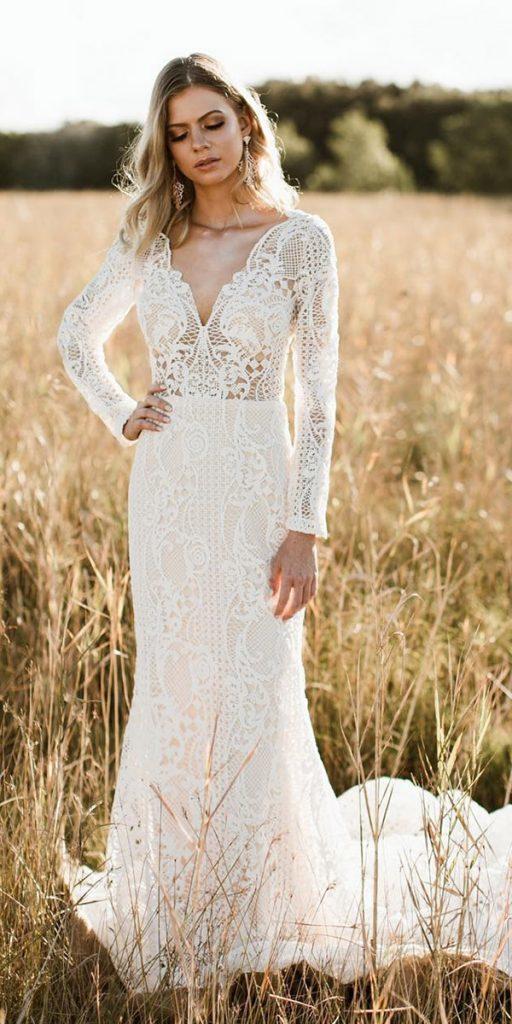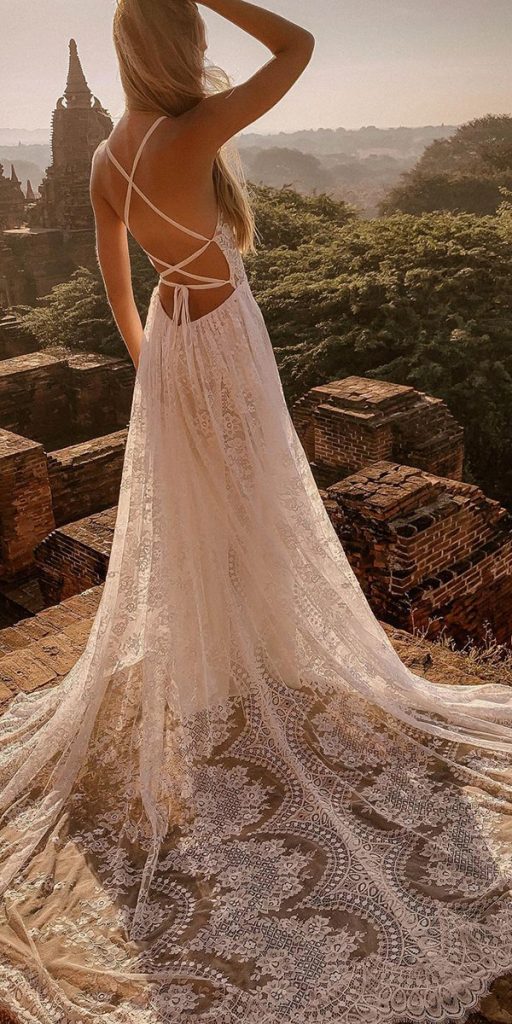 Though rustic wedding dresses are often simple, they certainly have their own unique style and chic. Rustic chic wedding dresses with their airy look and a flattering silhouette are the very icon of womanliness. They look complimentary to almost everyone and give your image a rustic yet glamorous vibe.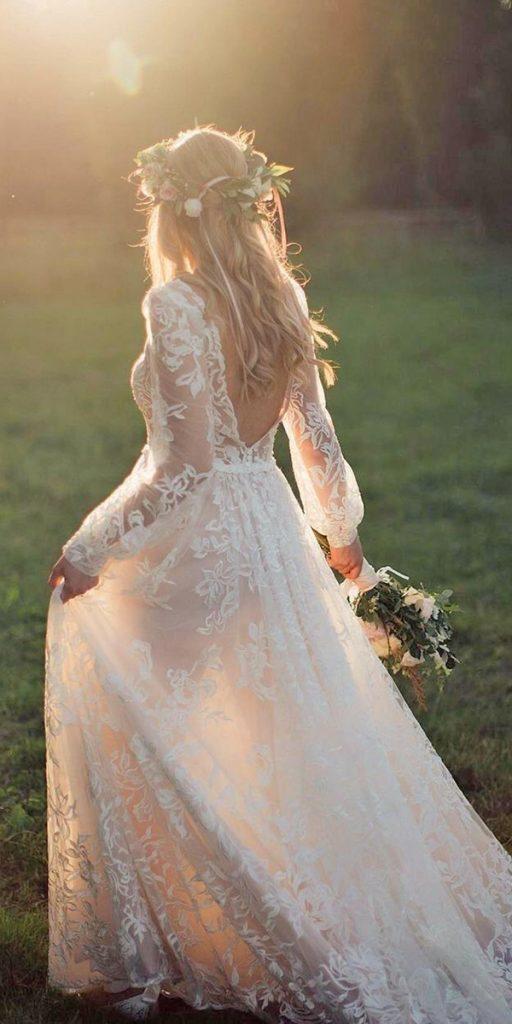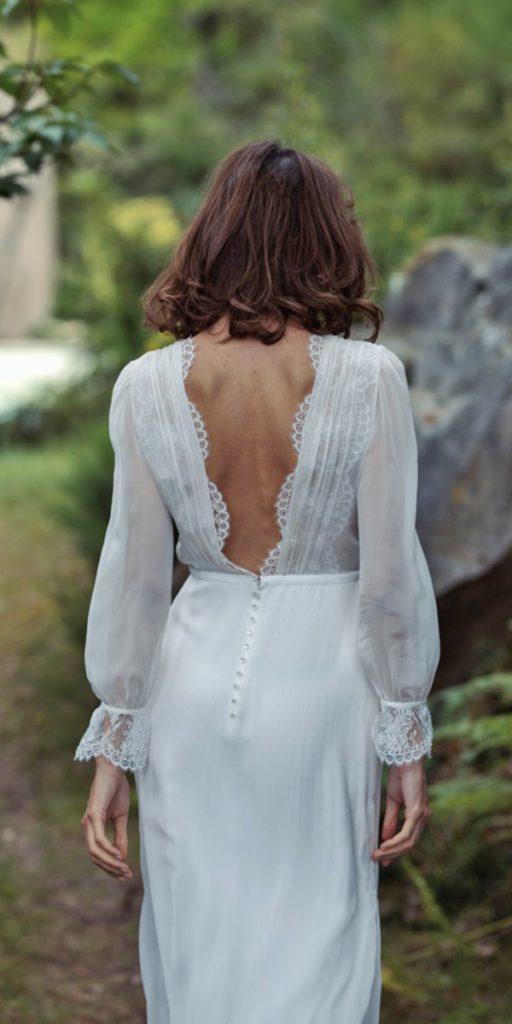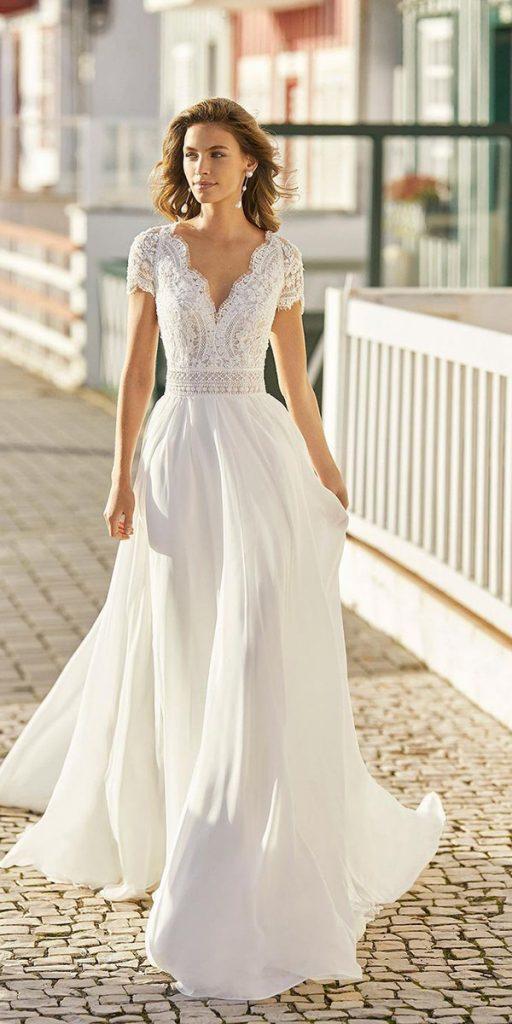 Barn Wedding Rustic Dresses
Talking about the venue, you should consider this factor as well. If you are going to have your celebration on a farm, you might want to take a stroll across the fields. Remember that a dirty hemline could ruin your wedding photos. Also, a wedding gown with a long train might be not the best solution for a rustic wedding.
It is also highly possible that you would have a horseback photoshoot – a bride in her long wedding gown looks amazing on a horse. These noble animals would complement any wedding, but a mermaid dress wouldn't be very convenient to ride.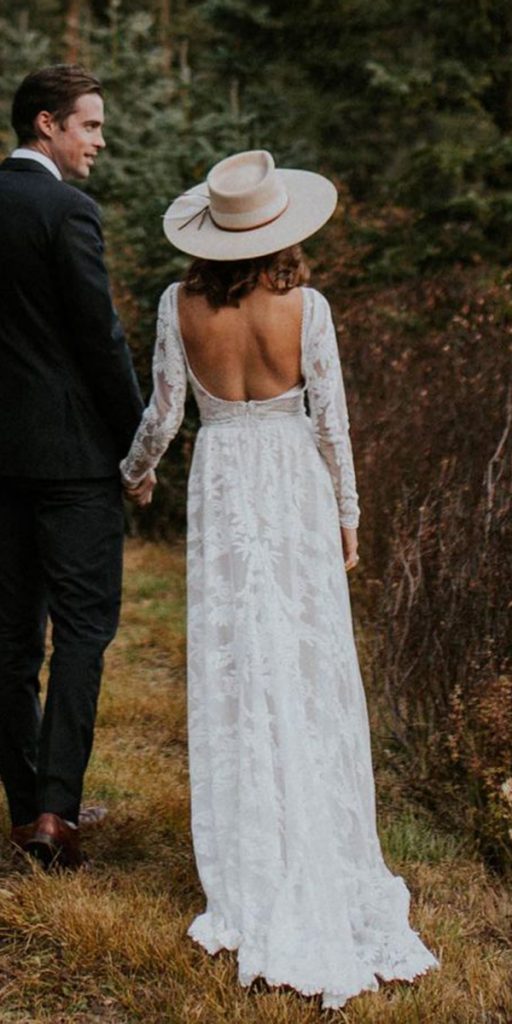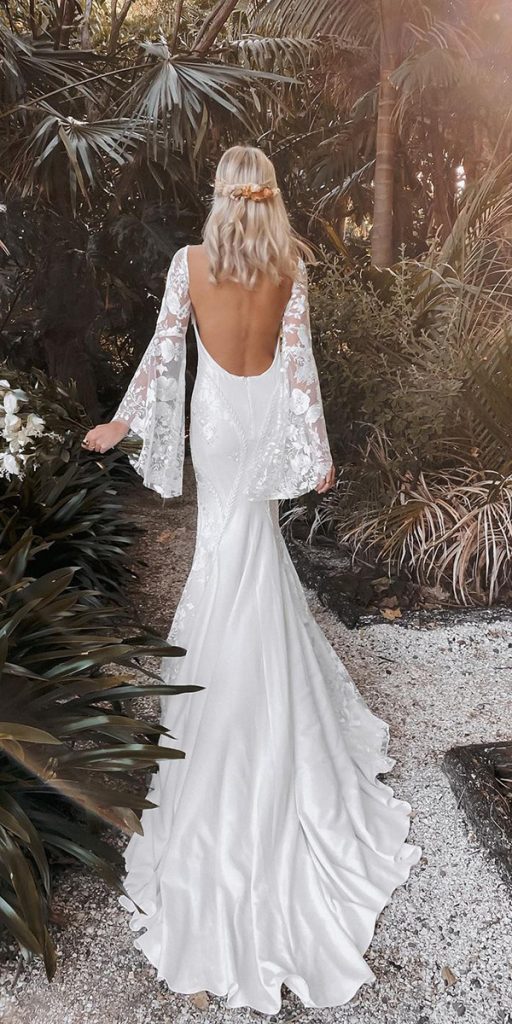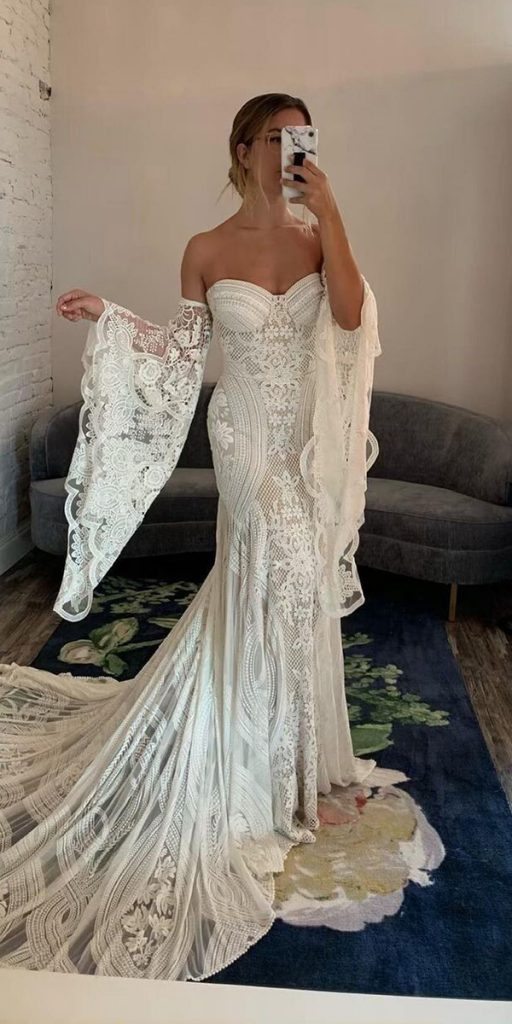 Backless wedding dresses are perfect for brides who prefer simplicity and elegance. Their open back will give you a sensual, yet innocent look.
One of the reasons we love rustic weddings so much is their simple, yet elegant style. It also helps to reduce the costs of the ceremony – a lot. Their family-oriented relaxed feel is very pleasant. Even cheap rustic wedding dresses look fantastic in natural settings: pastures or a forest, barnyard or a field. If you go for a rustic wedding you know you will look at peace with Mother Nature. Simplicity is the key to that innocent, yet feminine look.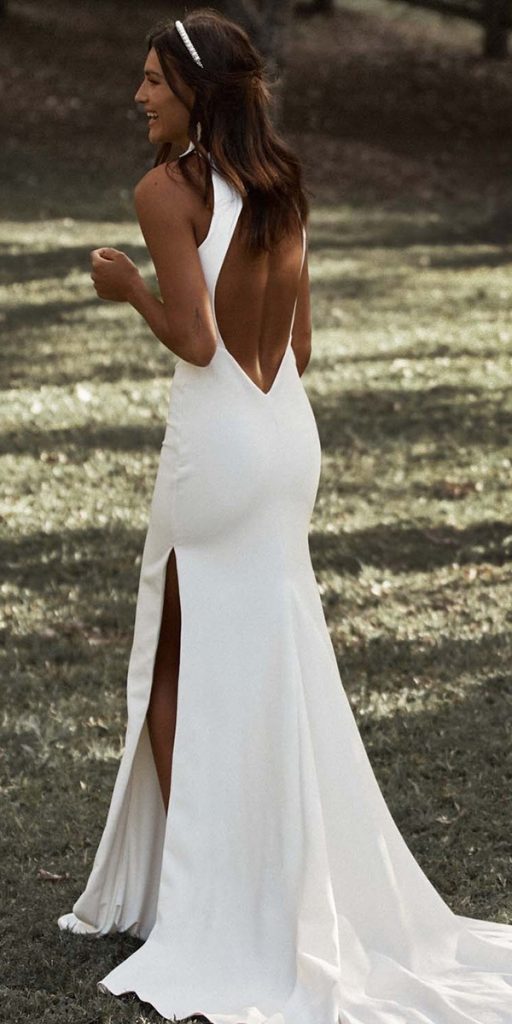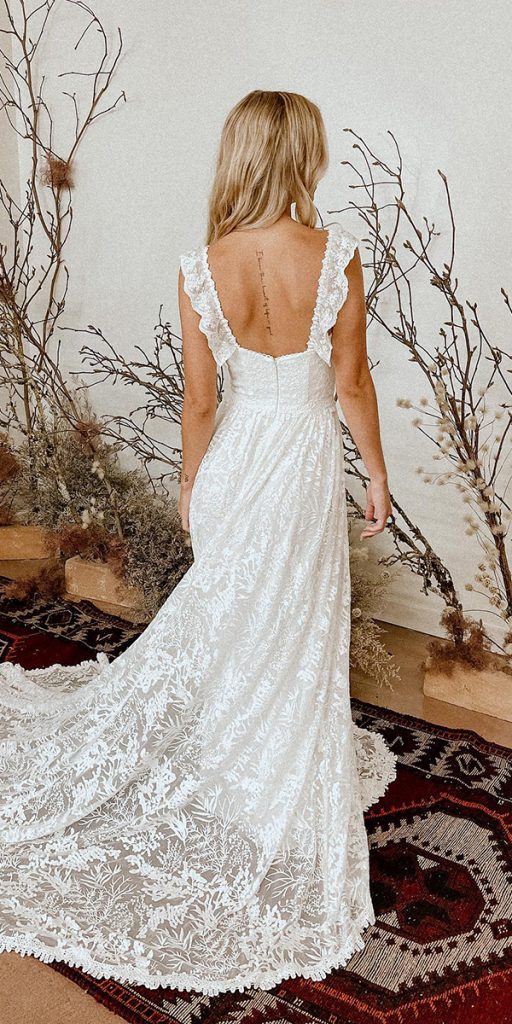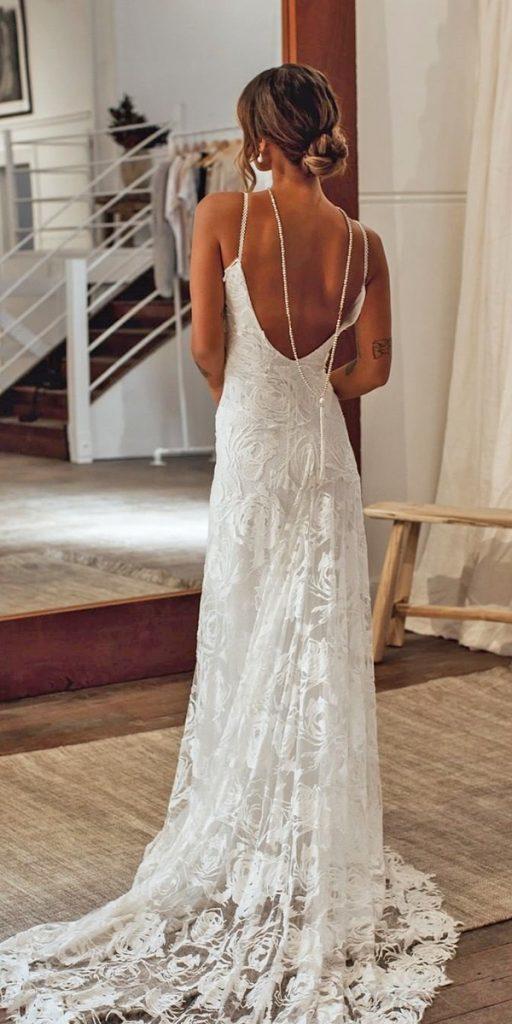 Rustic Themed Wedding Dresses
It doesn't matter which exactly style you decide to choose for your rustic wedding. Be it rustic wedding dresses with boots, or an open-back gown – your celebration will have that casual, comfortable feel. Take a look at some rustic wedding looks for your perfect celebration. You will look magical among twinkling lights and green leaves. Let your rustic fairy tale come true!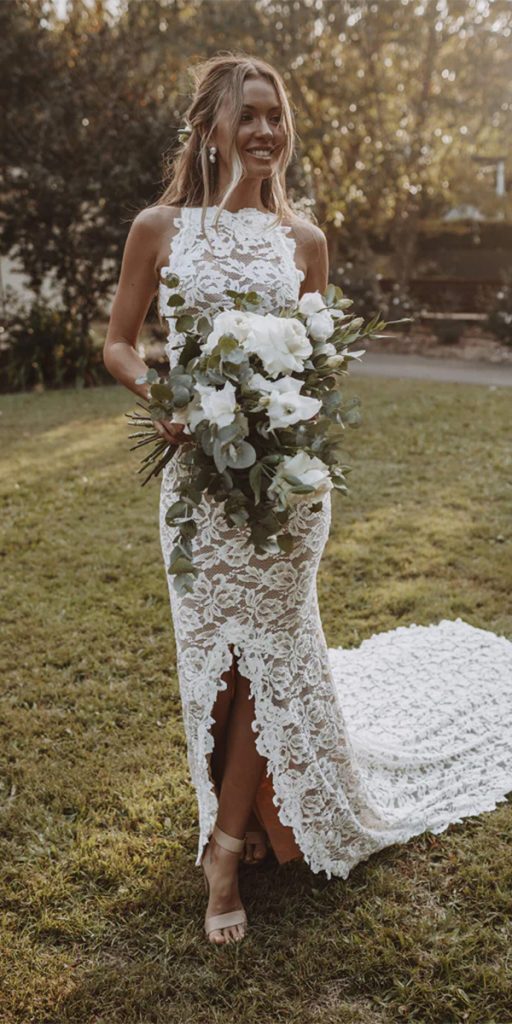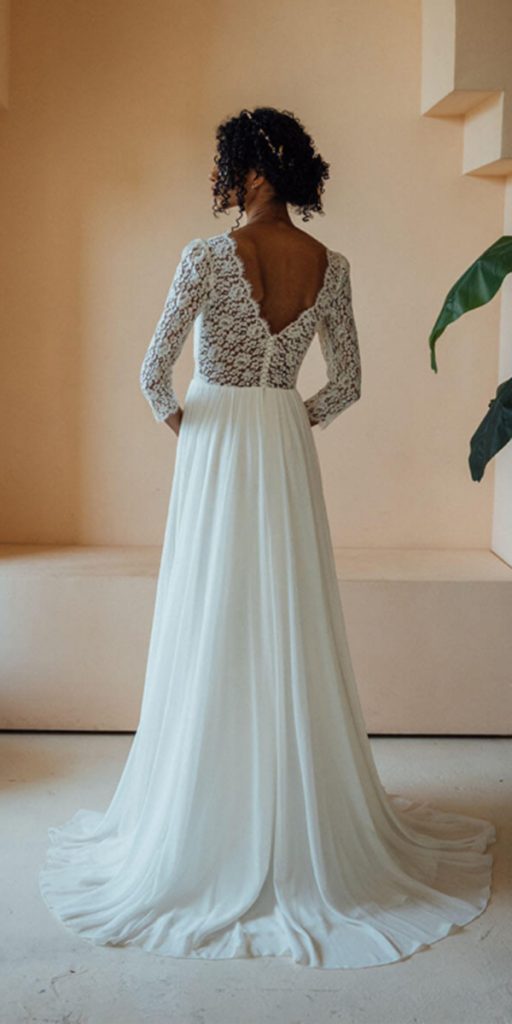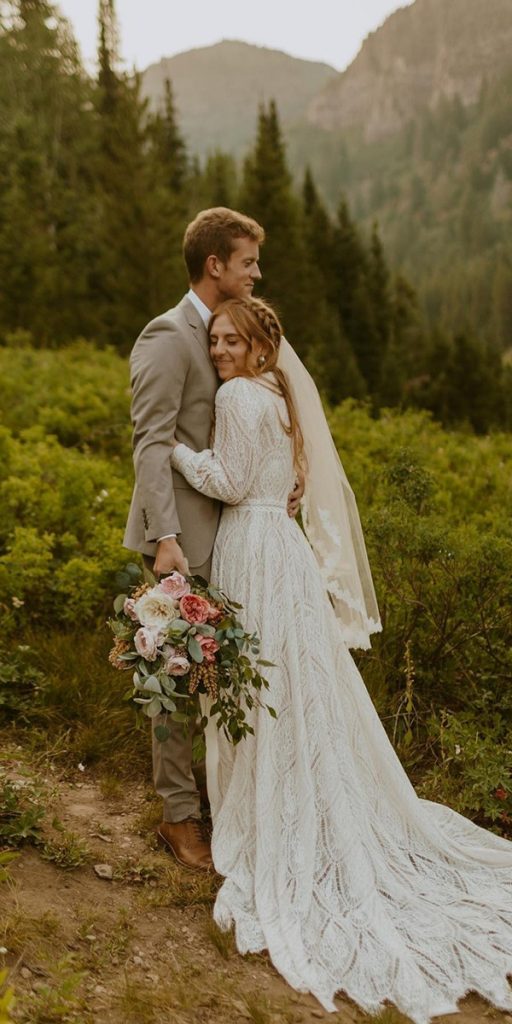 Also, a country girl's image requires something to cover the head against the sun. Complete your rustic style with a cowboy hat. It is both stylish and practical if your celebration takes place in summer. Or maybe you want to try on the image of a 'forest nymph'? In that case, you might want to add a rustic vibe with a crown of ivy to your hair.
If you have an autumn wedding you would also want to be protected from the weather. Have a nice pair of wellington boots and an umbrella ready just in case. Of course, they might seem like an odd set of accessories for a wedding. But if you mean to look your best in the photos, you need to consider any sudden add-ons. There are no small details in such an important look.