Before you begin shopping, take time study the different wedding gown styles that are available. You have been dreaming about your wedding dress since your early childhood, so you want to be sure to find the perfect gown for your special day
And if you wanna be a real PRO in choosing your wedding gown, download a free wedding gown styles checklist.
With so many wedding dress styles to choose from, you might feel a bit overwhelmed. Do you want a princess style gown? A mermaid gown? What is the theme of your wedding? What style will look best on your? These are some of the questions you need to think about when shopping for your bridal gown.
If you are confused as to what wedding gown style will best suit your style and flatter your figure, you can always ask your bridal consultant for expert advice. However, to help you can an idea as to what's out there, we have compiled a list of the most popular wedding gown styles, as well as some options for dress lengths and neckline styles.
Popular Wedding Gown Styles
A mermaid gown, often referred to  a Fishtail, is very tight and form fitting for the bride that wants to flaunt those sexy curves. This style dress hugs the bust and then flares out toward the bottom, as opposed to the waist. A mermaid gown works best on those with smaller busts and full hips or those with an hourglass figure.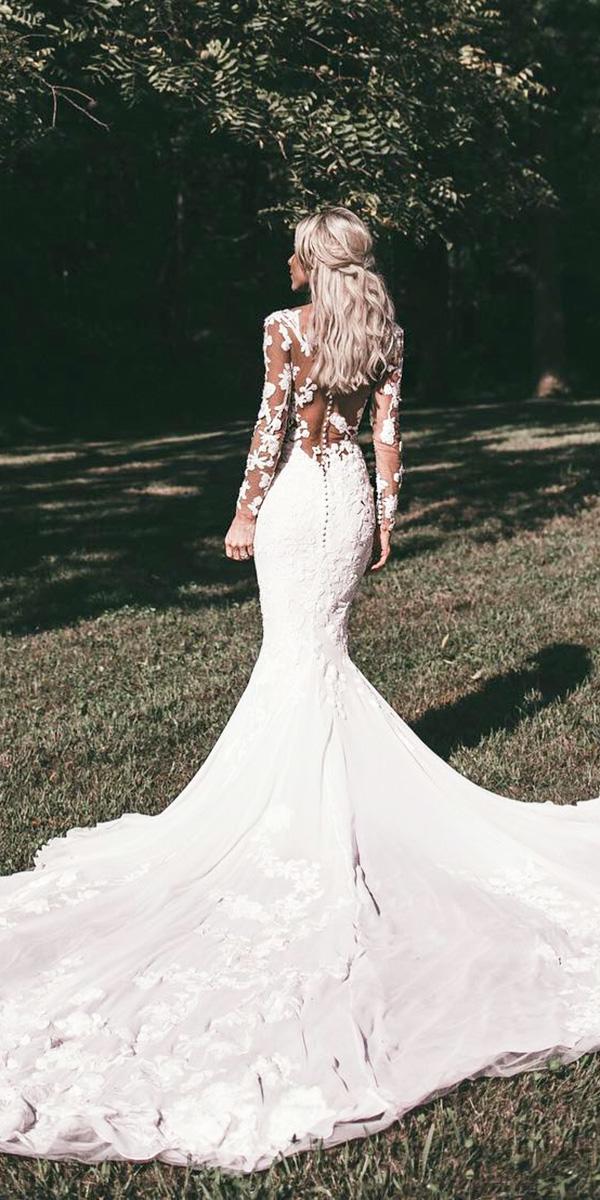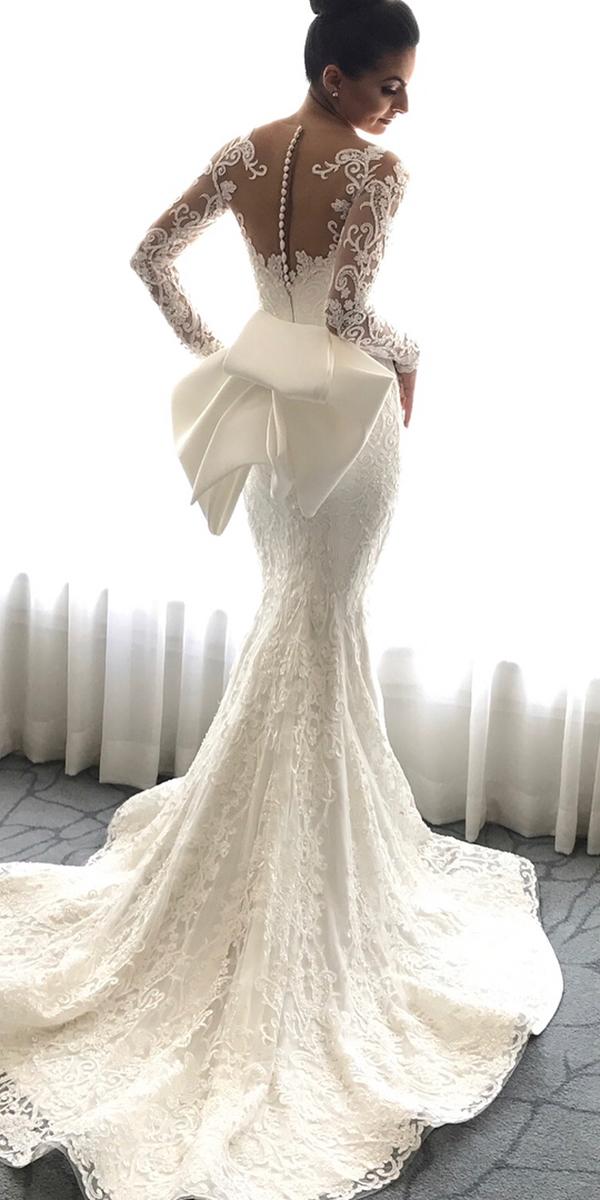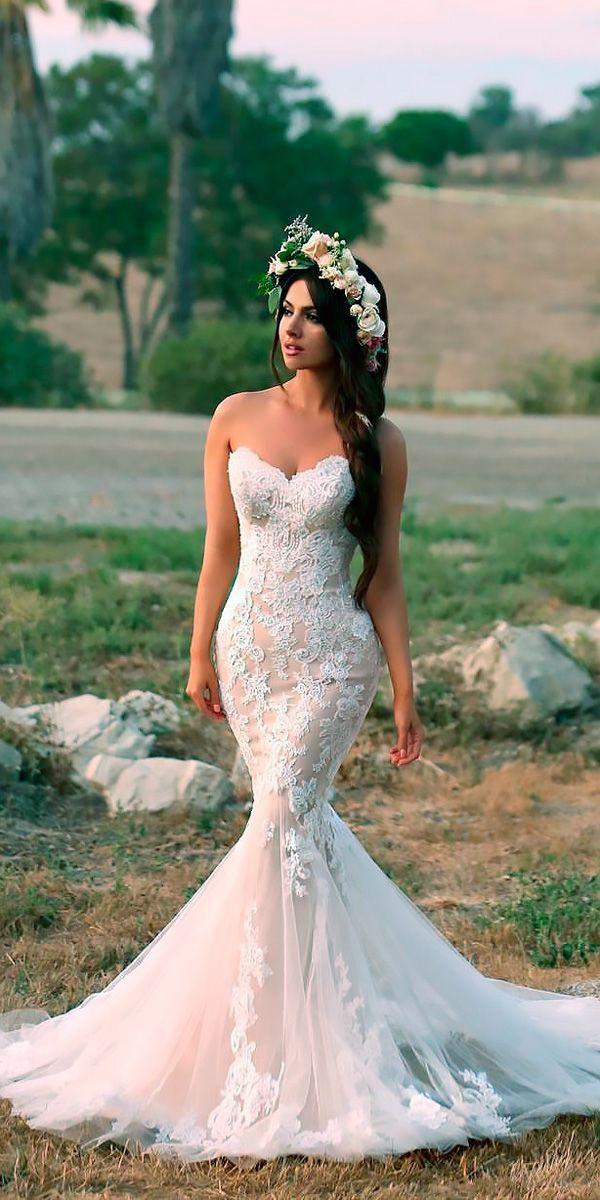 Similar to a mermaid style gown, a trumpet bridal gown is form fitting at the top and then flares out gradually, similar to a trumpet. A trumpet gown will work nicely for those with a straight figure as it creates the illusion of an hourglass figure.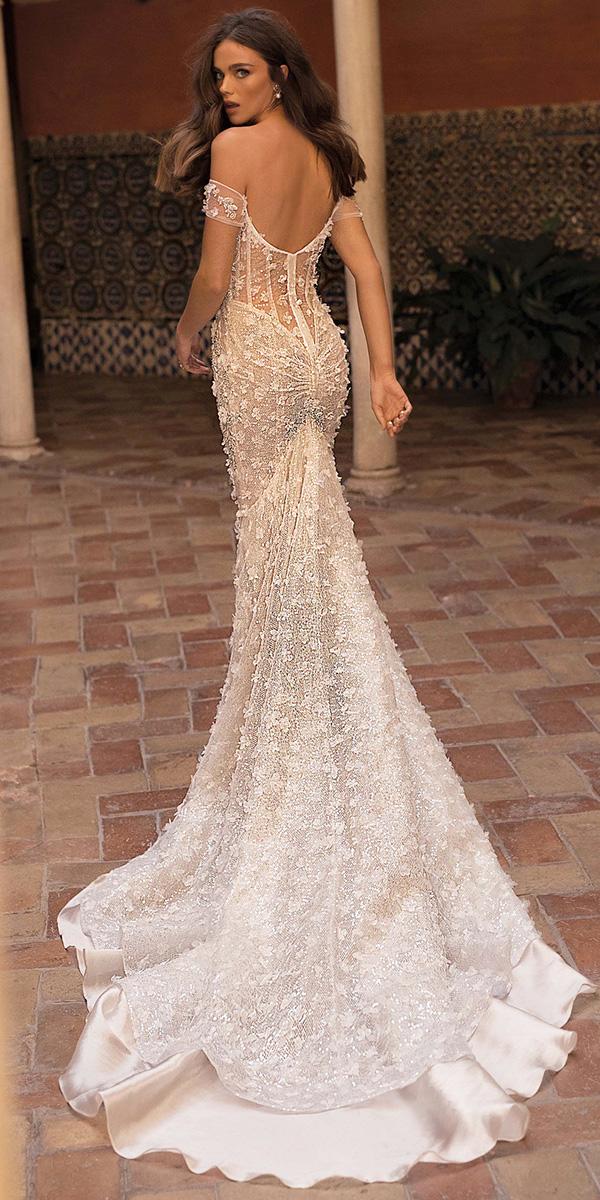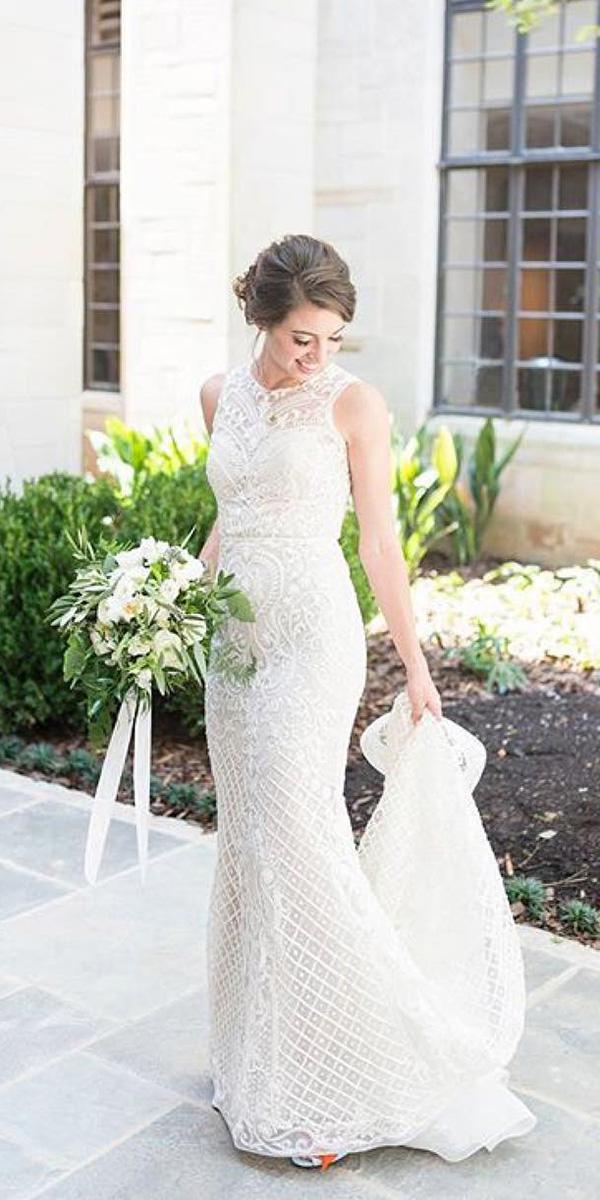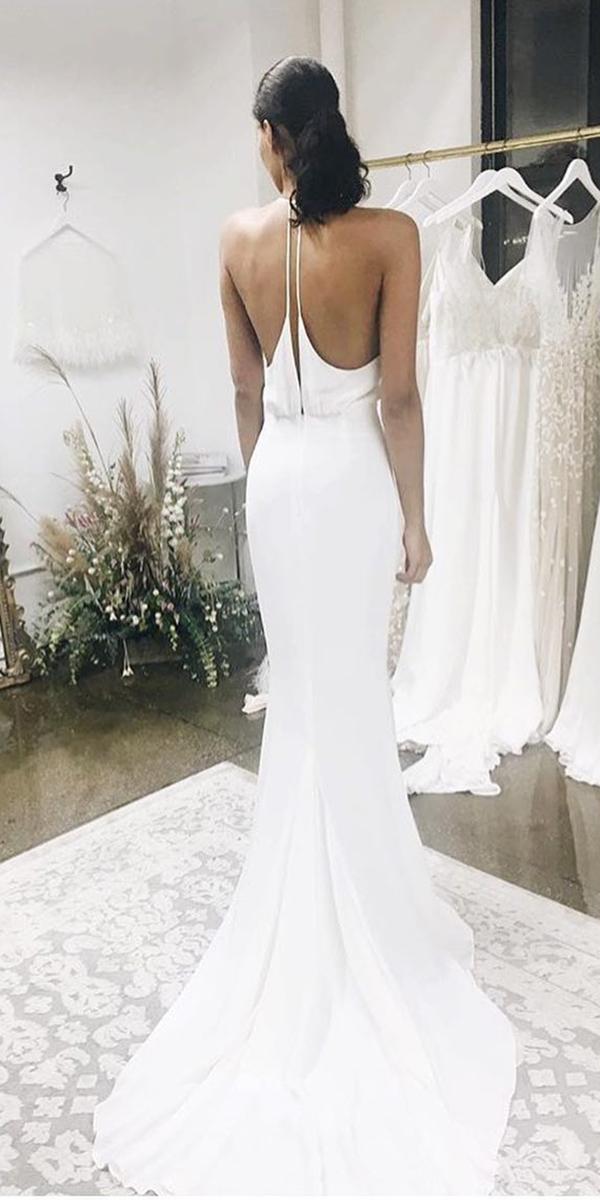 A fit and flare is also form fitting, much like the mermaid and trumpet style gowns. However, it flares out just below the tips. It is more forgiving than the other two styles as it is not as clingy, thus allowing you to have more movement if you want to shake it down on the dance floor.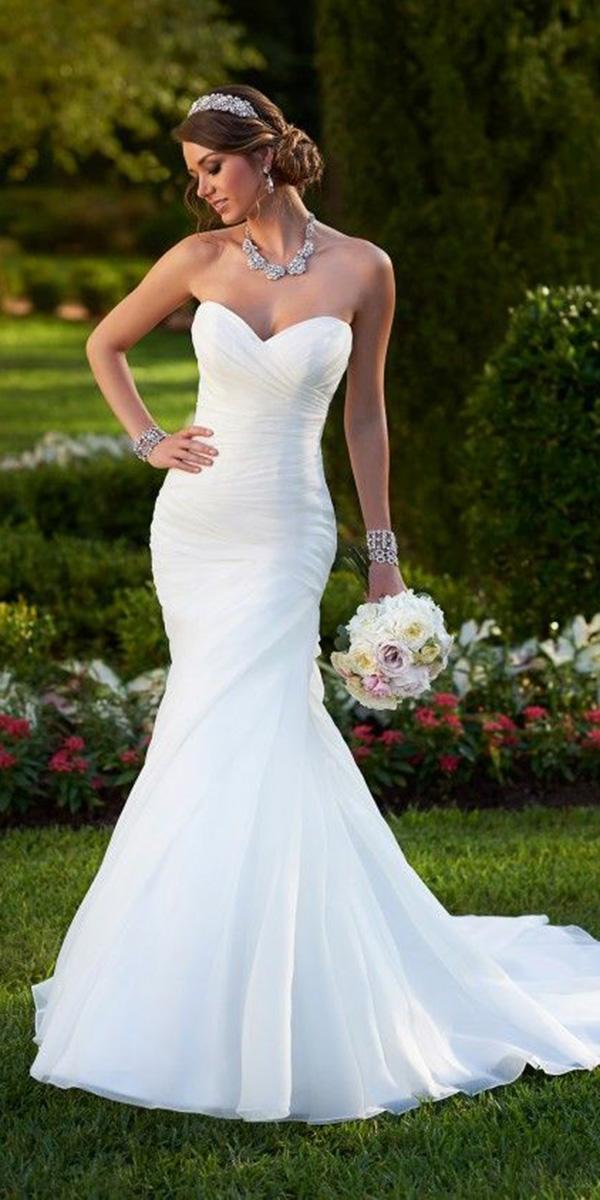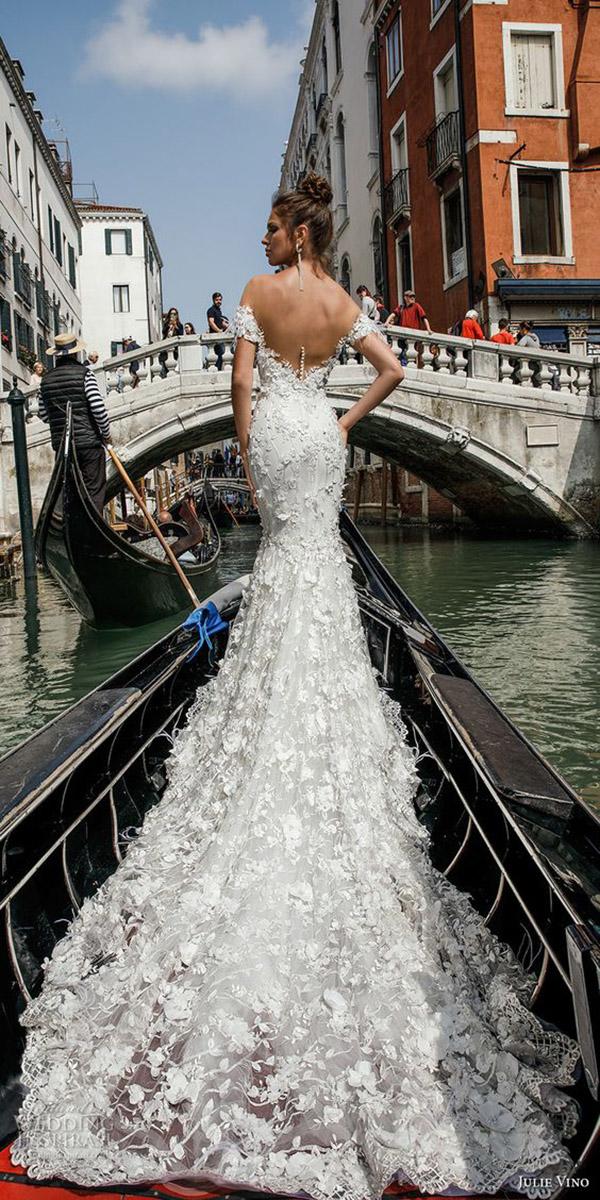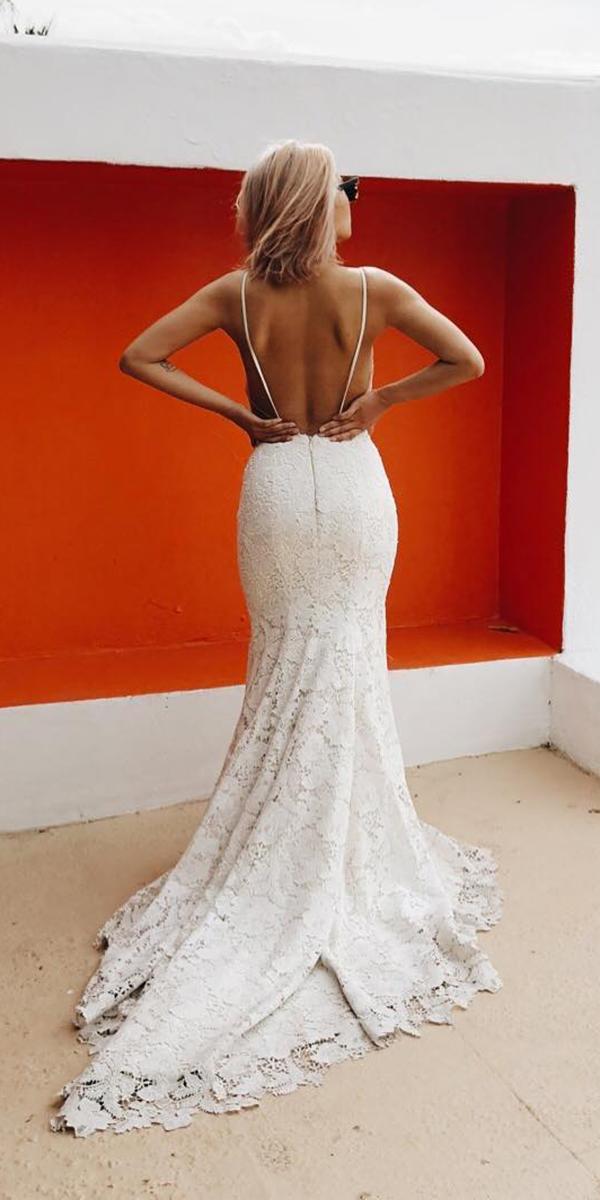 A Sheath, or Column dress is another slim-fitting dress that has a straight, slimming shape starting at the neckline and ending at the hem. This style is best for those with lean, athletic figures.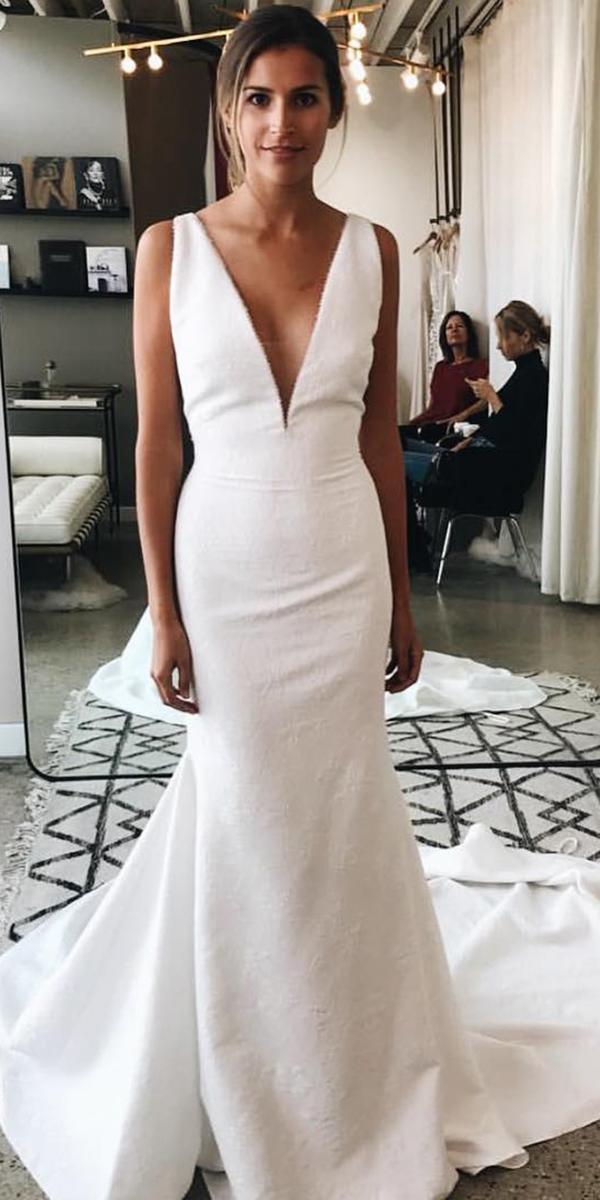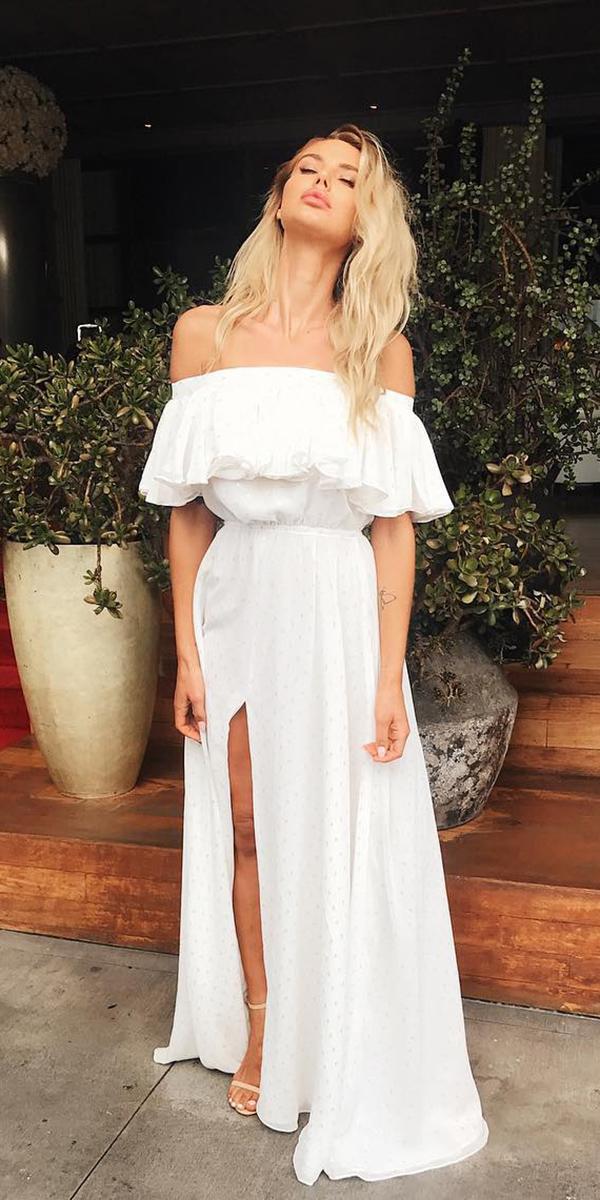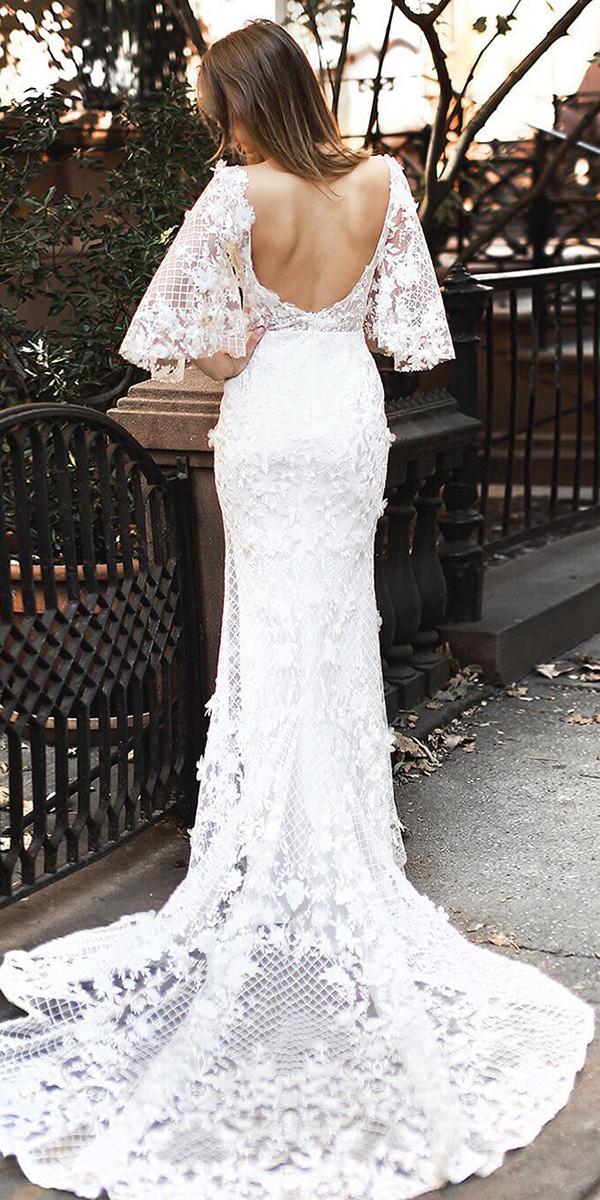 A ball gown or princess style dress is perfect for those who want a fairytale wedding. With its tightly fitted bust and full skirt, it has a very dramatic flair. With a lacy bodice and gathered or full pleated skirt, a ball gown will help slim your waistline while giving you an elegant and sophisticated look.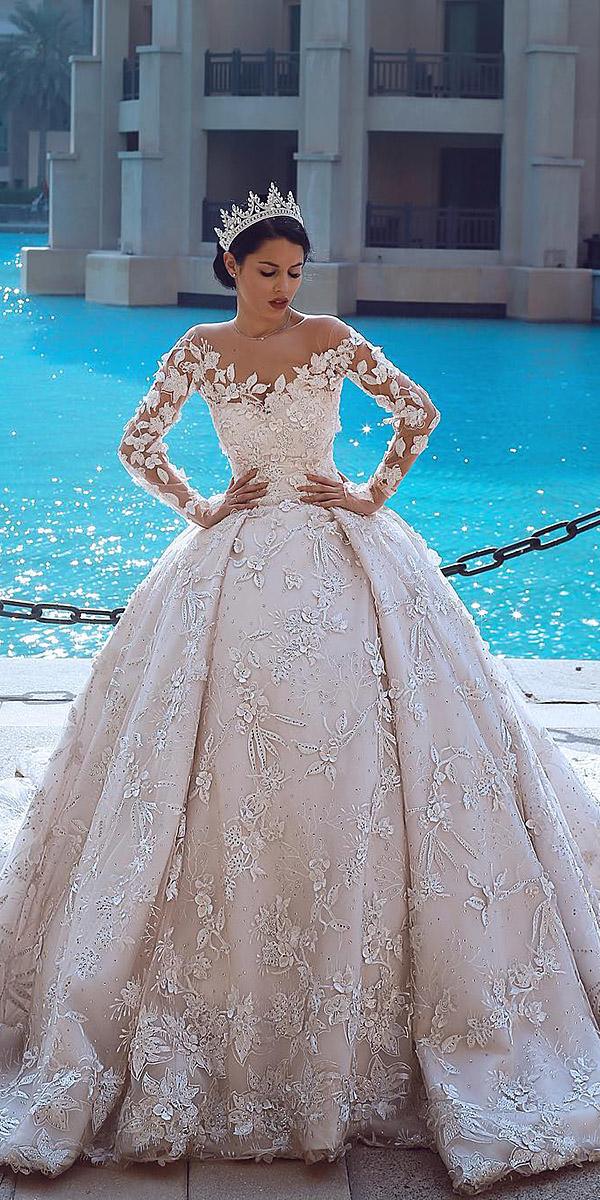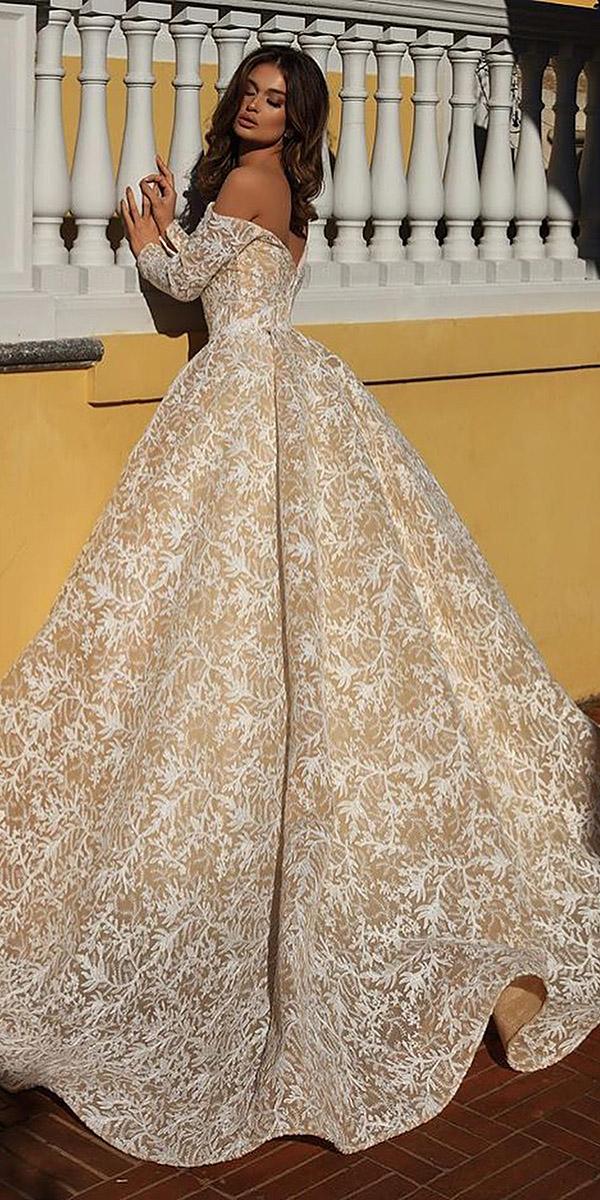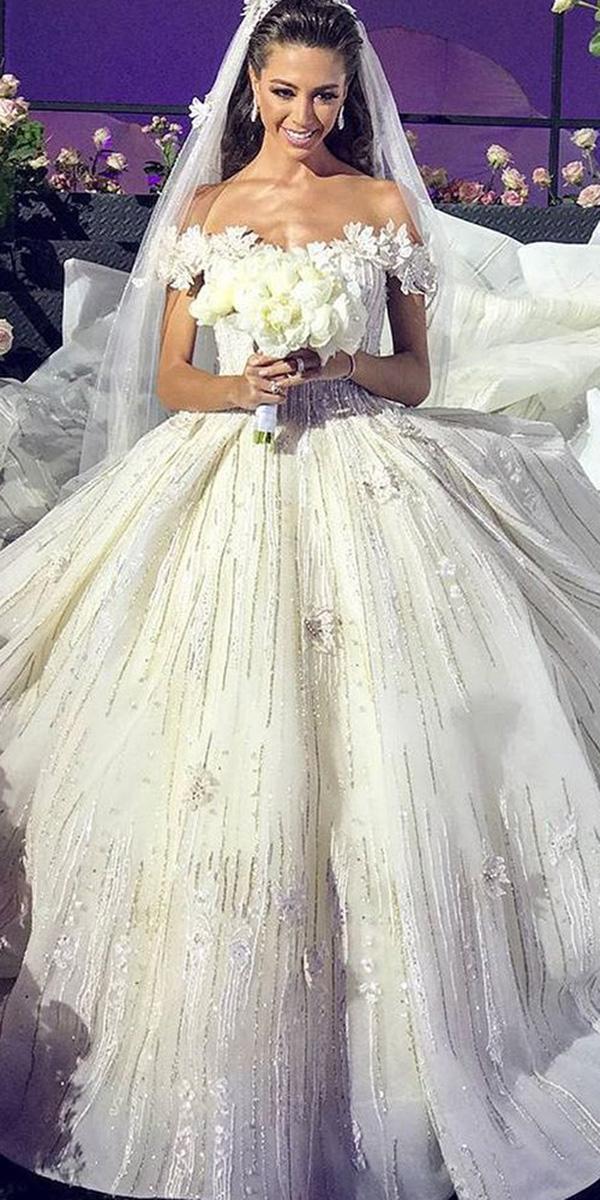 Similar to ball gown, the ever-classic A-line dress is snug around the waist and flares out gradually toward the bottom, though not as much as a mermaid, fit and flare or trumpet style gown. The A-line dress is recommended for plus size brides as it really slims the thighs and hips. As well, it helps elongate the body, so it also is flattering on petite brides.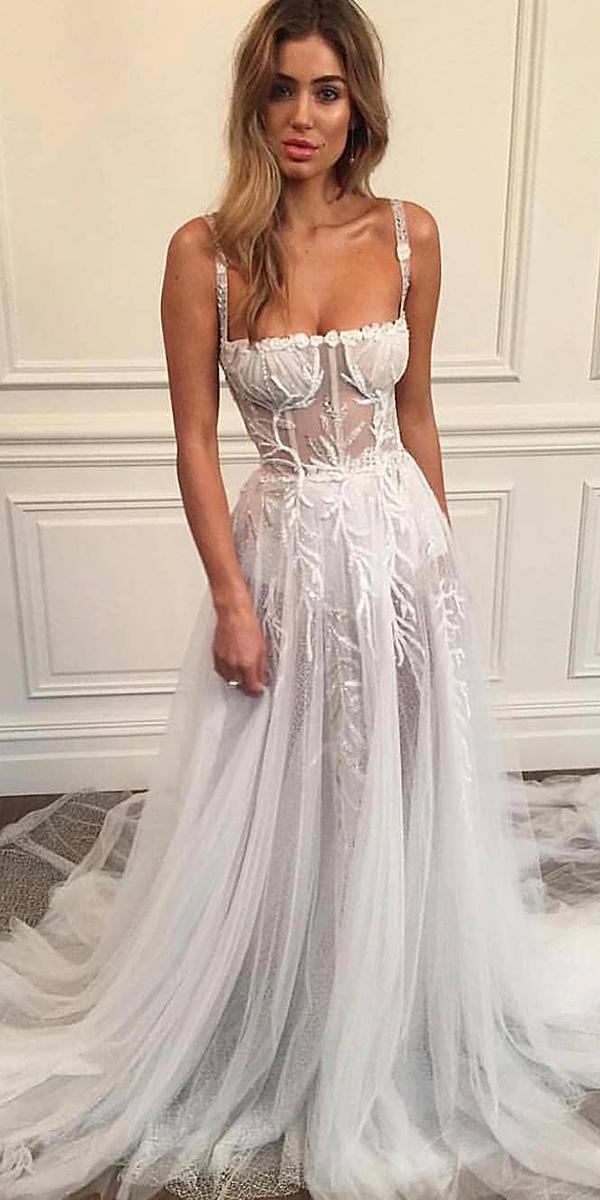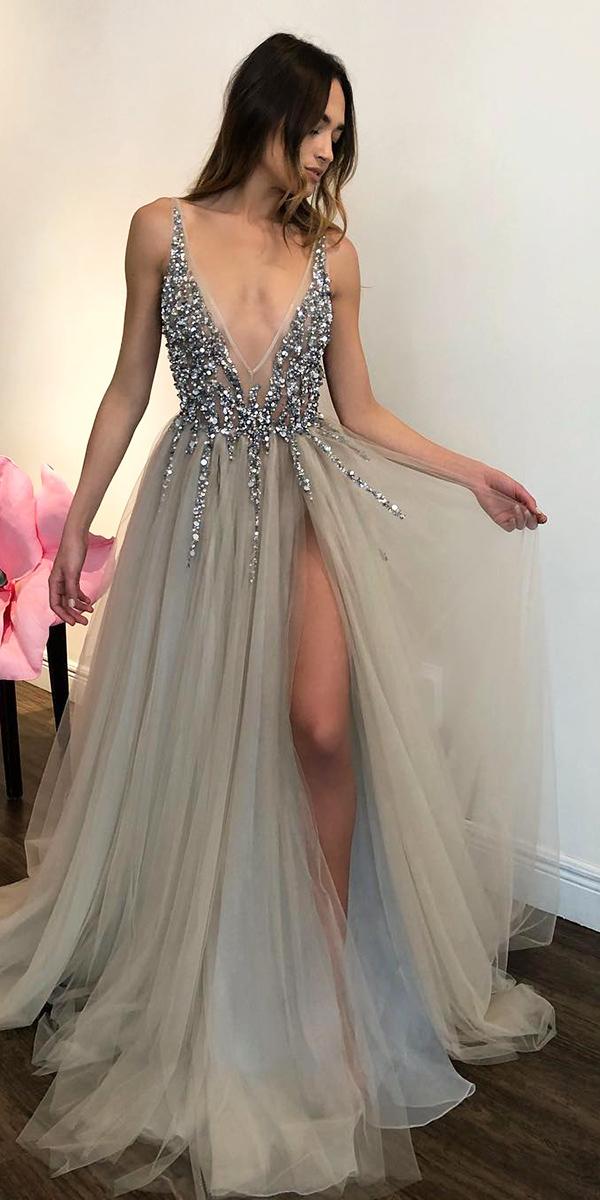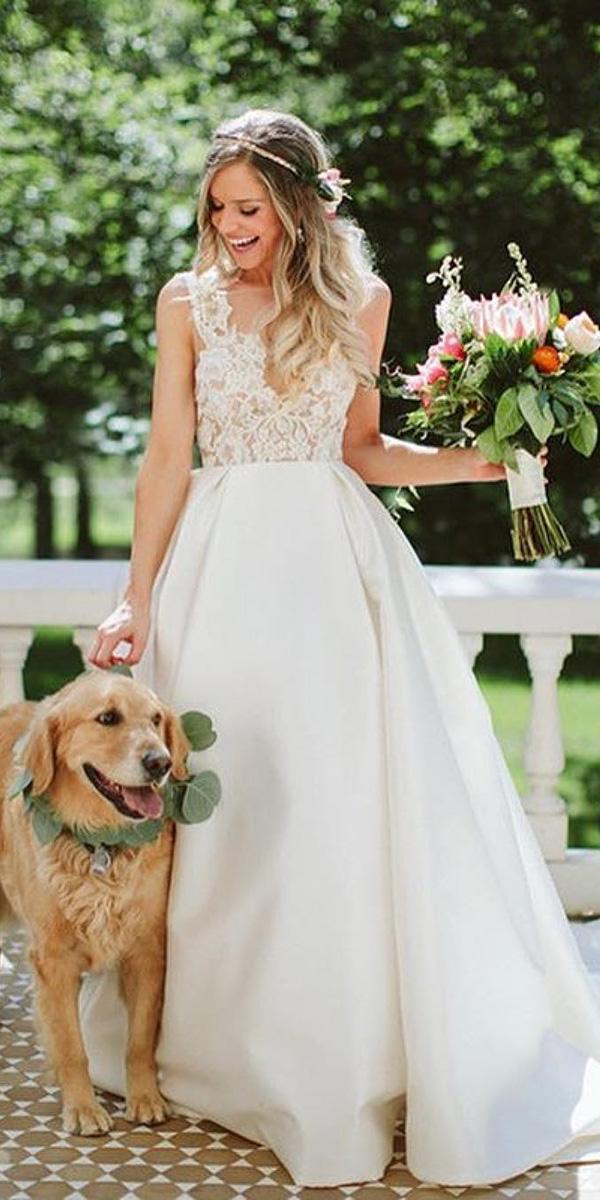 An Empire gown is perfect for those with a rounder figure and full bust with its snug bodice and high waist. It is also a perfect gown for the petite bride who wants to appear taller on her wedding day.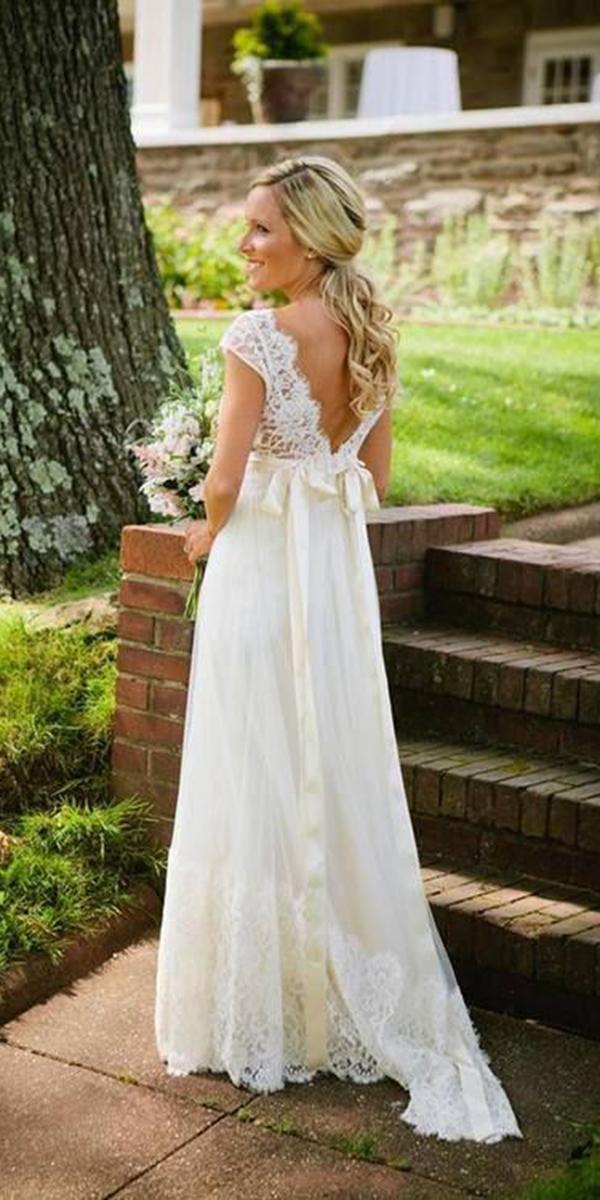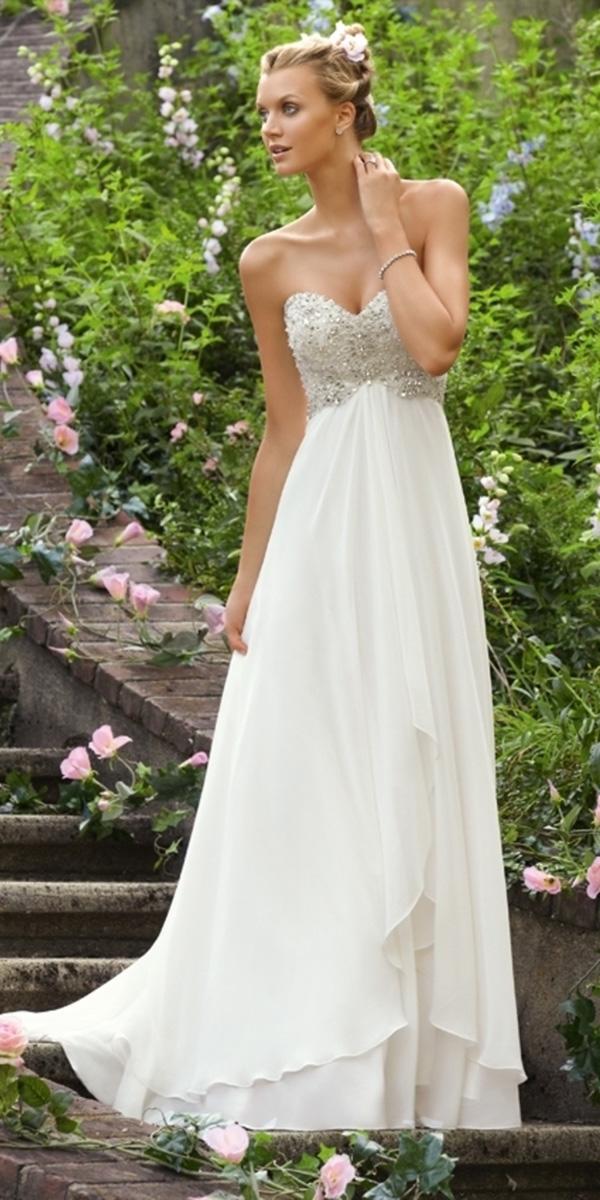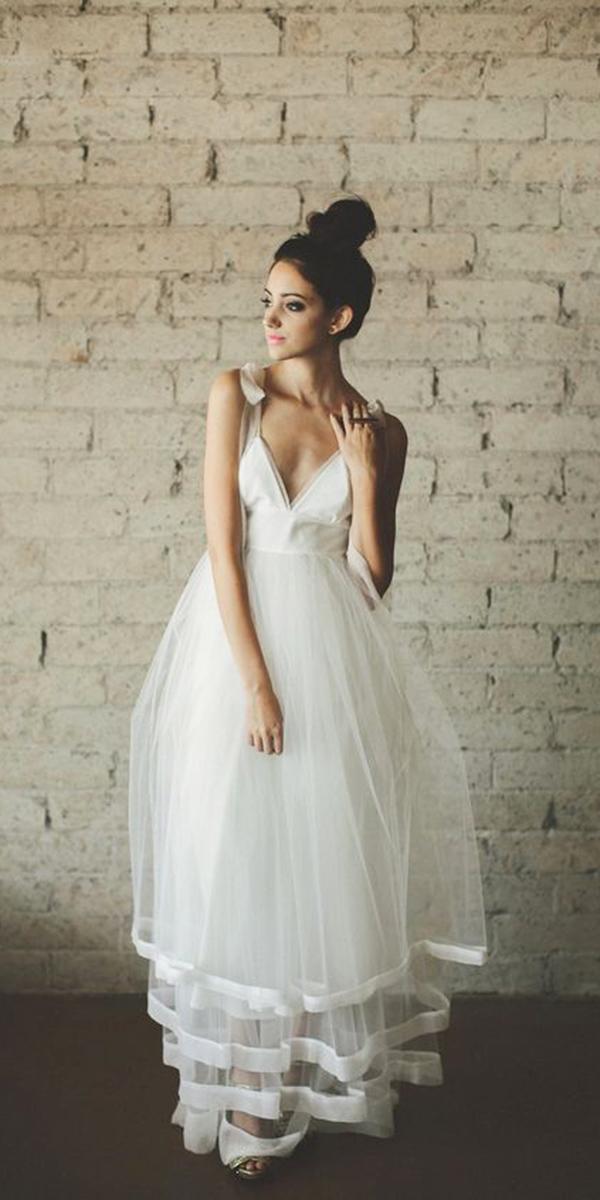 Wedding Gown Lengths
1. Tea Length: The tea-length gown is hemmed right at the end of the skin and is perfect for a more formal wedding or an evening wedding as it is classy but chic.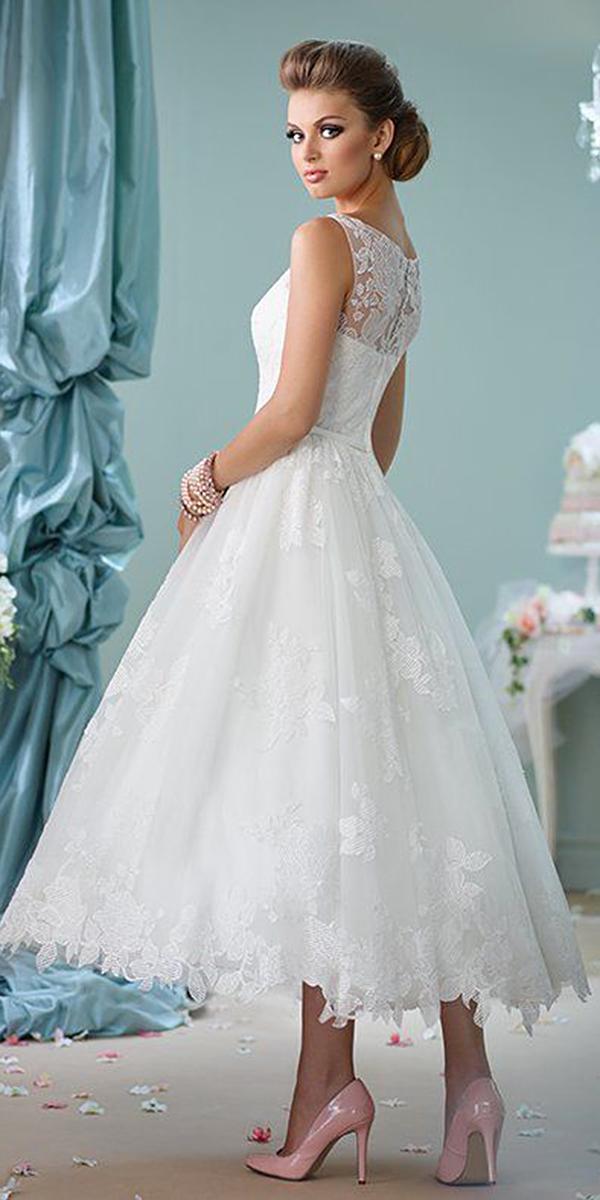 2. Ankle Length: An ankle length gown is best for a semi-formal wedding and works nicely with both form-fitting and full length bridal gowns.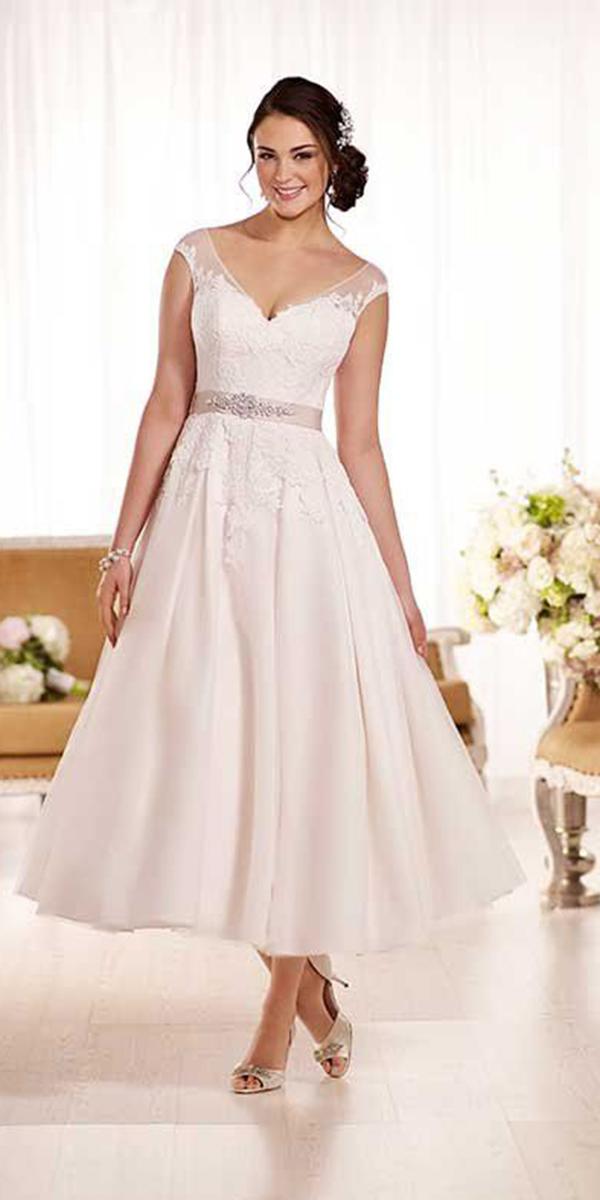 3.Knee Length: Knee length wedding gown styles end just below the knee and are perfect for a daytime or more casual wedding, such as a beach wedding.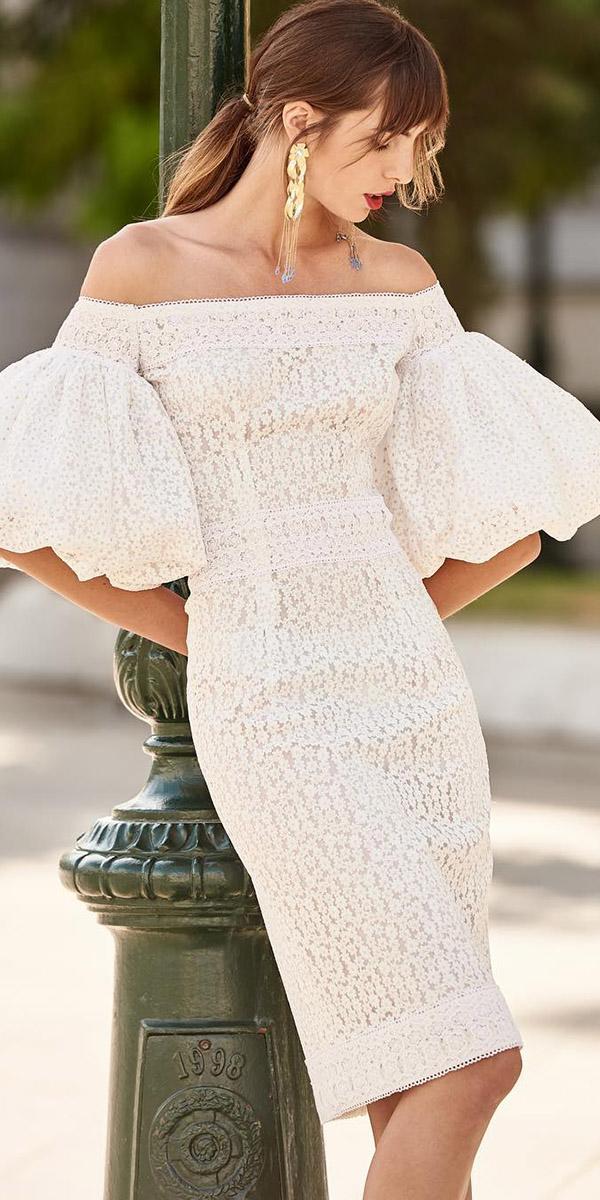 4. Floor Length: As the hem of this gown barely grazes the floor, it is best suited for a more formal wedding.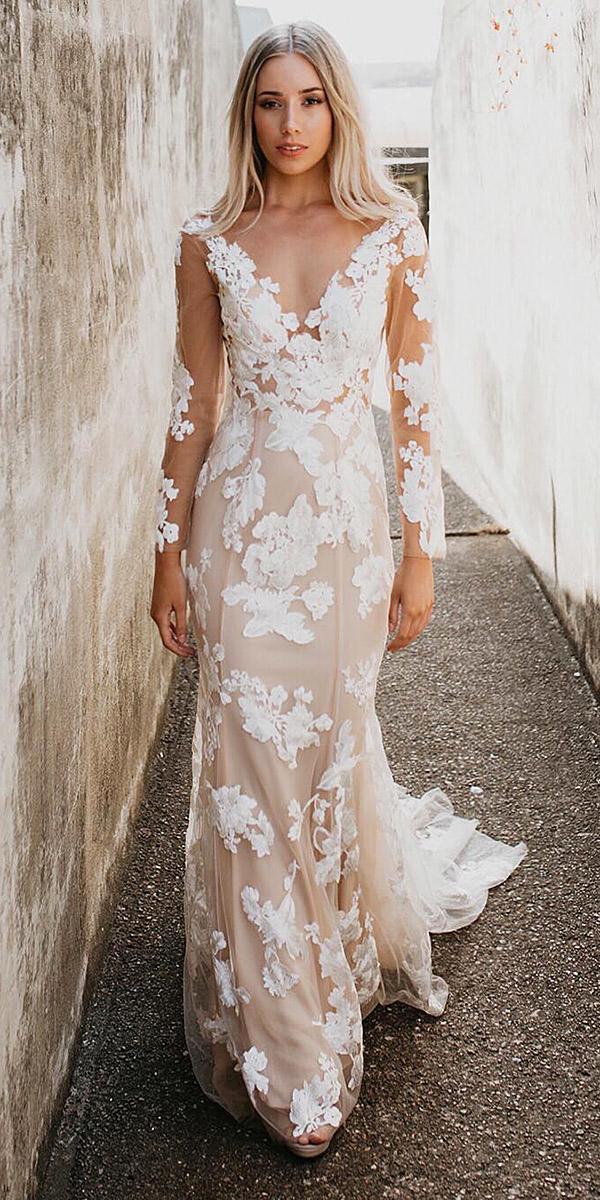 5. Hi-Lo:A Hi-Low gown has a higher hem (usually between the knee and the ankle) in the front, and a floor length hem in the back for a bride who wants to make a statement.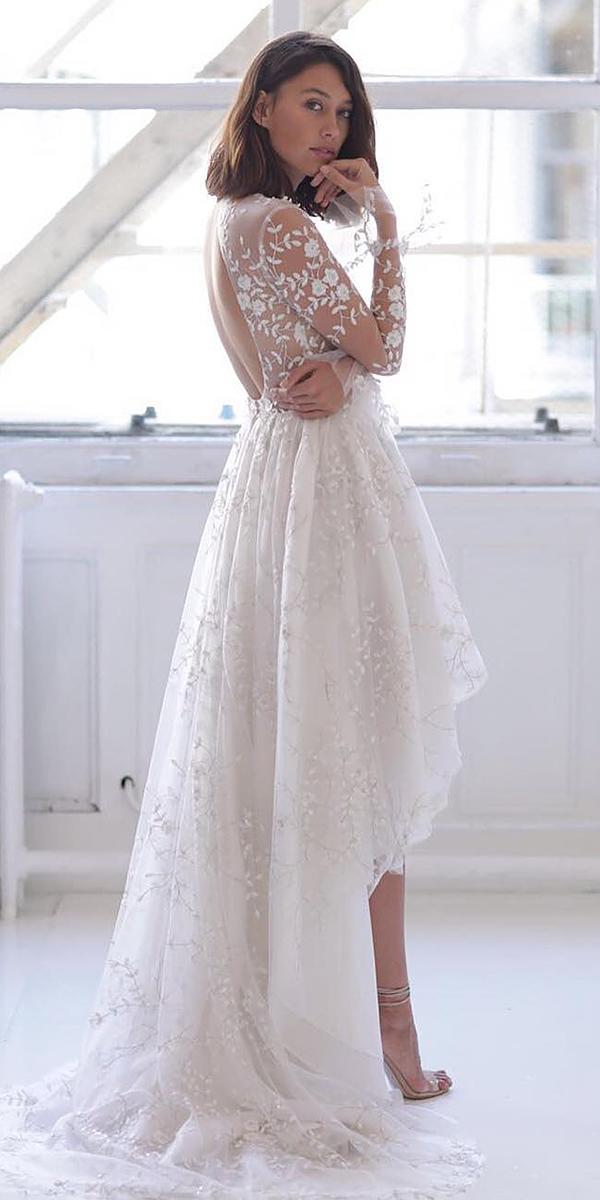 6. Intermission: As it falls somewhere between the knee and the ankles, the intermission dress is perfect for a casual or semi formal wedding.
Source: Diantamo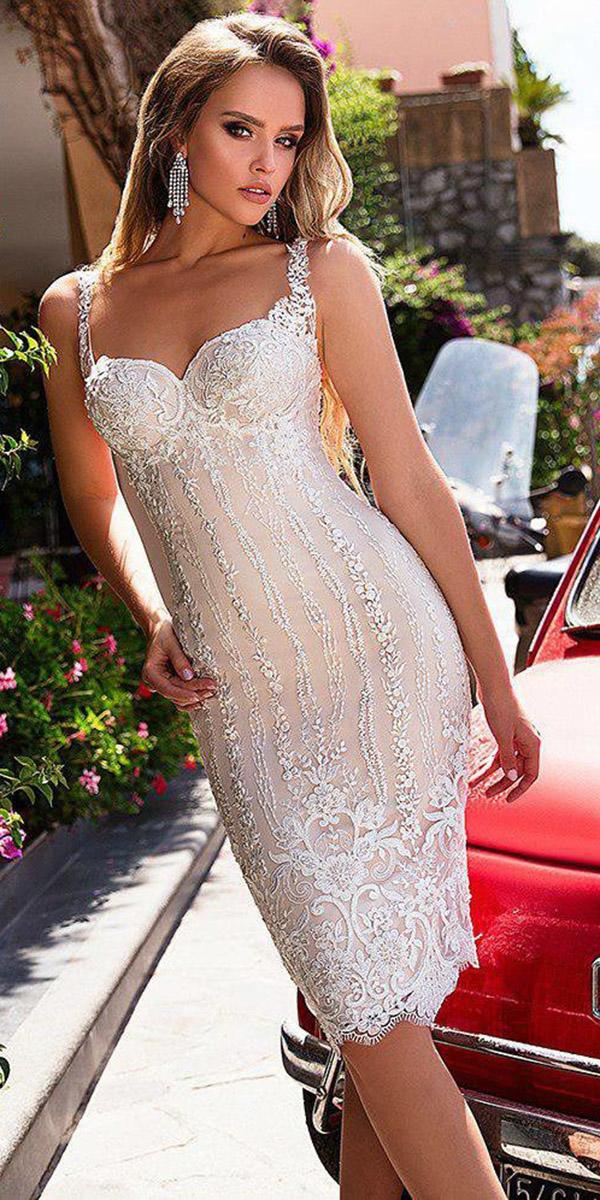 7. Mini: The mini skirt bridal gown is designed for the bride who wants a more modern and sassy look and is obviously meant for a more casual affair.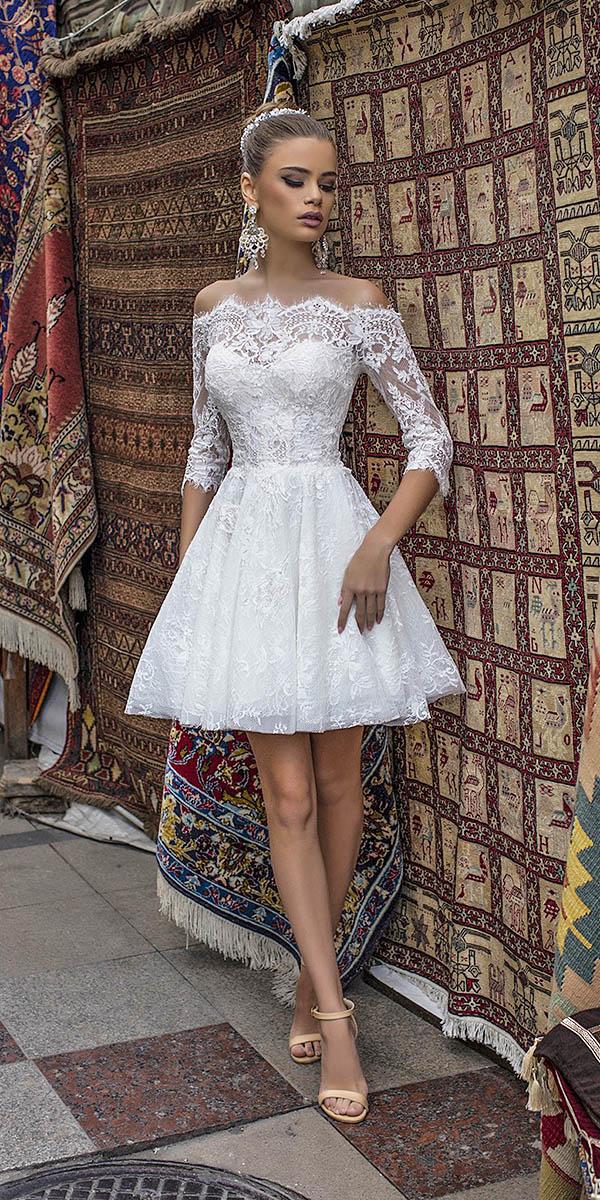 Wedding Gown Neckline
1. Sweetheart: A sweetheart neckline gets its name from its shape, which is resembles the top a heart. It is perfect for elongating the neck and torso.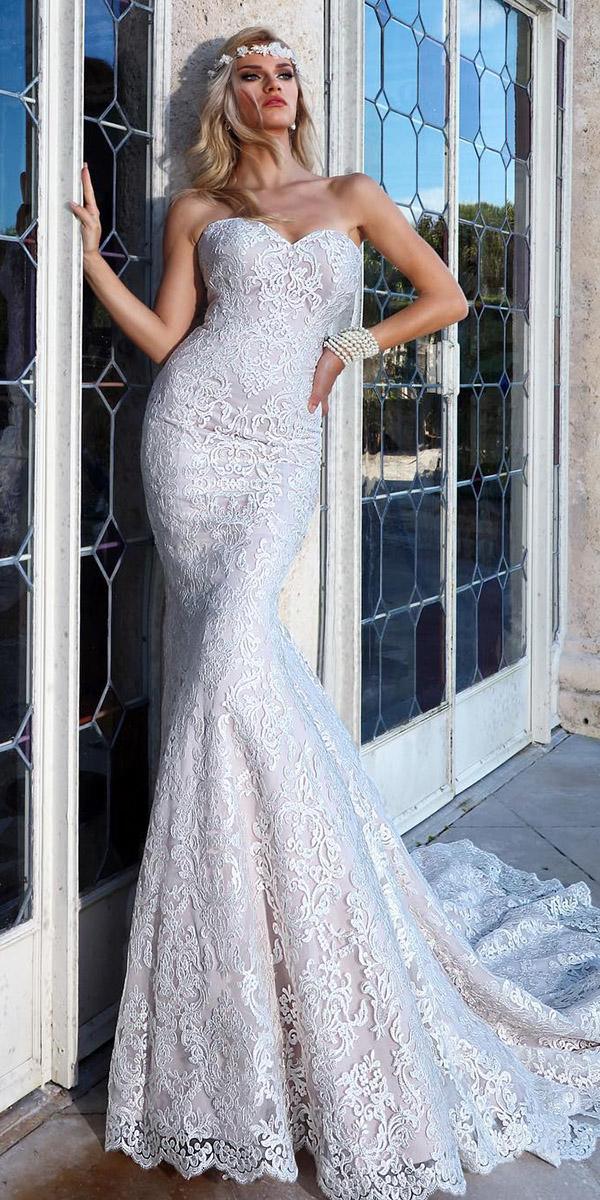 2. Strapless: A strapless gown flatters those with a fuller bust as it fits snugly across the bustline and fastens in the back.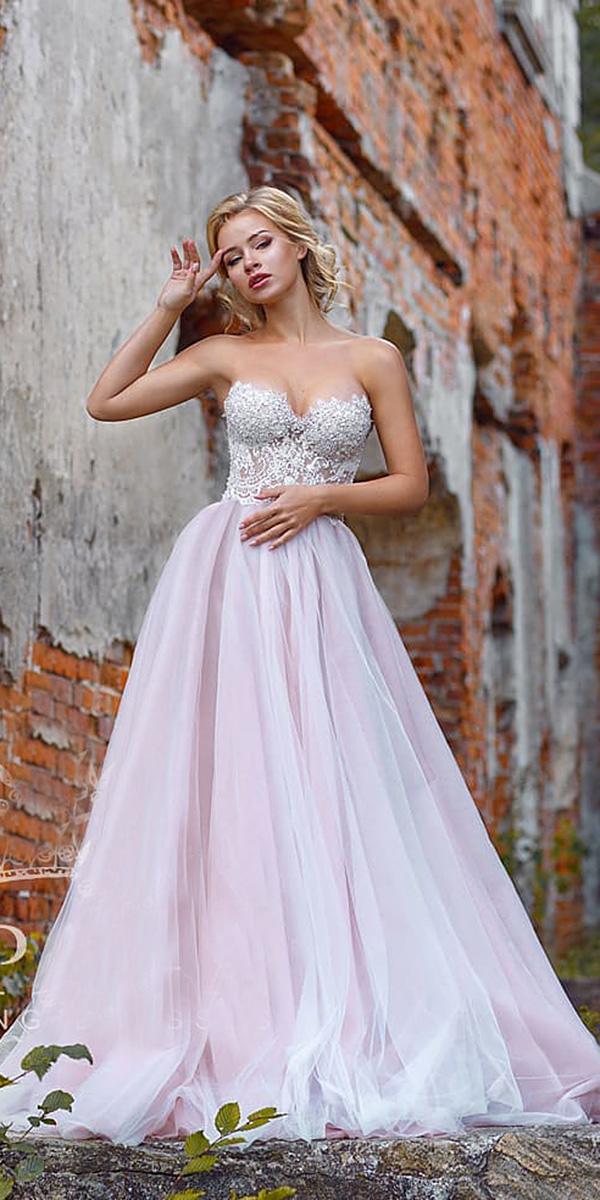 3. V-Neck: This style neckline dips down to form a v-shape and helps to create a slimming effect.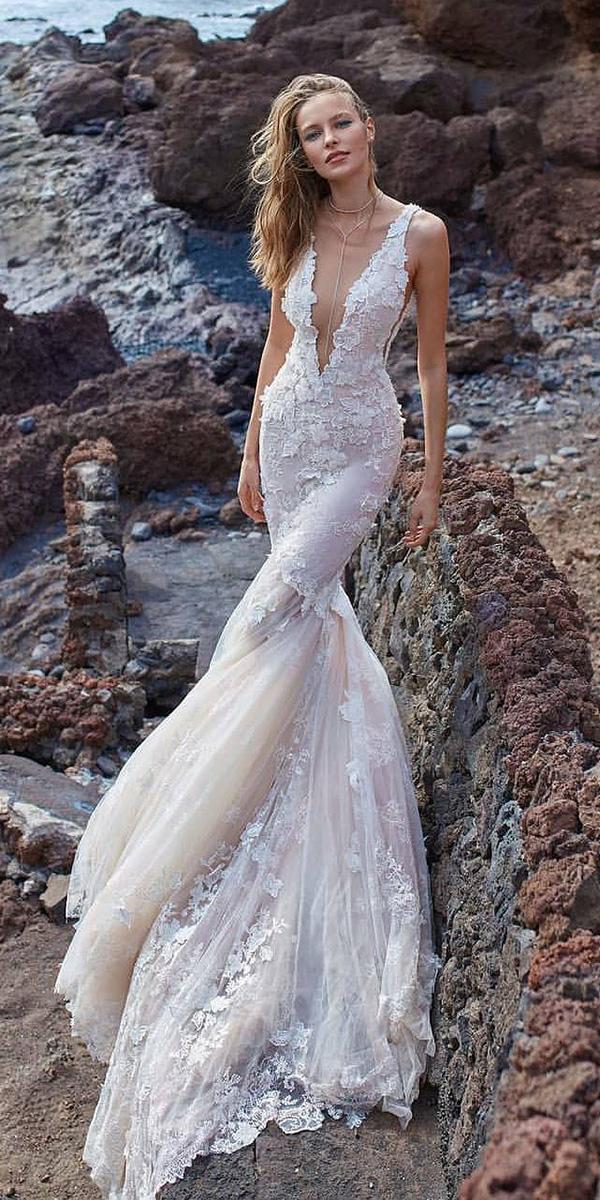 4. Halter: A halter neckline ties around the neck and has a low back for those brides who wish to show off their slender shoulders.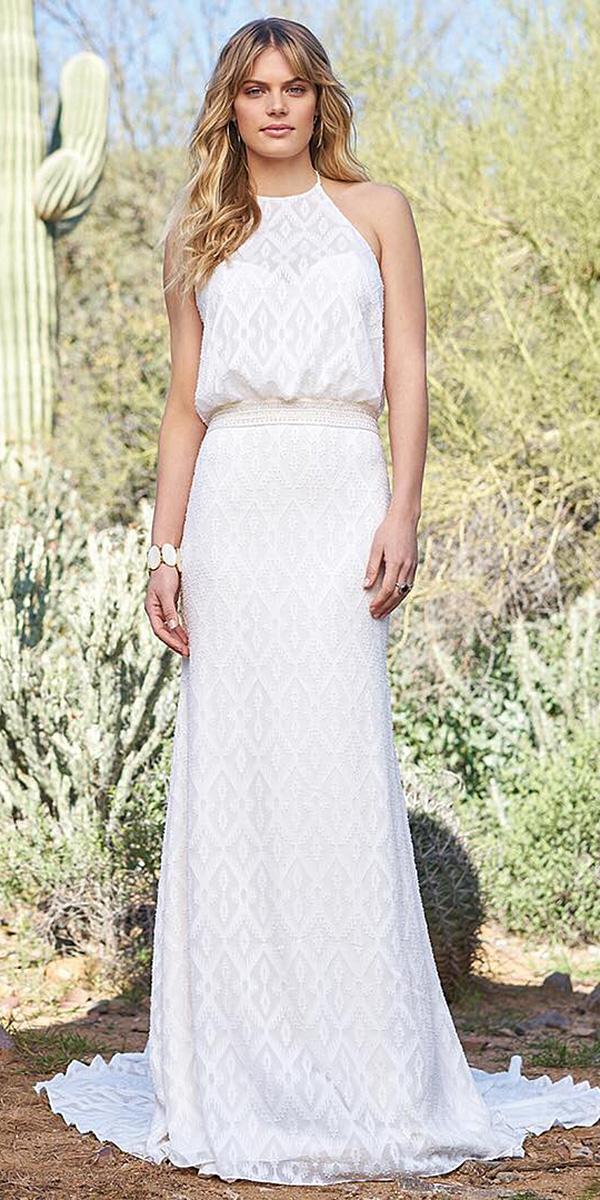 5. Off The Shoulder: This romantic style neckline falls just below the shoulders to gently frame the face. Neck and shoulders and looks especially stunning on princess and mermaid style gowns.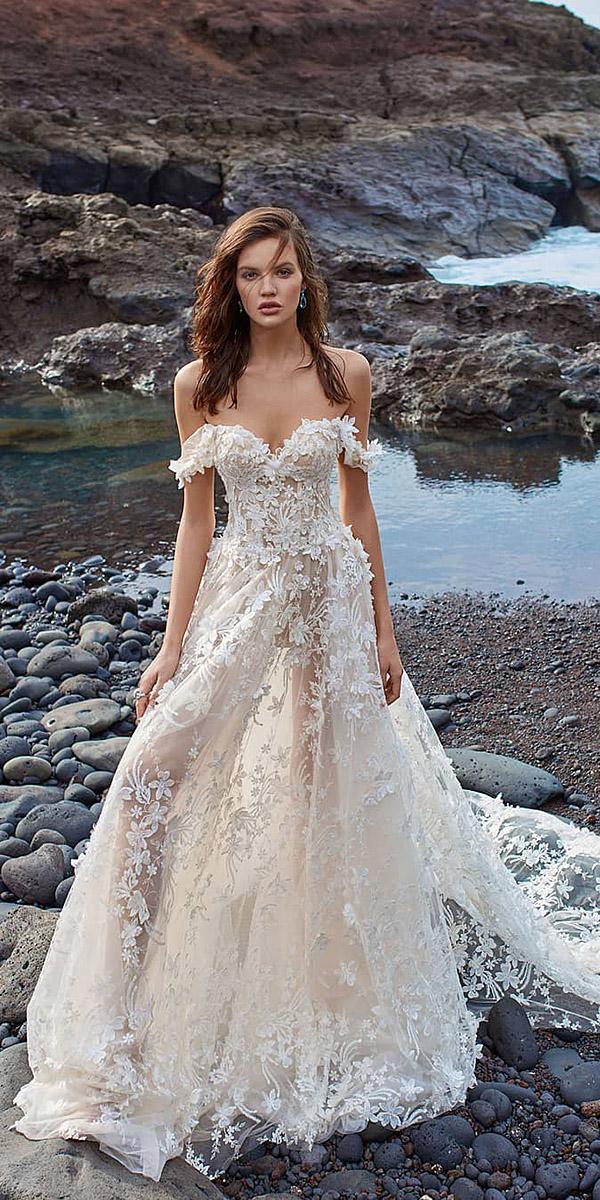 6. Scoop: A scoop neckline is similar to a v-neck, as it can be very flattering for those who want to show a little cleavage, but it has a rounder shape and forms a "'u" instead of a "v" neckline.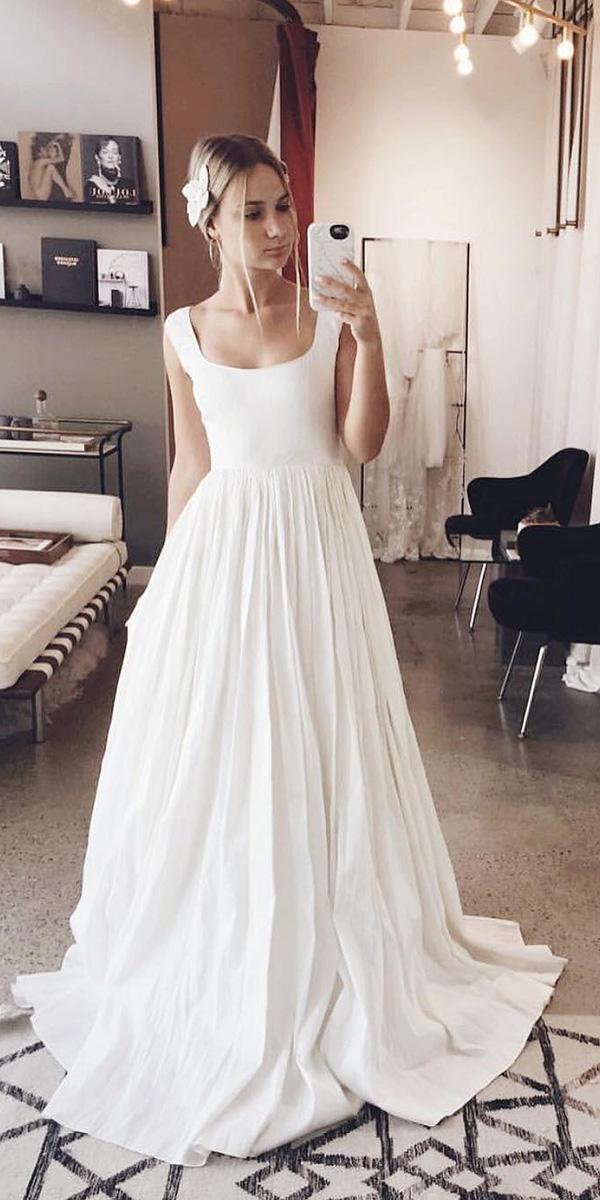 7. Queen Anne: For the bride with a dramatic edge, this look is very regal with its high collar in the back and a dipped neckline.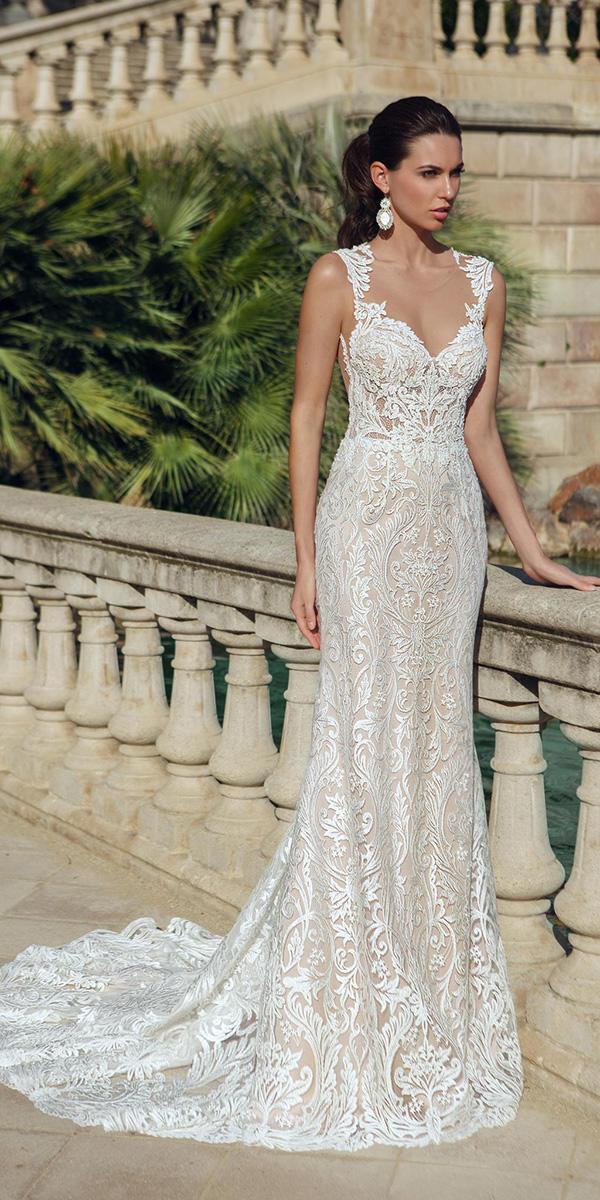 8. Illusion: Neckline features sheer lace or another delicate fabric along the top of the body that extends to the neckline. A recently popular trend. 

As you can see, there are many options available for wedding gown styles, length and neckline. Don't hesitate to ask your bridal consultant for suggestions. With all these options, we are sure you will find the dress of your dreams!