Wedding dresses with train are always classy. But are there any circumstances they are considered in appropriate? According to bridal experts, trains are not recommended for a second marriage or vow renewal ceremony; otherwise, trains add a sense of royalty to any wedding setting and add extra sense of dramatic flair to your bridal gown.
What about wedding dress train lengths? How does one decide what length of train is best for their personal taste, bridal gown style and venue? We have asked the experts for some tips on how to choose a length for your train for your bridal gown.
Tips For Choosing Wedding Dresses With Train
Before we get into how to choose wedding dress train lengths, let us give you some helpful tips on how to shop for wedding gown trains in general:
Bring a friend along to take pictures of your train so you can get an accurate view
Make sure you train can either be detached or bustled so you will be able to move around with ease during your wedding reception.
Walk around the shop wearing your train to ensure that you are comfortable with it. The last thing you want to do is purchase a dress with a long train and then regret it in your wedding day if you find to be too cumbersome.
Have whomever will be helping you dress on your wedding day with you when you are doing your final fittings so that they can learn how to bustle or detach your train You don't want to be baffled as to how to bustle your dress at the last minute.
Different Lengths For Wedding Dresses With Train
A Watteau train attaches to the wedding gown at the shoulders and dramatically drapes down to the bottom of the dress. It adds a sort of Grecian look and feel to the dress and is a great option for those who don't want to wear a typical bridal veil but still want the long flowing effect of a veil.
A sweep or brush train fall about six inches behind the gown, extending from the hemline of the bridal gown. Sweep style trains are popular for outdoor weddings or casual indoor settings.
The same length as a sweep train, the court style train stems from the waistline as opposed to the hemline. If you are considering a court style train, make sure have someone snap a picture of a side view of the train as it will drastically alter your silhouette.
A panel is normally a detachable train as it is a completely separate panel that trails about a foot wide behind your gown. This is a perfect option for those who decided they want a train well after they have purchased their dress as they can easily be customized to fit any gown.
The most popular style of wedding dresses with train is the chapel style as it extends about 3.5 to 4.5 feet from the waist. A chapel train is perfect for the bride who wants a traditional and elegant train without anything too heavy or cumbersome. This style is perfect for casual or semi formal weddings.
A semi cathedral veil is perfect for an evening wedding and is desired as a "halfway point" between the chapel and the chapel length train as it falls about 4 to 5.5 feet from the waist.
A cathedral train is perfect choice for a semi formal or formal wedding as they fall between 6.5 to 7.6 feet from the waist. They look quite dramatic and elegant when paired with a cathedral length veil.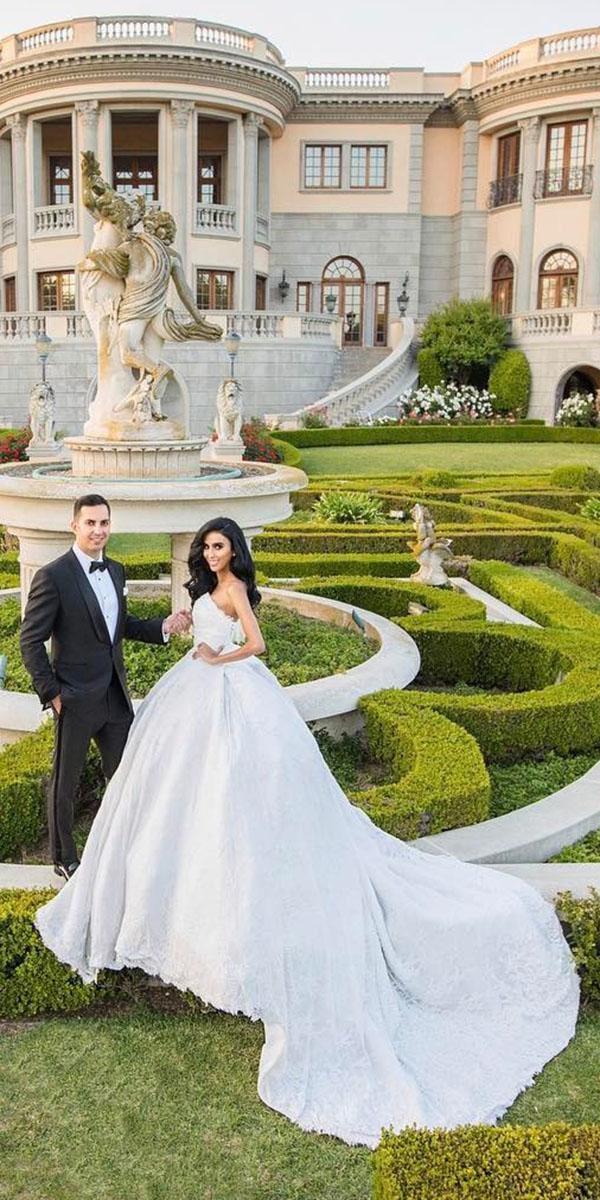 The monarch length train is exactly what the name suggests: regal! Consider a monarch train if you are having an extremely formal and elaborate affair. They are usually 6 to 12 feet (or longer) from the waist and require at least one "helper" (usually a flower girl) to assist the bride as she walks down the aisle. These are the most rare and are usually designed for royalty and celebrity weddings.
A French bustle is exactly elaborate as it is designed of ribbons or ties that are underneath the gown to from a rather complicated yet extremely sophisticated bustle.
The American bustle is designed by first raising and then securing the outside of the train to the waistline of your bridal gown.
A pickup bustle is the simplest form of bustle as it requires the least amount of buttons and hooks and creates just a slight lift.
A tufted bustle is best for gown trains that are already equipped with pickups/tufts. You can ask your seamstress to make more tufts if you wish to shorten the length of your bridal train.
Remember to have your maid of honor or whomever will be bustling your dress, attend your fittings with you so they will be able to assist you on your wedding day with confidence and ease. You can also ask your seamstress to draw a diagram or outline detailed directions for extra help. Take a picture of your dress when completely bustled during your fitting so she has an accurate visual of how your bustle should look.