These days, weddings are becoming more customized than ever. From flower crowns in lieu of veils to donuts instead of three-tiered cakes, couples are eager to embrace the unconventional. Still, the ubiquitous white wedding gown is seen as the standard — at least, it still is in the United States. But actually, the white wedding dress is a bit of an anomaly in a global sense. Although our love of stark white dresses has managed to permeate on an international scale, traditional garb and colorful clothing are often preferred by brides in countless countries.
Today, we'll take a closer look at some of these unique and breathtaking wedding dresses from around the world and see how cultural traditions influence brides outlook when saying their nuptials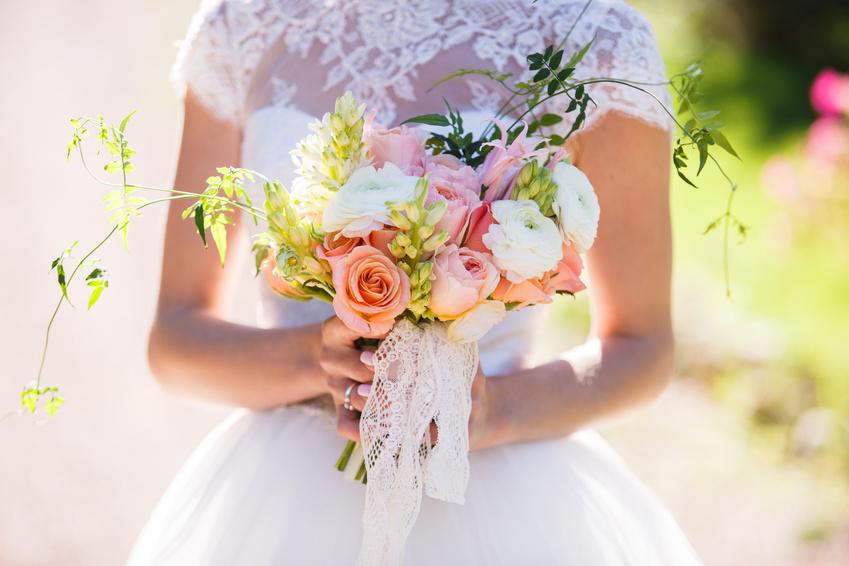 You might be surprised to learn that red is an immensely popular color for brides to don on their big day. In China, Macedonia, Turkey, Pakistan, Peru, Iraq, and many other countries, wearing a red dress or accessory may symbolize love, romance, happiness, or good fortune.
Red plays a major part in Indian wedding customs, particularly for the bride. She is adorned with red powders and decorations to represent her transition from girl to married woman, and the red-hued clothing she wears signifies togetherness and a happy relationship. When she enters the home she shares with her husband for the first time, the bride will even dip her feet in red water before walking barefoot on the floor of the house. While red has a number of meanings in the Indian tradition, it's most often used to symbolize commitment, spirituality, protection, and holiness.
In India, brides often wear red or pink while guests are encouraged to wear bright and bold colors. You won't see any black or white worn at Indian weddings, as these colors symbolize mourning. While a bride's outfit might depend on where her family is from, she often wears a sari (a draped dress worn in various styles) or lehenga (a long, embroidered skirt worn with a midriff-baring top).
One can never accuse an Indian bride of being under-accessorized. Hindu brides are known for wearing 16 embellishments, a custom referred to as Solah Shringar. These include specific hairstyles (braids, flowers, and vermilion powder in the bride's hair part), makeup and fragrance (kohl eyeliner and perfume), jewelry (bangles, rings, necklaces, nose rings, and anklets — just to name a few), and other traditional additions (the bindi on her forehead and mehndi, or henna, on her hands and feet).
Mongolia: Dresses Are a Big "Deel"
While some Mongolian weddings lean towards being more modern, there are plenty of brides who embrace the traditional garments of their heritage. These brides will wear what's called a deel, a tunic-like piece of clothing made of cotton, wool, silk, or brocade. Brides wear deels that are lighter in color and have a tighter fit, while grooms wear ones of darker hues, with a looser fit and larger pockets and sleeves. While many deels are worn on a daily basis, the ones worn in weddings are much more special.
Underneath her deel, a bride may wear a white, long-sleeved dress with an embellished hem or a brightly-colored dress with embroidery. Because so many couples are choosing to honor their cultural traditions while incorporating more modern elements — and because so many traditions differ based on exact location — there is no one typical wedding costume. Still, no matter how the bride chooses to dress on her wedding day, the result is something truly spectacular.
Japan: For Shinto, You Need a Kimono
Shinto weddings may be becoming less popular in Japan, but they are a tradition worth knowing more about. Japanese Shinto weddings, which can be traced back to the early 20th Century, are centrally focused on the concept of purity. As is true in Western customs, white remains a symbol of innocence and chastity.
Therefore, a Shinto bride will wear a white kimono, which signifies virginity and virtue, for the formal wedding ceremony. She will also wear a traditional silk or paper headdress, called a tsunokakushi, and may even wear a wig. This hat, translated as a "horn hider," is meant to hide the bride's "horns of jealousy" and symbolizes her desire to become an obedient wife.
The Shinto bride's white kimono may be embellished with red detailing or she may choose to change into a red kimono for the wedding reception. Here, red symbolizes good luck.
Italy: Traditions With a Twist
In America, brides like to make sure they have their "something blue" (along with their old, new, and borrowed elements) to bring good luck, prosperity, or even fertility. But in Italy, brides may opt for "something green" instead. Some Italian brides believe that wearing a green accessory or even a green dress can bring luck or fertility just as well as something in a blue hue can.
Many Italian brides do wear white, of course, but that wasn't always the case. In Tuscany, brides used to wear black dresses accessorized with white hats. Venetian brides would typically wear their second-best dress to walk down the aisle and save their finest gown for their first married dance with their husbands.
For Italian brides, the veil is also a key element. Traditionally, the veil was meant to completely cover the bride's face to keep a groom from backing out at the last minute. In southern Italy, longer veils indicate a longer relationship. The veil may measure one meter in length for each year of a couple's engagement.
The garter remains important to Italian brides, too. In some cases, the groom will remove the garter and throw it to the crowd; in others, the bride will tear up the garter into pieces for guests to keep. Brides found not to be wearing a garter may end up losing their right shoe, instead!
While it's considered bad luck for the bride and groom to see each other before the wedding, Italian brides sometimes aren't even allowed to see themselves before they get married. In some regions, a bride can't look at herself in a mirror unless she's removed one of her shoes or a glove first.
America: It's a Nice Day For a White Wedding
We often think of the white dress as a representation of the classic American wedding. But in truth, it wasn't until recently that white wedding dresses became the norm. They were relatively rare for most of history; women typically just wore the best dress they owned for the big day. That is until Britain's Queen Victoria opted to wear white for her wedding in 1840. It really caught on in publications at the time and has been since considered the hallmark of simplicity and purity — two traits every bride should supposedly possess.
But even though white dresses have been the go-to since that time, they weren't the showstoppers we may shop for today. Until the 1920s, wedding gowns were very modest. Since then, of course, hems have become shorter (and then longer again), silhouettes have changed drastically, and embellishments have become almost a necessity. It's no surprise that the average bride now spends $1,564 on her wedding dress (and up to $250 on alterations)!
Although many brides don't wear white specifically to proclaim their virginity, tones like alabaster, eggshell, and ivory are still the most popular picks when getting hitched in the United States. That said, deviation and customization are becoming more prevalent. In America, many brides are breaking with tradition by wearing gowns of blush pink, champagne, and even outlandish colors to make their special day even more so. And even when they opt for a white dress, brides aren't afraid to think outside the box in terms of their veils or hair pieces, bouquets, shoes, and other small touches.
Whether Classic or Modern, It's Up to the Bride
Be it halfway across the world or right in your home state, soon-to-be-wedded couples choose to embrace cultural traditions, opt for contemporary trends, or utilize a mix of both old and new. While the color of the gown may change, one thing remains the same: this truly special garment ushers a new bride into her married life with a sense of history and style.