Do you want to avoid the most common wedding dress shopping mistakes? Shopping for your bridal gown and accessories is supposed to be one of the happiest moments of your wedding experience. It should be magical, not stressful. We have some wedding dress shopping tips that can make the process enjoyable!
Common Wedding Dress Shopping Mistakes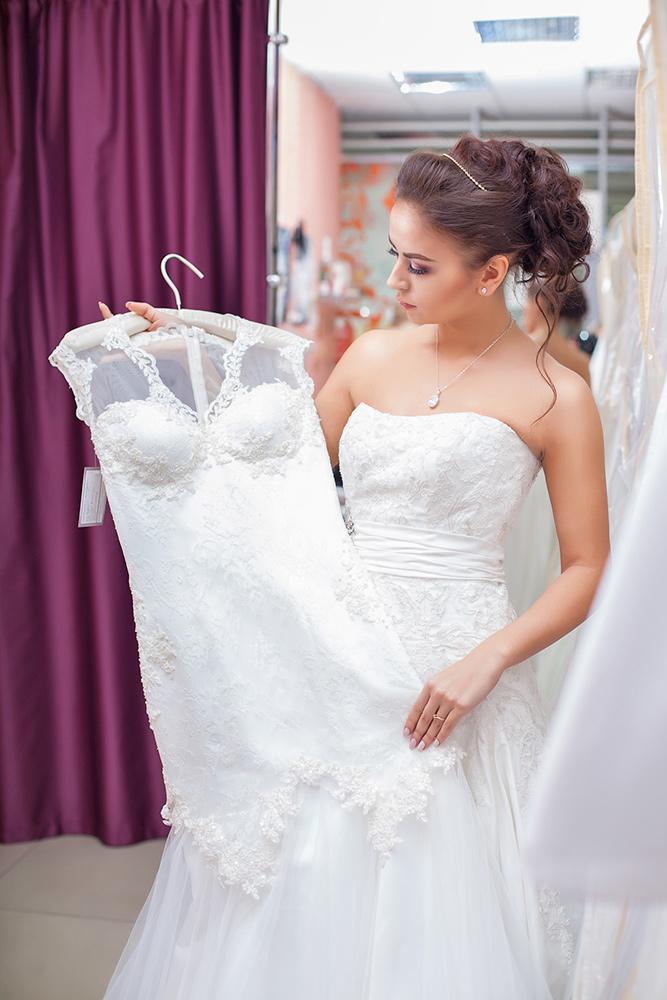 You should have some knowledge as to the different wedding dress styles and fabrics. Know what dress silhouette best flatters your figure as well as what color fabric will go best with your complexion. As well, you should call ahead and make an appointment before you visit a bridal boutique to ensure that you allow yourself plenty of time to meet with your bridal consultant. Another tip is to try to shop at off-peak times such as weekday mornings rather than a Saturday afternoon, when salons are their busiest.
2. Going Over Your Budget
Sticking to your wedding dress budget is imperative. Don't look at dresses that are above your limit. And remember to take fittings and accessories into account. Also, shipping and handling fees may apply if you special order your bridal gown. Set a realistic budget and stick to it, no exceptions!
3. Shopping Too Soon… Or Too Late
If your wedding isn't for three years, you don't want to shop too soon as you may shop make an impulsive decision as you might change your mind several times. As well, you don't want to wait until the last minute to shop as you need to account for possible shipping and alternations. Stick with the 9 to 12 month rule and you will be fine!
4. Taking Too Many People With You When You Go Shopping
You don't need your entire bridal party as well as your immediate and extended family to tag along with you while you go dress shopping. One of the biggest wedding dress shopping mistakes is inviting many people. It might seem like a great idea to have a huge entourage accompany you but it's really quite distracting. There will be too many contrasting opinions and you will feel overwhelmed. Take a trusted group of select people along such as your mother and/or sibling and perhaps your maid of honor.
5. Letting Sales People Pressure You Into Buying A Dress You Don't Absolutely Love
Bridal consultants generally work on commission so of course they want to close the deal! Don't let them pressure you into buying a bridal down that is over your budget. As well, do not let them convince you to purchase a dress that you don't love with every fiber of your being. This is your special day! If you feel you might be easily swayed, have a friend or relative run interference.
By the same token, bridal consultants do have a great deal of expertise when it comes to bridal gowns. They will know about the right style and fit for your structure and such. As stated above, the final decision is yours, but do not hesitate to ask for expert advice when needed.
7. Not Putting A Gown On Hold
If you find a dress you love, but you aren't sure if it's "the one" and you wish to continue searching, be sure to put that dress on hold. It might turn out to be the dress of your dreams and if you don't have the boutique hold the dress for you, you risk losing it.
8. Forgetting About Accessories and Lingerie
You should always purchase your dress before you shop for accessories as these are meant to compliment your dress, not distract from it. As well, you should not buy your bridal lingerie until you have made your final decision. It is important to have the right kind of bra to go underneath your bridal gown. As well, you should be prepared when trying on gowns. As a general rule, you should wear a strapless bra in a neutral shade while gown shopping. You don't want to be caught wearing ratty undergarments as you will most likely need assistance when trying on wedding dresses!
9. Forgetting To Read The Fine Print
One of the most wedding dress shopping mistakes is bride does not read gown contract. Always read your bridal gown contract in full before you sign. You want to be sure that you will not be hit with any hidden charges. As such, you want to be fully aware of the stores policies when it comes to shipping, alterations and so forth. This will save you a great deal of complications in the future.
10. Showing Off Your Dress Before The Wedding
Of course, you will be tempted to show your girlfriends your wedding gown before the wedding. However, we strongly recommend that you do not do so. Everyone has their own opinions and some people tend to be judgmental and outspoken. You don't want to second guess your dream dress if someone gives off the wrong vibe. Wait until your wedding day to show off your dress so everyone will be blown away by how outstanding gorgeous you look!
Keep these wedding dress shopping tips in mind and we are certain that you will have a memorable experience! We hope you find the dress of your dreams!