Have you thought about wedding dress rental? Before you completely disregard the idea of wearing a rental wedding dress, hear us out!
As a bride-to-be, you want every aspect of your wedding to be perfect, and your bridal gown is no exception! But think about the cost, cheap wedding dresses that match up with your ideal wedding dress are difficult to find. And honestly, what are you going to do with your bridal gown after the wedding? Pay a steep fee to have it cleaned and stored? There are plenty of reasons while it makes sense to rent your wedding dress.
Reasons Why Wedding Dress Rental Is A Good Idea
Source: SOLO MERAV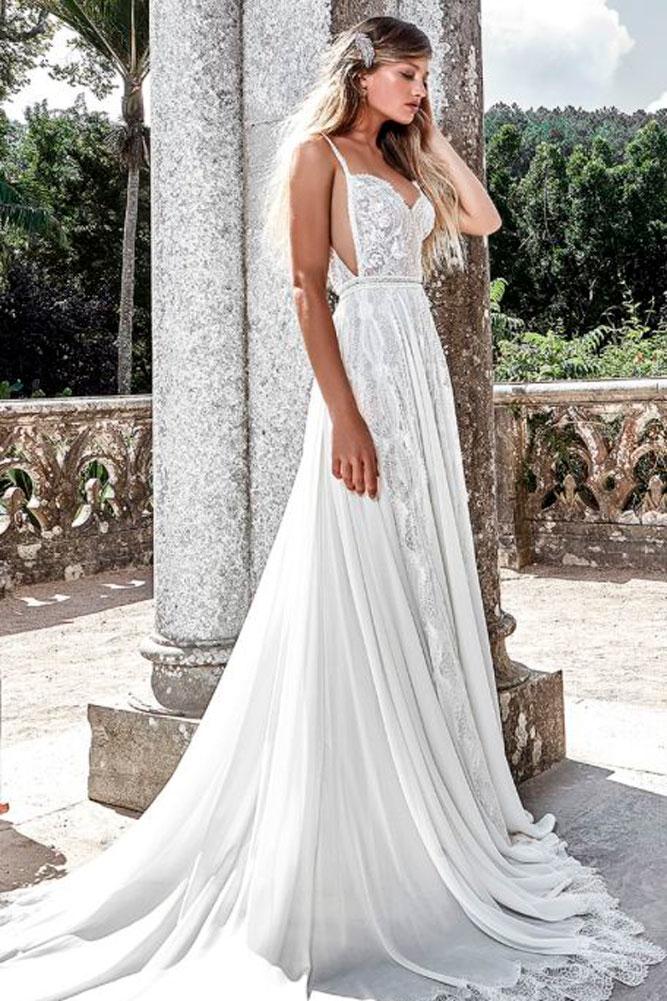 It's Becoming Trendy
You certainly wouldn't be the first bride to rent her wedding dress, and you won't be the last! Wedding dress rental boutiques have been around for years. If you think about it, the majority of the items for your wedding are rented: from the venue to the table and chairs, to the groom's tux, the photographer, DJ or band and even decorations.
With the economy being so unstable, many couples are struggling to make ends meet and would rather have money for a home than a lavish wedding. As such, many brides are opting to rent their bridal gowns to help cut the cost.
It Can Save You A Lot Of Money
Renting your bridal dress can help you save money in many ways. You can either choose to put the money toward your life after the wedding, perhaps toward your honeymoon or purchasing a home. Or you could use the money saved on buying an expensive gown to put toward other aspects of your wedding.
Wedding dresses can cost upward of thousands of dollars, even cheap wedding dresses are at least $1,000 these days. In addition, you have to consider shipping, cleaning and alteration expenses. On the other hand, rental wedding dresses can start around $74 with designer gowns in the $500 range. As well, a lot of shops that rent wedding gowns include cleaning, accessories and alterations in their rental fee.
Better Chance Of Finding A Better Fit
The chances of walking into a bridal store and finding a dress that you love that also fits is highly unlikely. Most bridal salons have limited stock and therefore carry limited styles and sizes so chances are you'll have to spend extra to special order your dress and get it altered to fit. The advantage of renting a bridal gown is that most rental pales offer the same gown in a variety of sizes.
Better Chance To Wear A Designer Gown
As stated above, bridal boutiques have limited space. So they are picky about the styles they carry and tend to carry a very small sampling of designer dresses. As they know that these can take up space for months. However, a wedding dress rental shop will tend to stock more designer options as they can rent them out multiple times. If you have your eye on a particular designer inspired gown, you have a better chance of finding it in a bridal rental store.
Convenient for Destination Weddings
If you are having a destination wedding, a wedding dress rental is a great option. You can even look for a retinal bridal gown in the city or town where you are holding your destination wedding. This will save you the time and expense of taking your dress with you on a plane or whatnot. You could just pick up the dress a day or two before your wedding.
Save You Storage And Preservation Costs
If you purchase your wedding gown, you will have to pay to have it cleaned, preserved and stored after your wedding. And chances are, it will never see the light of day again. Brides often hold onto their wedding dress in the hopes that their future daughters will one day wear the gown that their mother wore. While this is a sweet and extremely sentimental idea, the reality is that styles will have changed by then and your daughter will want to buy (or rent) a dress of her own. If you simply rent your bridal gown, all you have to do is return it to the shop after your wedding!
So why not give it a shot? Renting a wedding gown is both feasible and practical. More and more brides are opting to rent their wedding dress. And does not spending thousands of dollars on a brand new gown that they will never wear again. Of course, the final decision is yours. However, you shouldn't rule out the idea completely. Look online and do a cost comparison between buying a new dress or renting. As well, you should visit at least one rental boutique to see if you just might happen to stumble across the dress of your dreams! And remember, you'll have hundreds of pictures (and your wedding video) to remember your special day. Which is a thousand times better than a dress that is sitting in a box in your attic collecting dust! Whether you decided, though, we know you are going to be a beautiful bride!