Wedding dress length is an important part of choosing your bridal gown. As wedding dresses come in many different shapes, styles, fabrics and colors, they also come in a variety of lengths. You want to be sure that the length of bridal gown is appropriate for your frame and guide as well as the style of your wedding dress.
We are going to provide you with an explanation of the various lengths of wedding gowns, as well as some helpful advice on how to choose the best length for your bridal gown.
Different Lengths of Wedding Dresses
Similar to the flapper style dress of the Roaring Twenties, the mini wedding dress length  is perfect for the bride who wants to show off her sexy legs. With lots of glimmering bead and swishy layers, you will really shake things up in this style gown!
This gown falls just below your knees and is perfect for a casual affair or outdoor wedding.
This style of gown covers your knees gracefully and is great length for a semi-formal gown.
A tea length wedding dresses will fall just below your shin and is perfect for a semi formal wedding and will pair nicely with gorgeous bridal shoes.
This semi formal length falls somewhere between the knees and the ankles.
A ballerina gown falls just above your ankles and has a full flowing skirt.
A maxi wedding gown will fall gracefully at your ankles and works nicely on A-line style dress for a semi casual or formal affair.
A fun variation of the Intermission, this wedding dress length is longer in the back and shorter in the front for the bride who wants a non-traditional look.
A full length gown will gently hover an inch from the floor and will just brush the tips of your shoes. Full length gowns are usually ball gowns and are for formal wedding settings.
This gown grazes the floor on all sides for a perfectly elegant look and is flattering on all body shapes and sizes.
This length is for the more formal venues and falls four feet from the waist, leaving behind an elegant train.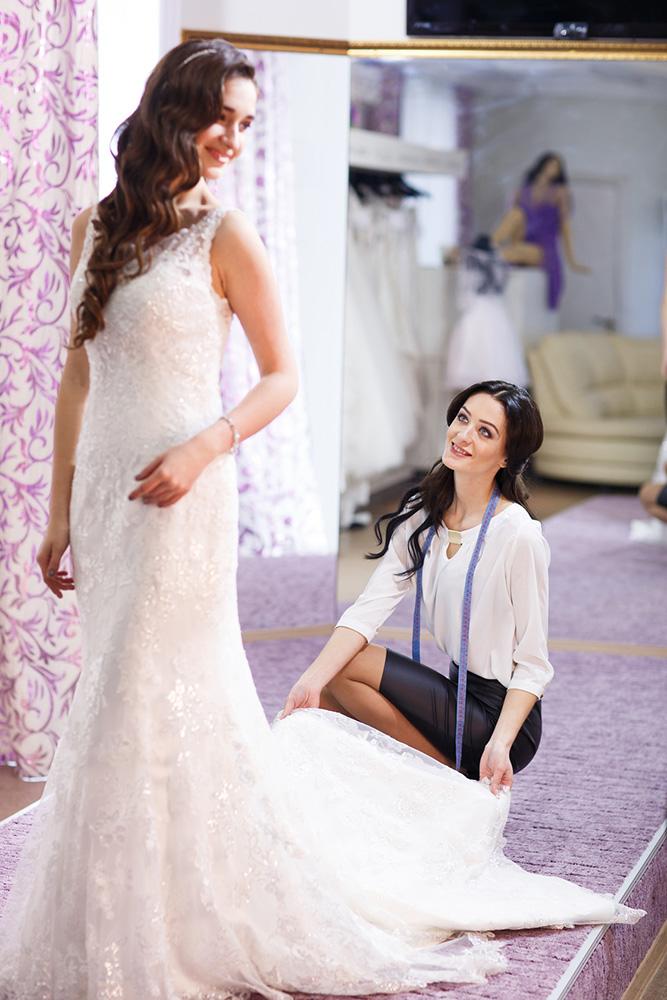 Slightly longer than chapel length, this gown will trail gracefully on the floor and make you feel like a regal princess.
About two to three feet longer than the semi-cathedral, this style dress will trail behind you like a flowing river of lace.
This wedding dress length is designed for the most royal affairs as it falls nine feet from the waist and flows behind you with all the grace and elegance that only a queen could muster.
Tips On How To Choose The Best Wedding Dress Length For Your Gown
1.Choose a length that is comfortable for you
If you do not feel comfortable with a long train, of you know you will be overly self consist in a certain length dress, do not go with that length. You want to look gorgeous on your wedding day of course, but you want to be able to move as well. Remember, you are going to be wearing your gown for the wedding ceremony, pictures and the reaction, so you need to choose a gown that in which you feel completely at ease.
2.Try on different lengths to see what best suits you
If you are unsure about what length bridal gown you want, feel free to try on different styles and lengths. You know what is going to look best on you and besides, half the fun of bridal gown shopping is trying on lots of different gowns!
The best way to tell how a wedding gown looks on you is to have someone take some digital photos. That way you can get a realistic view of how you look in each dress (fitting room mirrors are not always accurate). Make sure to take pictures from different angles so you can get a good idea of the look and feel of the dress.
4.If you choose a long train make sure its either detachable or able to bustle
If you are going with a dress with a long train, make sure the train is either detached or able to be bustled. You might have to pay extra to add on the loops and hooks for a bustle. Another piece of advice, if you are petite, a bustle might be overwhelming so if you really want a bridal gown with a long train, make sure that it is detachable.
5.Make sure you are able to put on the gown properly
Even though you will most likely have assistance dressing on your wedding day, you need to make sure that you purchase a wedding gown that is not overly complicated. If your dress has a lot of layers or hooks and buttons, you want to be suer that you know how to put in on the day of your wedding. You should have whomever is helping you dress go to your fittings with you so they can learn the ins and outs of your wedding gown.
We hope our guide to wedding dress length and our short list of tips will help you find the perfect bridal gown length! Remember to wear proper undergarments and bring shoes with heels with you when you are trying on your bridal gowns. We just know that you will be a positively radiant bride!