Used wedding dresses are becoming quite trendy. A lot of brides are turning to preowned wedding dresses as a means of saving money and time.
However, if you are considering purchasing a preowned wedding gown, you should avoid sites like Craigslist or EBay. These sites are great for everyday items and even gifts, but they are not well-known for specializing in used wedding dresses.
A used bridal gown is practical in that it can save you thousands of dollars. Most like, the dress will only have been worn one time and as well, the bride probably had the dress professionally cleaned after her wedding. If not, you can still have it cleaned for a fraction of the cost of a new dress.
We have some tips on where to find quality used wedding gowns at affordable prices!
Top 5 Sites for Used Wedding Dresses
Source: Melanie Riccardi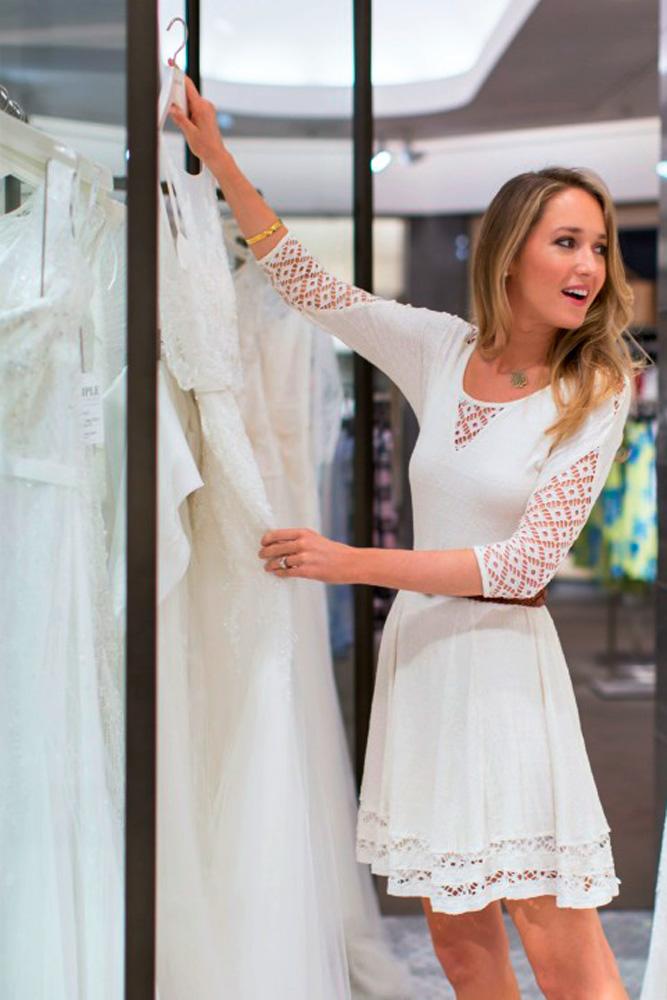 This site has an abundance of dresses that are either sold by boutiques and salons looking to unload surplus stock at reasonable rates or brides selling their wedding previously worn gowns. This site has been around since 2004 and has a stellar reputation for used bridal gowns. In fact, you can find a used gown listed for a flat fee of $25 and from there you would deal and negotiate directly with the seller to determine the final price of the gown.
This innovative site is not only a place to buy used bridal dresses, it is also an extremely interesting and informative blog. Those selling their dresses simply submit their info including photos of the gown and their measurements. The website does all of the rest,  including negotiating a price, shipping and handling.
Once Wed has a bountiful supply of used wedding dresses and their prices fit the norm. They also have a great blog with info for brides-to-be!
This site offers a great deal of options. The majority of the dresses listed on Tradesy are being sold directly by the previous owners so you can ask them any questions regarding the dress. The site also provide a money-back guarantee if you have any issues with the sellers or merchandise. You are able to search for a dress by brand names and other such search terms. Tradesy is one of the most popular site for pre -owned or used bridal gowns.
This side is not laid out quite as elegantly as some of the other used dress sites, but they do offer a decent range of designer wedding gowns. It is definitely worth a second glance if you are in the market for a reasonably priced designer gown.
Tips For Shopping For Preowned Wedding Gowns
In addition to shopping online you can also check out local consignment shops and thrift stores. You never know that treasure will find at one of these shops. You might stumble across the dress of your dreams for a small fraction of the cost of a new dress or even a used dress online.

Always make sure that the measurements are correct. It's better to go with a dress that is slightly larger than you can always have it alterdd. However, it will cost much more to let a dress out as this will require additional material, which can be quite expensive.
If you are buying a dress online, always ask to see at least one clear photo of the dress. Do not rely solely on word of mouth or a written description. If the seller doesn't have a photo on the website, it might be for personal reasons. They might not wish to display personal photo online. So you can ask them to email you a picture of the dress. Perhaps you can chat over Skype or Facetime and see the dress in "real time."
If you are dress shopping for a used gown in person, make sure examine it carefully for defects or damage. This is also the case if you are purchasing online. As soon as you receive the dress in person, examine every detail of the dress. And ensure that you are getting what you paid for. If you do notice any defects, make sure that they are in fact something that can be altered or fixed. You can then try to negotiate a lower price with the seller.
Protect Your Investment: It is true that there is an element of risk involved in buying a preowned wedding gown. However, you can make this process a lot smoother. If you ensure that there is a way to return the dress and money back guarantee from the seller.
Use a safe payment method if you are paying online. This will help protect you from fraud and identity theft. It is highly likely that this will happen, but it today's world it is always better to be safe than sorry.
Now that you have some tips on how to purchase a quality used wedding dress as well as the most popular sites that sell preowned wedding gowns, you can start your search. Think of the money you'll save if you buy a prewowned gown! Regardless if you buy a used dress, order a brand new one or have one handmade, you will be the most radiant bride ever!