Tea length wedding dresses are the perfect look for petite and sassy brides who are going for an elegant yet sensual vibe. This style of wedding gown is designed to accentuate your features thus making you look glamorous. And a tea length gown is ideal for the bride who isn't afraid to show a little leg!
We have put together a list of some of the most stunning tea length wedding gowns for the coming year, including both contemporary and vintage-style tea length wedding gowns. You will find tea length style wedding dresses with sleeves, lace, embroidery as well as both modern and classic styles.
To be aware of all the silhouettes, necklines and lengths, download a free wedding gown styles checklist right now!
Here is a selection of some of the most popular tea length wedding gowns from the latest collection. You will be sure to find the dress of your dreams from tea length gowns for the petite bride to tea length bridal gowns plus size. With one of these fashionable wedding gowns, you will certainly be the most stylish bride of the year!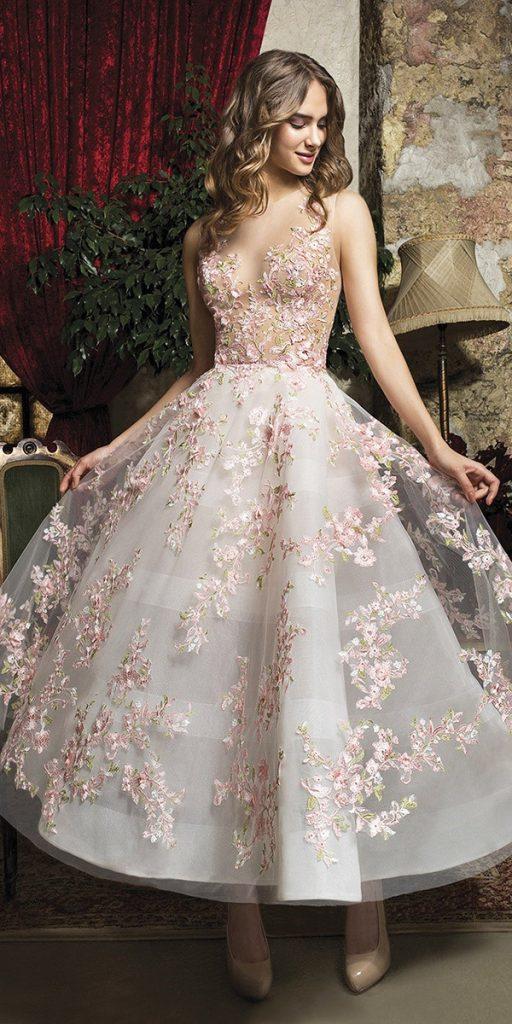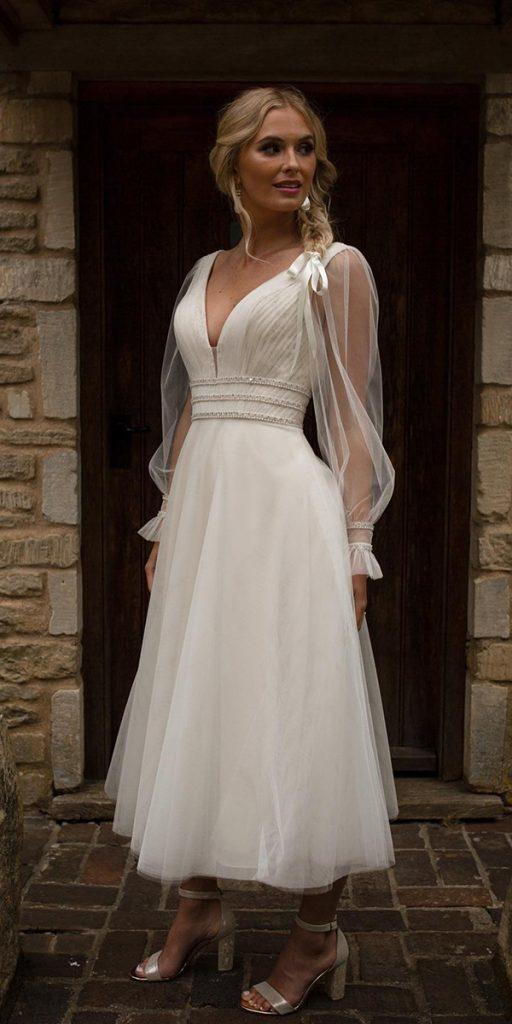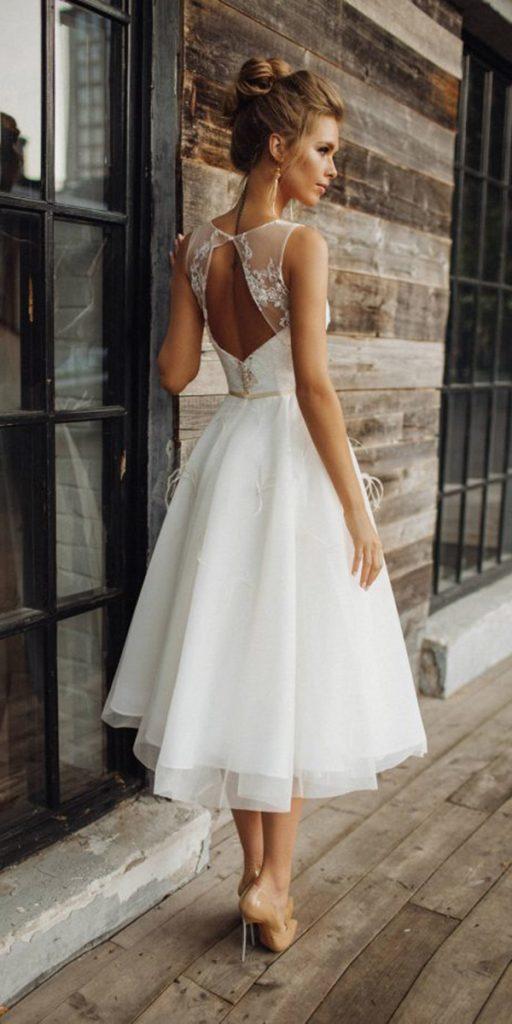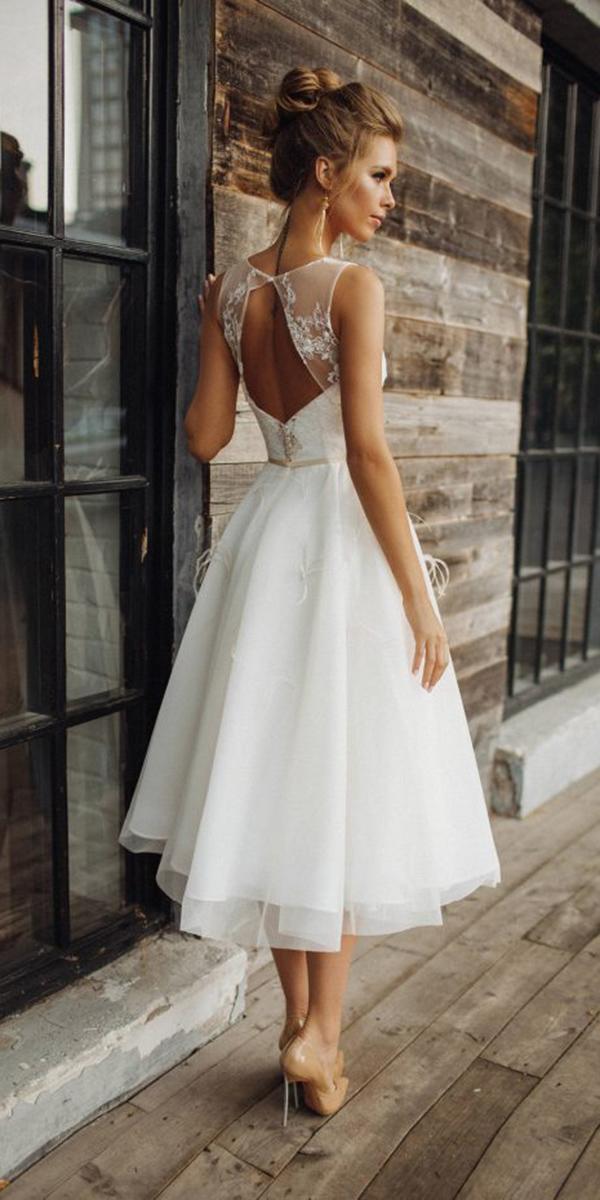 Summer weddings are the perfect place to showcase tea length beach wedding dresses. A light, flowy backless tea length dress will make you feel like an angel. Choose from strapless short gowns for an outdoor summer wedding. With one of these elegant and classy wedding dresses you are certain to be the most enchanting bride ever!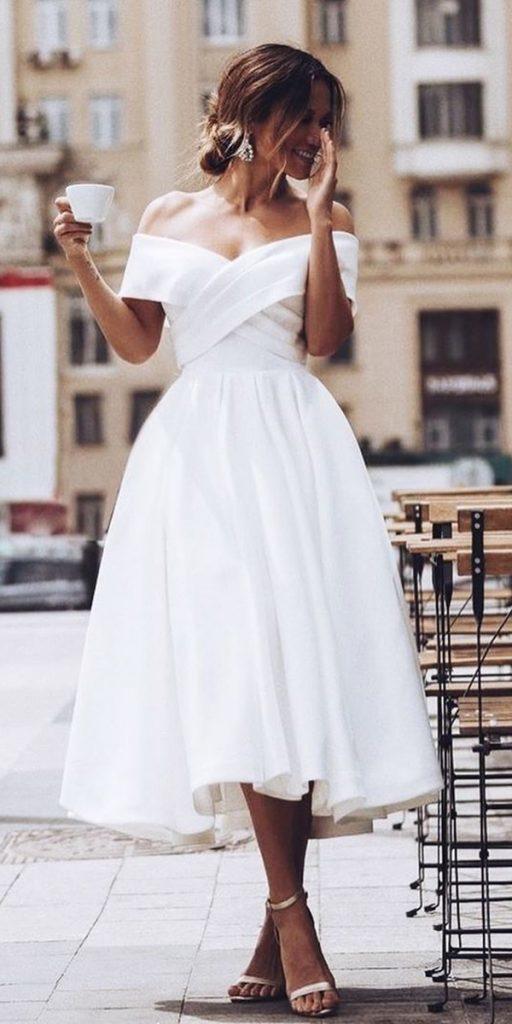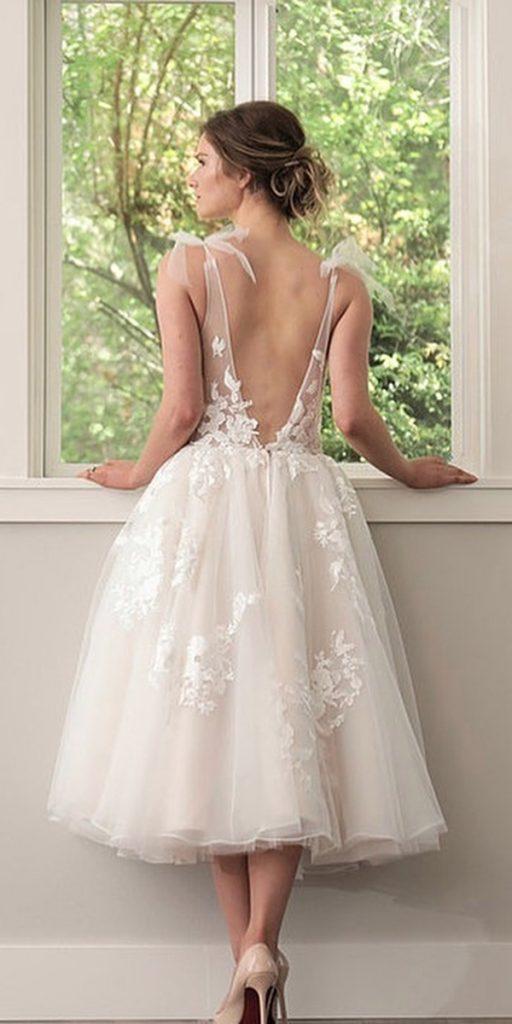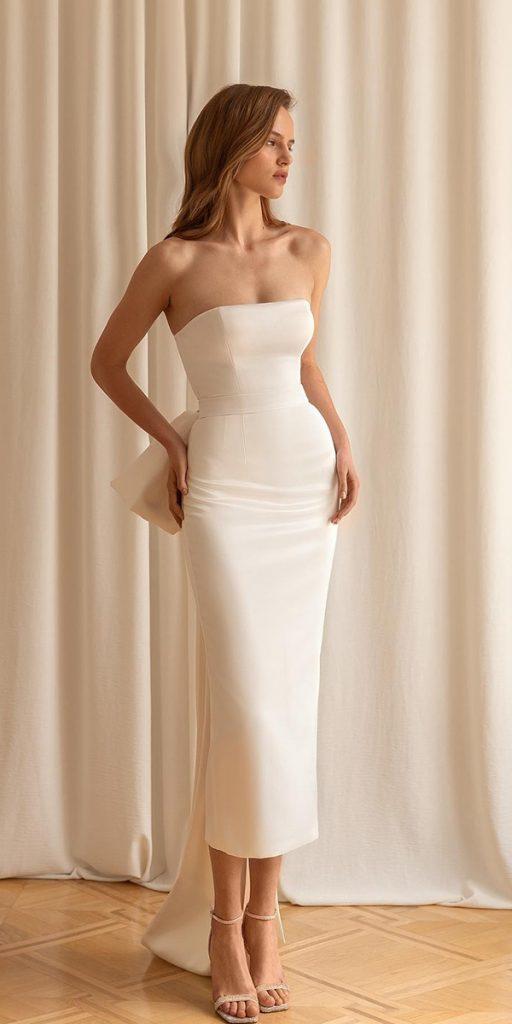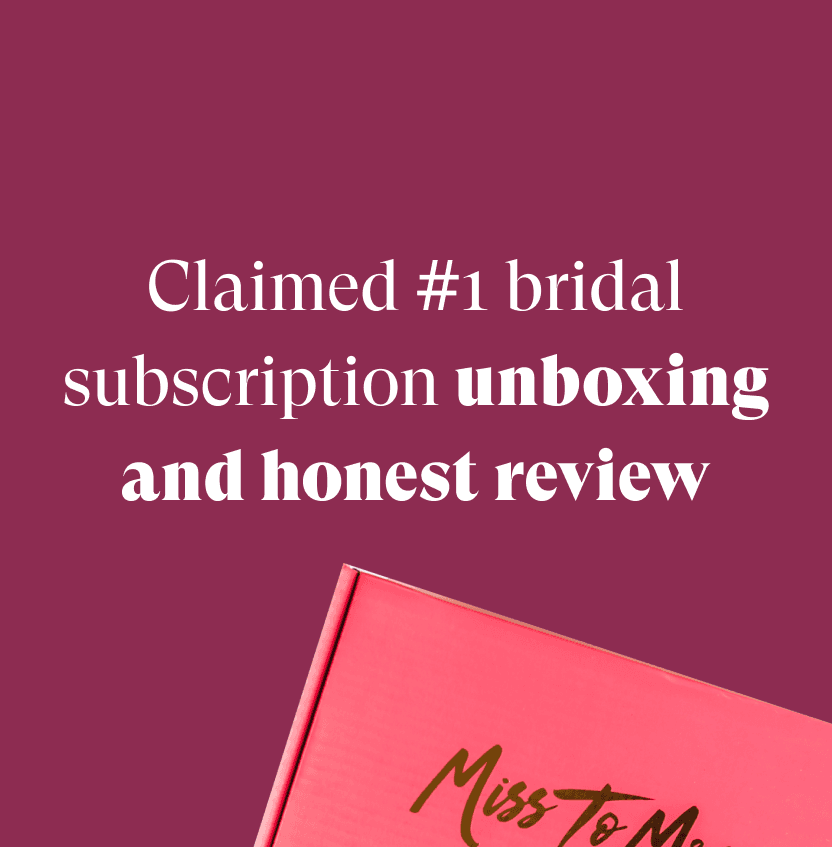 Tea Length Simple Wedding Dresses
Perhaps you are going for a more refined, elegant look. These simple yet elegant tea length bridal gowns are ideal for brides of all ages. And they are perfect if your wedding is a humble affair without a lot of glitz and glamour. As well a simple gown is best for tea length dresses for older brides (2nd marriage).
Pair  gorgeous simple tea length gowns with the right accessories, shoes and an elaborate hairstyle to complete your bridal look. Or focus on a tea length gown with embellishments and opt for a more classic hairstyle to make the dress the center of attention.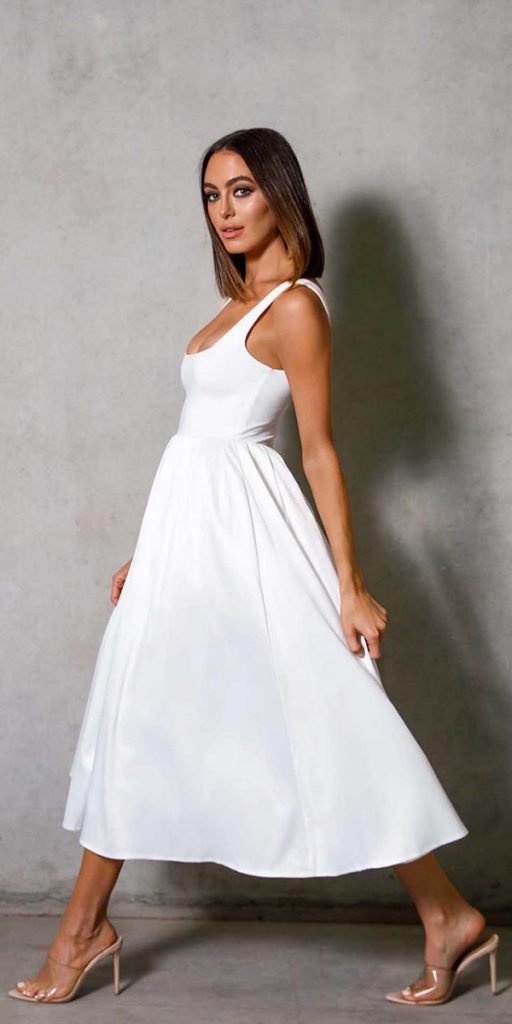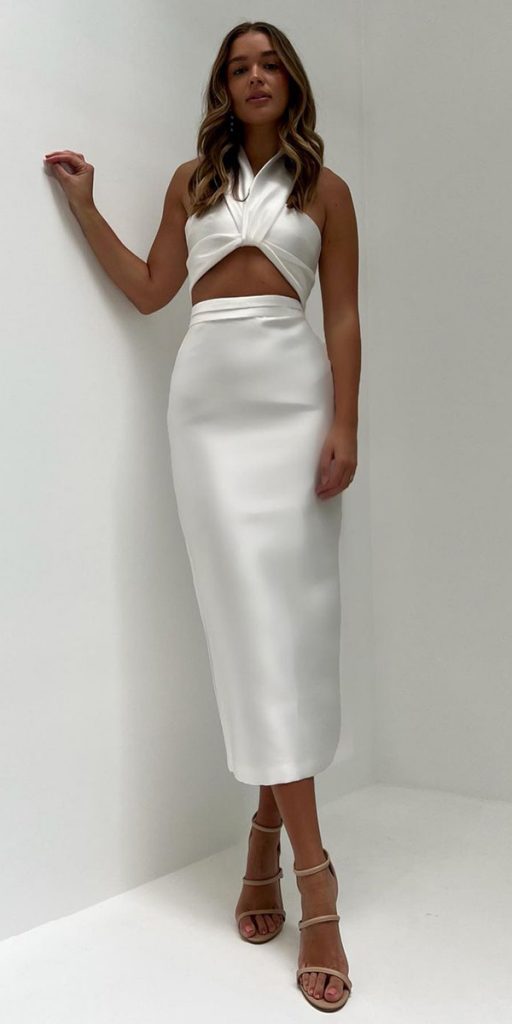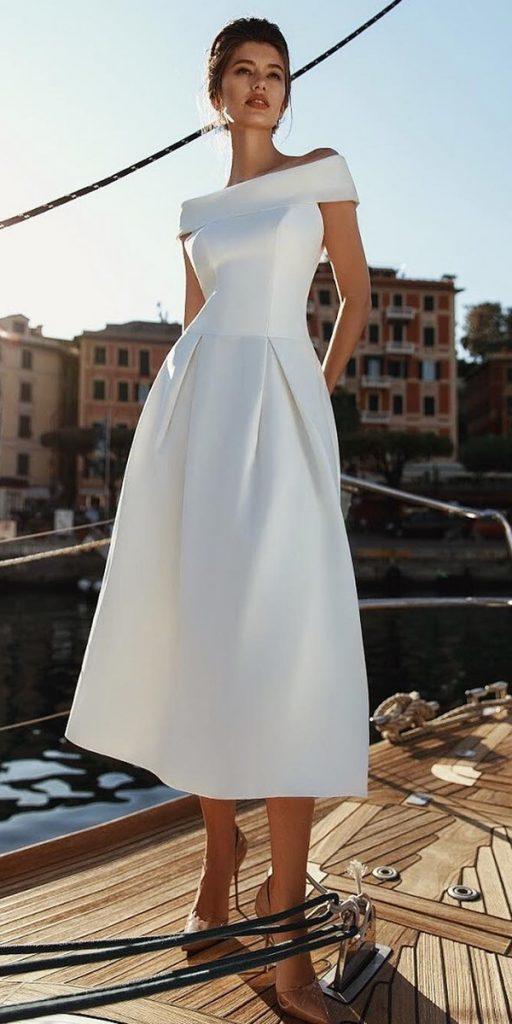 Tea length wedding dresses with sleeves are timeless as lovely, especially for a fall or winter wedding. Most tea length gowns with some type of sleeve will contain an element of lace. Or perhaps you can opt for embroidered or beaded sleeves as well as the ever popular illusion sleeves.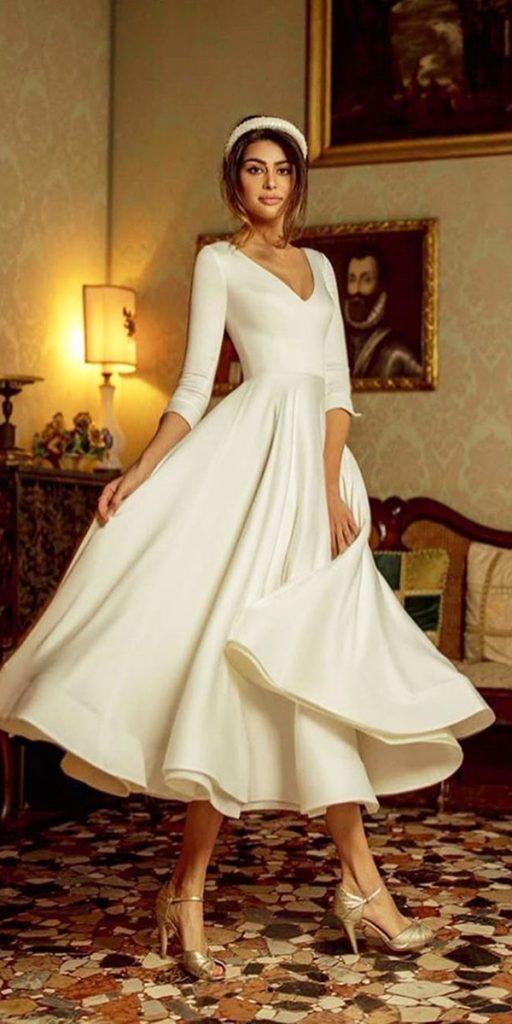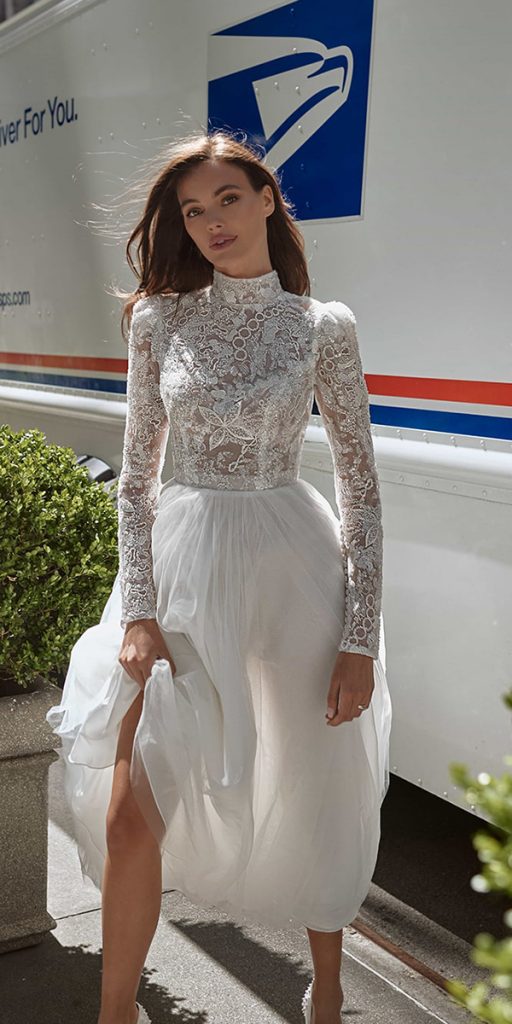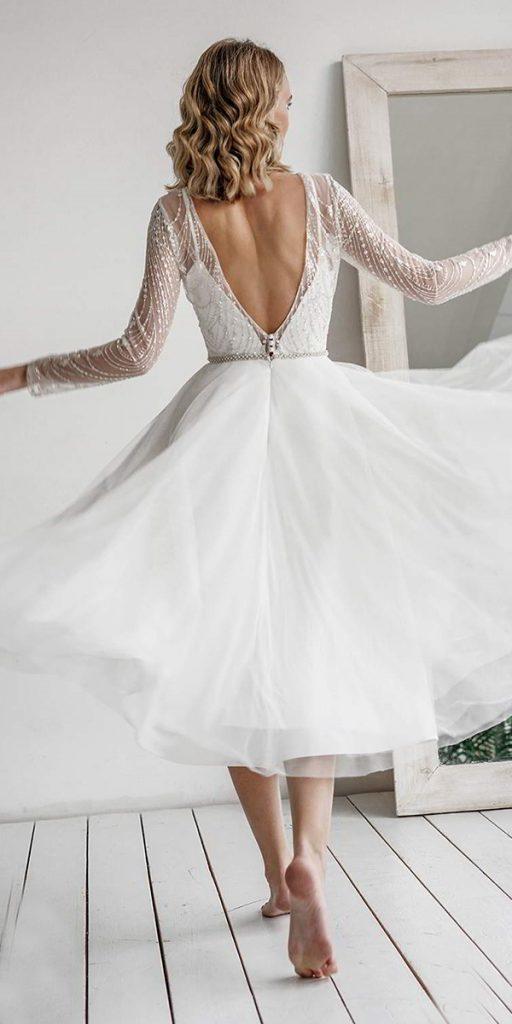 Vintage Style Tea Length Wedding Gowns
The following selection of gowns is perfect for the bride who is looking for a non-traditional style wedding down. Choose from vintage lace tea length wedding dresses to vintage gowns made from luxurious silk fabrics finished with elaborate beading.
Contrary to popular belief, retro tea length bridal dresses are designed by some of the most world-renown modern designers! So embrace both the old and the new with a stunning vintage tea length wedding gown!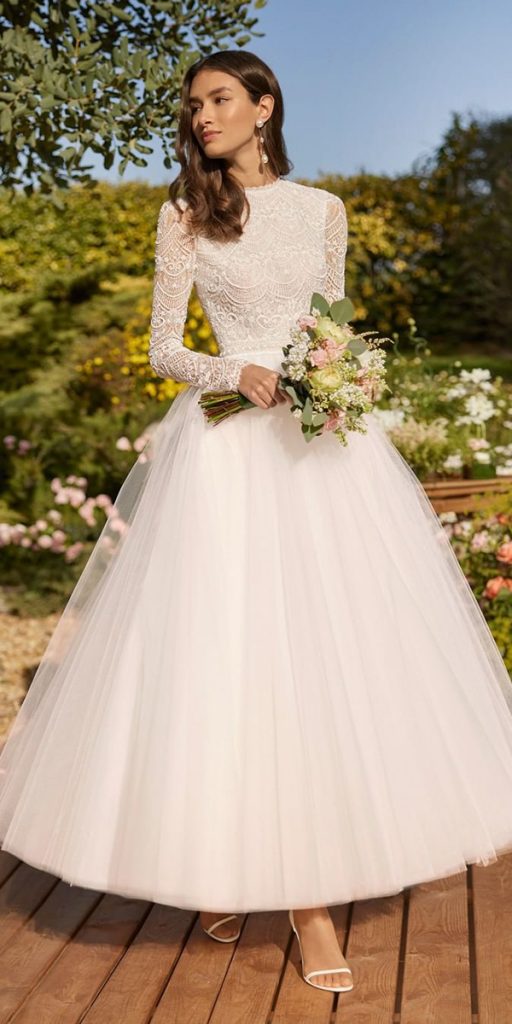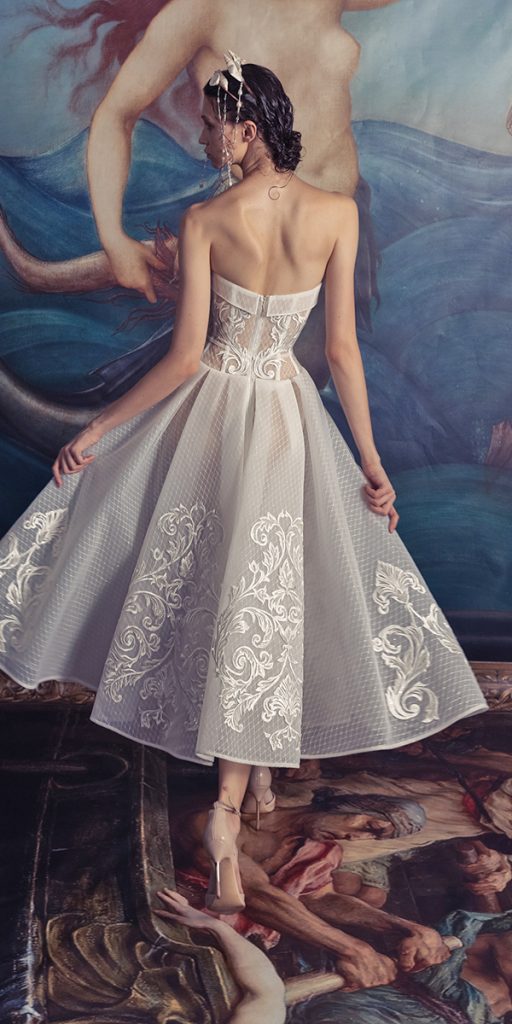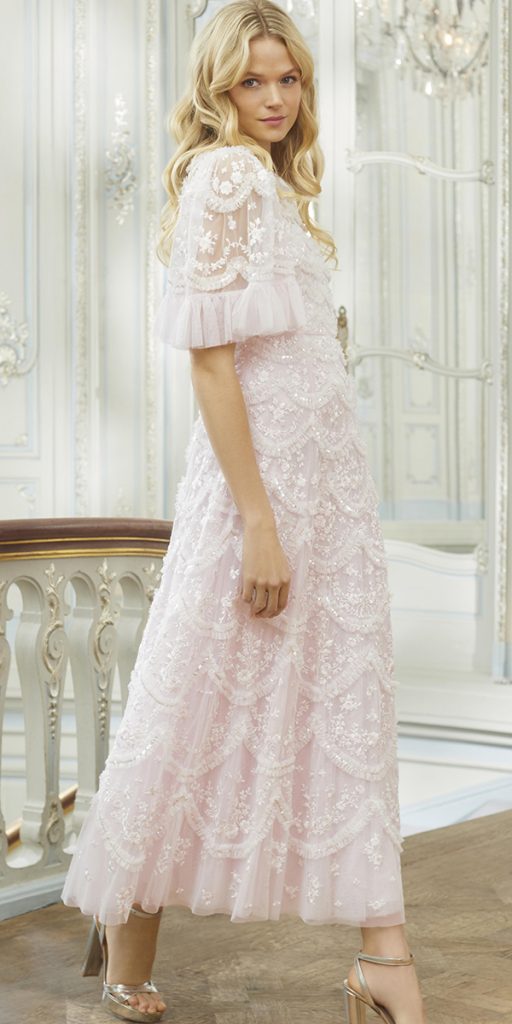 Modern style wedding gowns are a fantastic choice for your wedding day. More and more brides are opting for avant-garde style wedding dresses such as pink tea length wedding gowns.
As such, they are also going with tea length bridal dresses with puffed sleeves, elegant sheer panels, stunning appliqué finishes and even higher hemlines for a fashion-forward look. If you want to stand out from the crowd, try one of these modern tea length bridal gowns!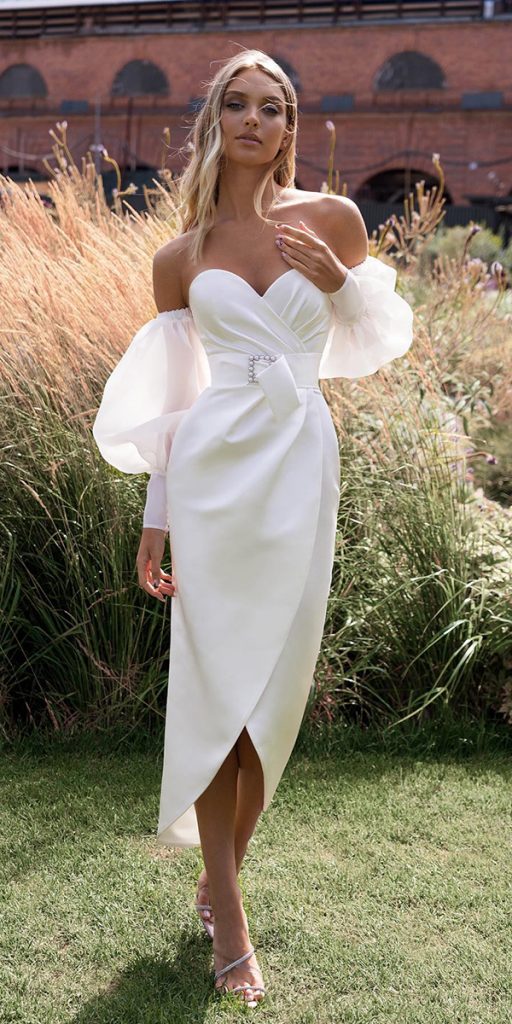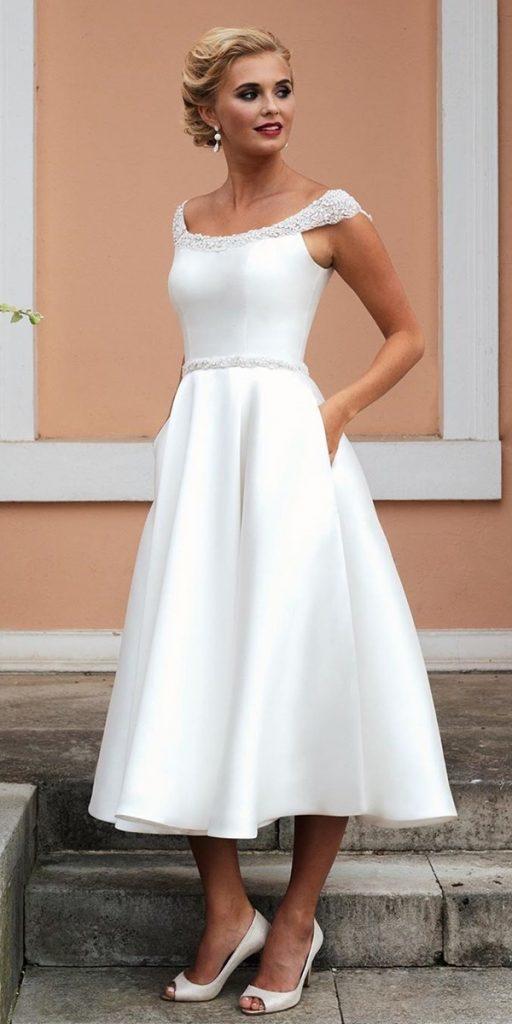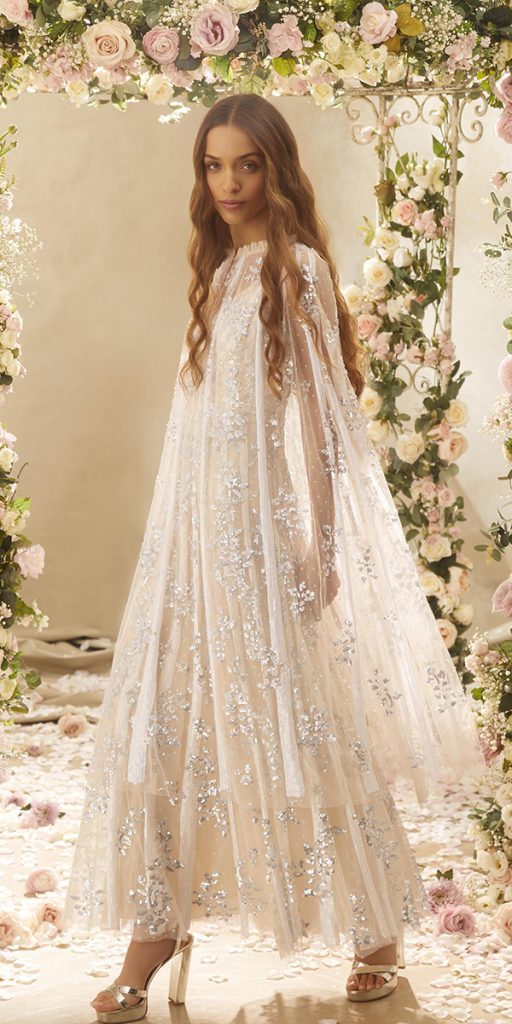 Country weddings are rising in popularity. So of course a country wedding dress is the perfect blend of nature, simplicity and romance. From bold and colorful gowns to ivory tea length dresses, you will be sure to find the perfect tea length dress for your country wedding!
Country tea length bridal dresses have a rustic vibe with chic and elegant details. Create a sense of refinement and beauty with one of these fabulous tea length gowns!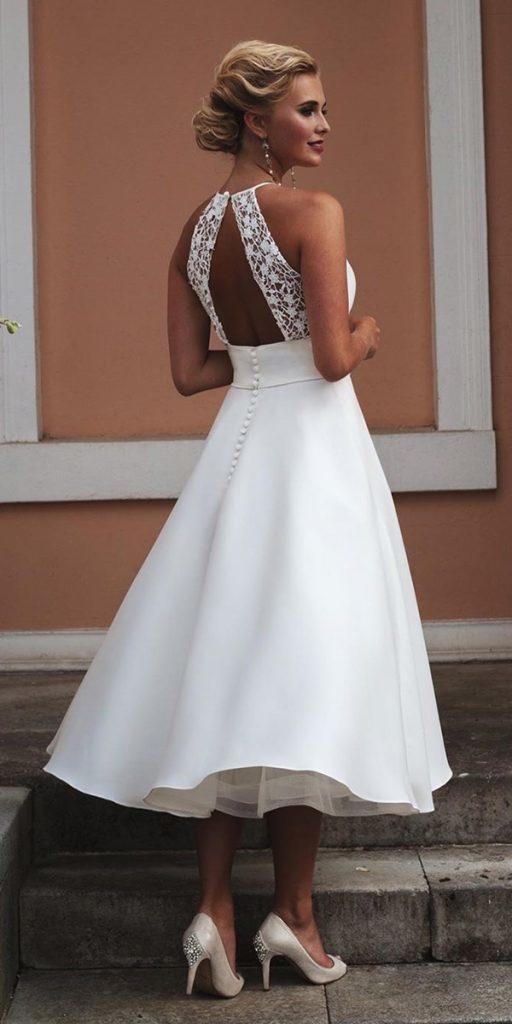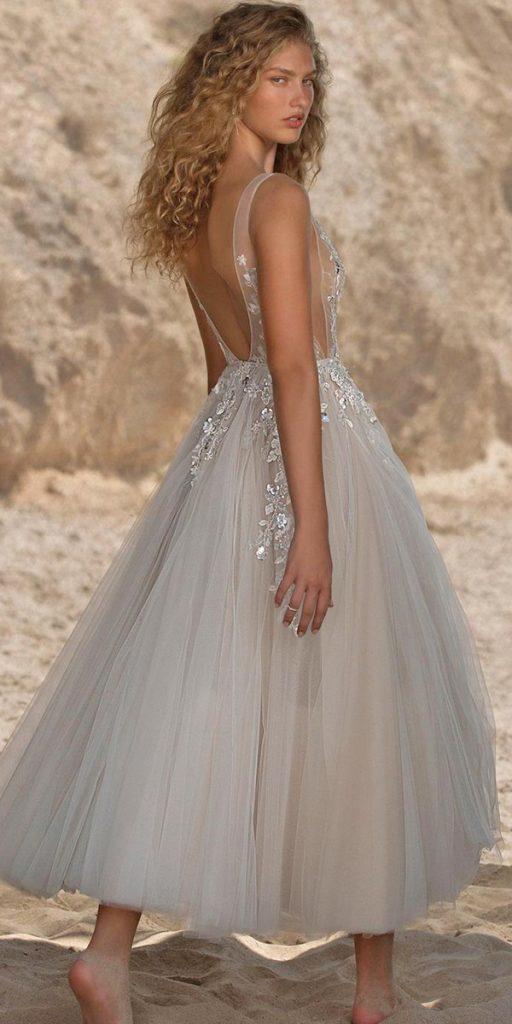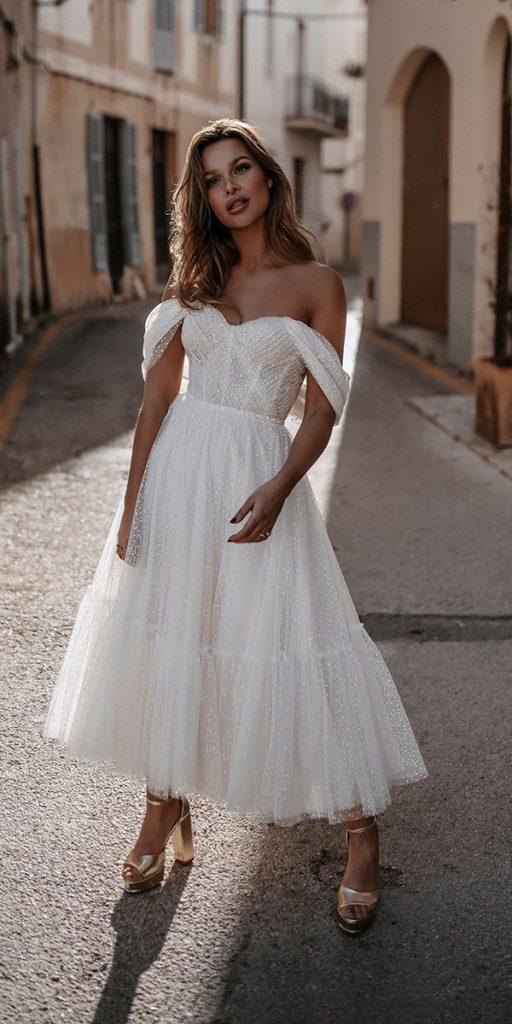 Not all brides dream about an immense wedding dress with lots of silk, chiffon, elaborate beading or a dramatic train. Sometimes casual wedding dresses can make an impression as a bright ball gown with beading and lace.
Look at these dresses and make sure of this!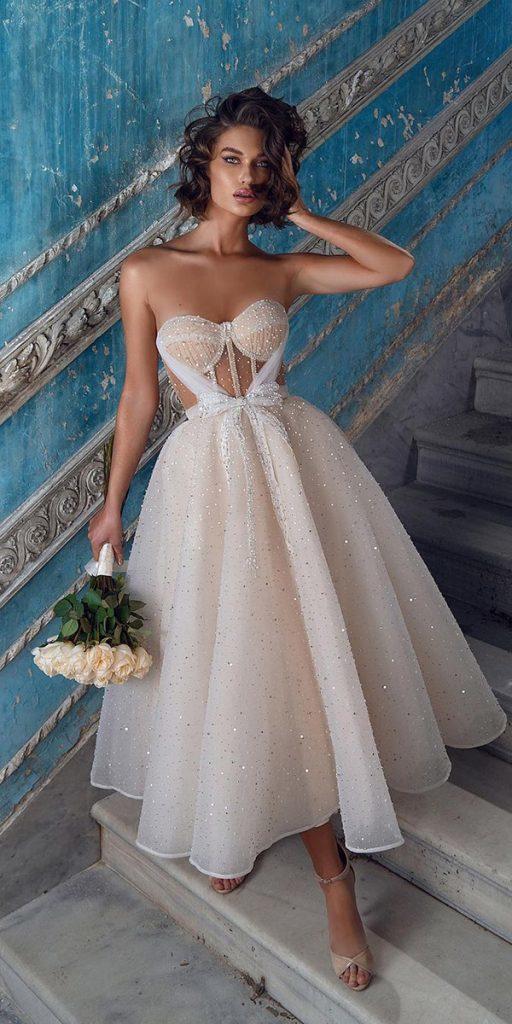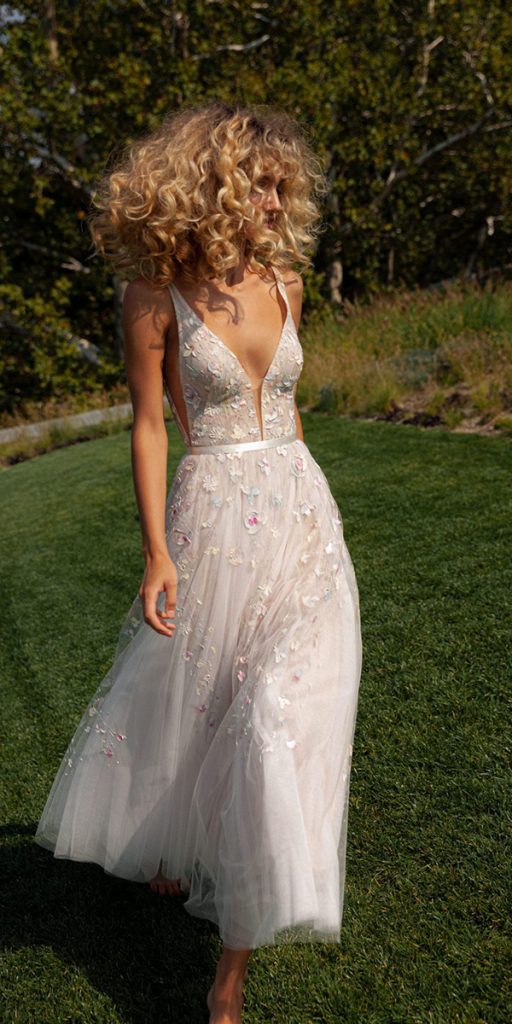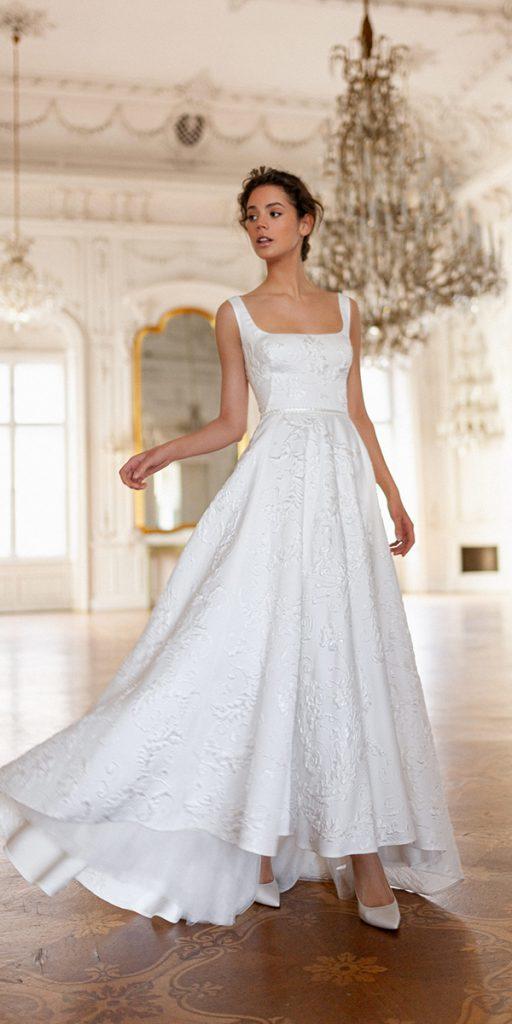 Romantic bridal gowns are loved almost by every girl. Because all bride will look graceful and elegant in these wedding dresses. Do you want to be the most charming and pretty bride? In this case, see romantic bridal gowns, choose the one dress that you like the most and pin it!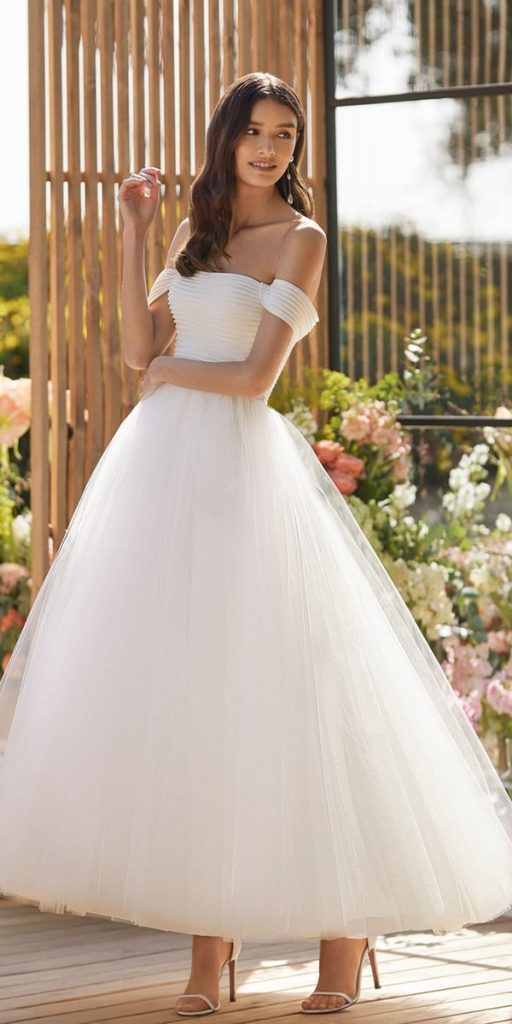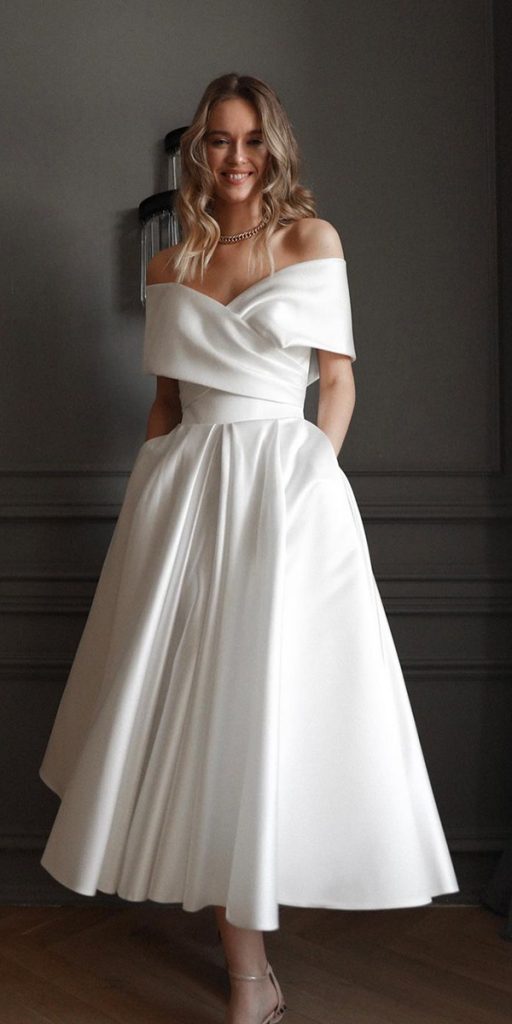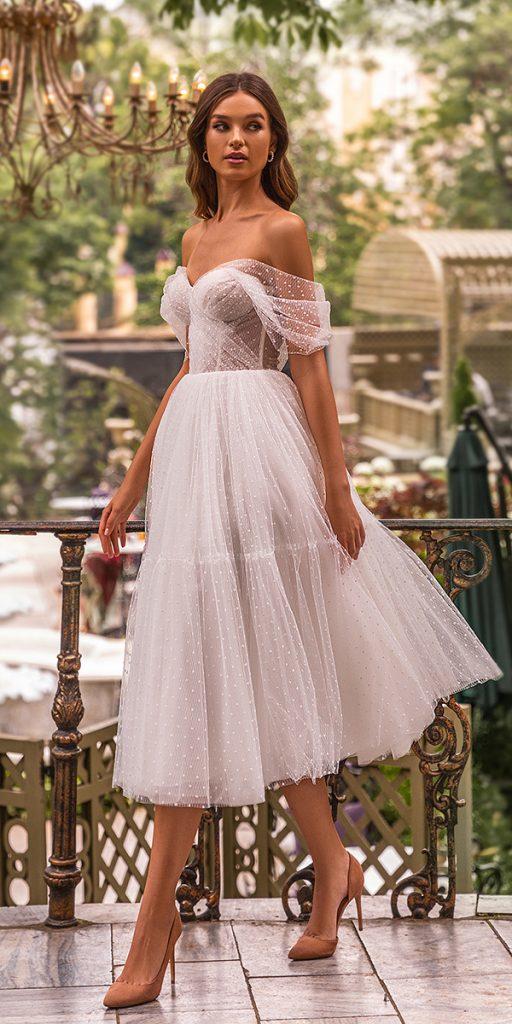 The beauty of the lace fabric especially in dresses cannot be understated. This exquisite fabric is delicate, eye-catching, and is used in making such elegant designs as would befit a stylish bride.
Allow us to assist in helping you make the best decision in choosing the lace dress for your big day.