Bridal shopping is an exciting yet daunting task, especially when it comes to plus size wedding dress shopping. This does not have to be the case as there are plenty of bridal gowns to fit any bride on her special day.
Most bridal boutiques carry sample size-8 gowns, so it can be quite stressful for a fuller figure bride to find the gown of her dreams. However, do not let this discourage you. Your dream dress is out there, sure you might need to make a few alterations, but you can find the dress you have always imagined! We have put together a list of tips that will make it much easier for you to shop for plus size wedding dresses.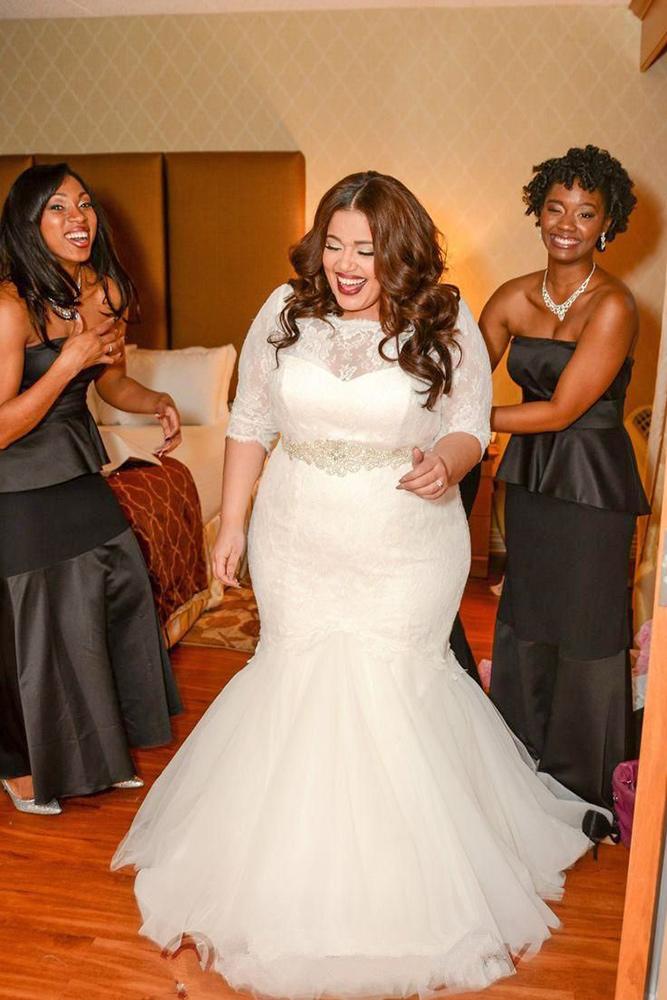 Source: Paloma Blanca
Tips To Help You With Plus Size Wedding Dress Shopping
When it comes time to plus size wedding dress shopping, you need to be your most confident self. You are beautiful just the way you are! Never allow anyone to tell you otherwise. If you feel that a salesperson is being negative toward you in any way, you have the right to refuse to work with them, take the matter the matter to management or take your business elsewhere. You are a beautiful bride and you deserve to be pampered during your shopping experience!
2. Do Some Online Research 
Before you start shopping in bridal boutiques, do a little online research to find out what salons carry plus sizes as well as which stores can make the necessary alterations. Another thing to take into consideration is they have the option to special order your wedding gown.. Also, it can't hurt to familiarize yourself with the different wedding dress styles, to see which will best flatter your frame and build.
In addition to using the internet, call bridal salons and ask them what sizes they carry. Keep in mind that most stores carry sample sizes 6-10 so not every store will have an ample range of plus size wedding dresses. In that event, you might have to special order your wedding gown and you want to get some expert advice before you book an appointment. If you get a bad vibe on the phone and the sales associate isn't supportive of your concerns, find someone else to help you in your search!
4. Consider Big Box Stores 
While you might want to avoid chain bridal stores, they tend to have a much bigger selection than privately owned-boutiques. They are a great starting point and even if you can't find your dream dress at a chain store, you might at least be able to try on different styles and see which one best suite you!
5. Take Along A Trusted Friend
If you are going to bring along a friend in your shopping endeavours, make sure that it someone who has an open mind and your best interests at heart. Take someone who is loving and support, but will not sugar-coat things just to make you happy. You want someone who will give you their honest opinion without being blunt or hurtful. Choose the person that has been your biggest supporter and only wants the best for you on your special day.
6. Listen To Your Bridal Consultant 
When you shop in a bridal store, you want to get the most courteous and helpful service possible. Find a bridal expert who is eager to work to find you the perfect dress. Remember, this is their job so they do have a great deal of knowledge and experience, so don't hesitate to ask for their opinion. Again, if they are disrespectful in any way, do not continue to work with them and find a consultation that you can trust.
7. Pay No Attention To The Size Of The Dress
Wedding dresses tend to run small, especially designer dresses that use "couture" sizing (meaning they were designed for models, who are anything but realistically propionate). Even the most demure, petite bride has often been thrown off by the size of her dream gown. Pay attention to the look and feel of the dress as opposed to the size or you will possibly miss out on the dress of your dreams.
8. Don't Forget About Custom Designs And/Or Alterations
Remember that you can add sleeves to a strapless gown, add additional details or have the dress shortened, if need be. Remember to factor alterations into your initial wedding dress budget, as they always add a bit more to the final cost of the dress. Never be afraid to ask if a dress can be custom altered to fit your dimensions, and style! (Hint: the costs for alternatives should not be outrageous, so don't fall for a ridiculously high price!)
Try on different styles and lengths of dress, you might be pleasantly surprised. You might think a strapless ball gown won't work in your favor, but you never know until you try it on. Every bride is different so make sure you keep an open mind while plus size wedding dress shopping.
Most importantly, have fun! Lose yourself in the moment and remember, this is your day! Stay true to yourself and relax and enjoy every moment of your shopping experience. Try on different accessories with various gowns and really make it an exciting time! This is your wedding and you are going to be a positively enchanting bride!