Are you looking for a place to find cheap wedding dresses? Your wedding dress should be everything you dreamed of. Sadly, not all of us have an unlimited budget and realistically, most of us have a very limited budget for our wedding gown. With all the other expenses that come along with wedding preparations, shopping for your wedding stress should be fun and not a burden.
There are plenty of places to find beautiful, inexpensive wedding dresses. You do not have to spend a fortune to have the dress of your dreams! You want every detail of your wedding day to be perfect and your dress is no exception. You have been dreaming of your wedding dress your entire life. And we are here to let you know that you don't have to give up on your dream gown! We have some great advice on how to find cheap wedding dresses.
How To Find Gorgeous Cheap Wedding Dresses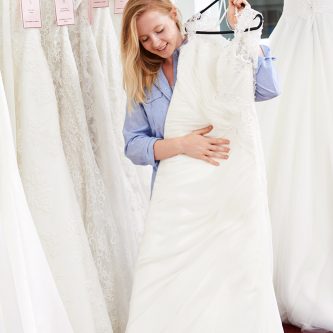 1. Think Simple Yet Classy
Your wedding gown doesn't have to be Vera Wang or Oscar de la Renta. Sure, we all dream of a designer wedding gown, but you don't have to have a customized, designer gown to be the most beautiful bride in the world. Opt for a classic dress with few embellishments. The more adornments a dress has, the more it will cost. Sure lace and fancy beading looks stunning, but sometimes simple is more elegant. You can always add personal touches of your own for a fraction of the cost.
2. Shop With An Open Mind 
Some of us have expensive tastes, and there's nothing wrong with that. However, you might not have the budget to match. If you have a certain gown in mind, you can certainly shop around to see if you can find it at an affordable rate. But don't shut out the possibilities. You might stumble across a dress that you normally wouldn't give a second glance, but once you try it on, it's love at first sight!
Also, keep in mind that ball gowns are going to be pricey, as they have a lot of material and details. Try on different dress styles to find out which one looks best on you. You might just surprise yourself. You could go in a bridal boutique looking for a Cinderella style dress and walk out with a mermaid gown or simple yet elegant A-line gown. The possibilities are endless, even on a fixed budget!
Nothing beats going wedding dress shopping with your mother and bridesmaids, but with technology changing our lives; a lot of women have been finding cheaper bridal gowns on the internet. Sites like Overstock and House of Brides have an excellent selection of fabulous and cheap wedding dresses. And if nothing else, shopping online will help you narrow down your list of options. You might not order your dress from an online retailer, but you may be browsing online and find the dress of your dreams at a local bridal boutique or even a consignment shop. Don't limit yourself, there are hundreds of places you can look to find stunning yet reasonably priced bridal gowns.
4. Consider A Second-Hand Wedding Gown
While you might initially frown upon a "used" wedding dress, think about it for a minute. Chances are it was only worn once previously. And most brides have their gowns professionally cleaned after their wedding day. If not, you can have it cleaned for way less than the cost of a new dress. The same thing applies to alterations.
You can shop at thrift shops, consignment shops or online swap sites. Ask around, one of your family members or girlfriends might even be willing to lend or give you their wedding gown. It never hurts to put it out there that you are considering wearing a second-hand bridal gown!
Wedding season is at its peak in the spring and summer months. Keeping this in mind, you have a better chance at scoring a modestly priced dress by shopping in the off-season months when wedding gowns tend to go on sale. Major bridal retailers have an "end of the season" sale to make room for the newer bridal gowns. And if you have mad bargaining skills, you might even be able to negotiate a price for the gown of your dreams. Bridal consultants generally work on commission so they would most likely rather work out a lower price than lose a potential commission.
Also, look for sample sales, trunk sales, bridal expos and charity events that feature both new and second hand bridal gowns. You never know where you might find the perfect dress at an extremely reasonable rate
Just keep these handy tips in mind when it comes time to shop for your bridal gown. You can save money and still have the wedding gown of your dreams!