Looking for a bridal gown and worried about average wedding dress cost? Here is some advice on how to determine your wedding dress cost.
So you just got engaged and now you are looking to say yes to the dress! However, not every bride has an unlimited budget as there are other factors to consider other than just the cost of your wedding gown when planning a wedding. Realistically, a lot of brides today are on their own and have to pay for their wedding out of their own finances so a designer dress might feasible. Don't let this discourage you, however, as you can still find the dress of your dreams without spending a fortune.
Advice On Average Wedding Dress Cost
According to recent research, the average cost a bride is willing to pay for a bridal is upwards of $1,564. As you can guess, the wedding gown is normally one of the biggest expenses of a wedding. Other costly expenses include the venue, catering and of course, the honeymoon.
There are brides that pay upwards of ten grand for their bridal gown, but realistically the average bride does not have this type of accessible cash flow. And while a bridal gown is a very integral part of the wedding, you honestly don't want to go for broke for a dress that you will most likely only wear one time.
As well, you need to factor in bridal accessories such as veil (or other headdress), shoes, jewelry and of course hair and makeup. Add this onto the cost of a thousand dollar gown and you may be taking close to two grand. And let's not forget about alterations and wedding gown cleaning and preservation after the wedding.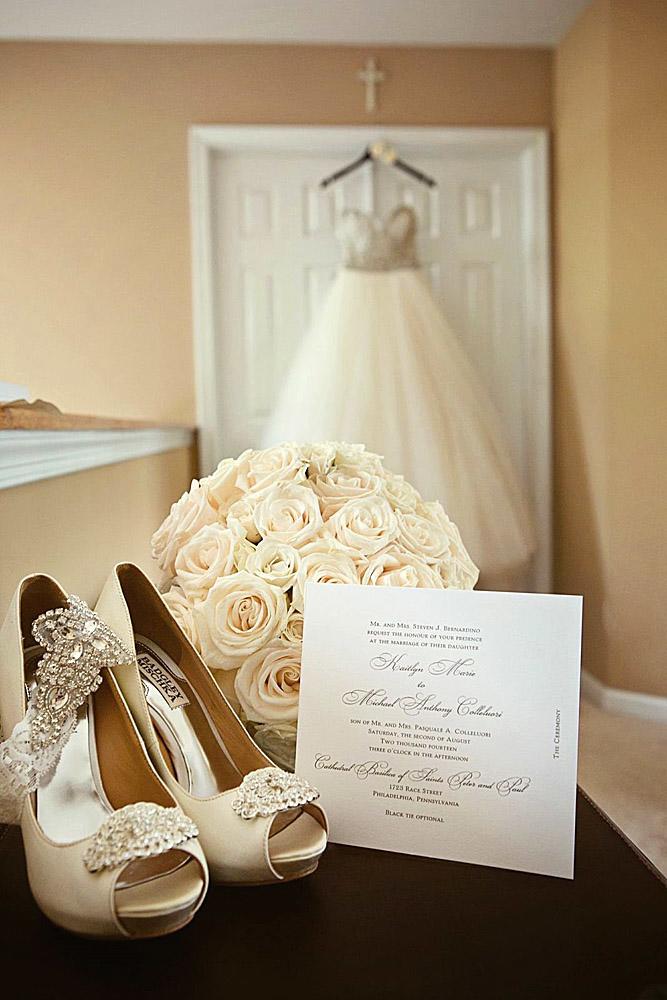 Bridal magazines can be misleading as they do not always list the prices of their gowns. They simply entice out with gorgeous photos of the bride in all her glory so that you fall head over heels in love with the dress without even thinking twice about the cost. If you want to come up with a realistic budget for your wedding, you need to set a price for your wedding gown and stick to it.
You need to decide what are your priorities for your ideal wedding budget. Do you have a dream venue in mind, a vineyard, Perhaps a destination wedding? Are you willing to chose a less expensive or fancy wedding dress in order to have your wedding at your dream location? Or would you rather splurge on the designer princes' gown and have a simple backyard wedding? Once you determine what your priorities are for your wedding, you will be up to come up with a concrete budget for your wedding and more specifically your wedding gown budget.
Factors to Consider in Wedding Dress Costs
Fabrics such as silk or satin will cost almost double the price per yard as chiffon or organza. Of course the more material your dress consists of, the more it will cost. A knee-length organza dress will be much more cost effective than a floor length satin gown.
Embellishments And Details
Bridal gowns adorned in decorative embellishments such as lace and beading will drive up the price so you must also take this into consideration when looking for your wedding dress.
Obviously, a designer gown will cost more than it is a status symbol. There are dozens of dresses that are just as stylish that are not designed by the top designers in the wedding gown industry.
Dresses are introduced by designers at least once or twice during a year. Of course, newly debuted dress designers will be more costly than dresses that have been around for a season or two. If you aren't one who is concerned with have the latest and trendiest fashion, you can find a dress from a previous season for a fraction of the cost of a newer dress.
Where you buy your wedding gown will affect the price. Of course if you shop at a top-of-the-line exclusive bridal boutique, you are going to pay a lot more than you would say if you found your dress at a trunk sale. And remember, you also have to pay fees at a bridal salon, so remember to add this onto your average wedding dress cost. If you have the budget for it, by all means, go for the salon experience. However, not every bride has this luxury. But that doesn't mean you are out of options.
If you shop at bridal outlets, bridal expos, sample sales of trunk sales, you can still find a gorgeous dress at a reasonable cost. And don't count out second stores, consignment shops and online stores. And there is always the option of renting your wedding dress. Wedding dress rentals are becoming quite trendy so do not overlook this as a possibility if you are looking to save on the cost of your wedding gown.
In addition to your bridal gown, you will have to factor in items such as veil, headdress, gloves, lingerie, jewelry, shoes and so forth. This can add upwards of $200-$1,000 to your average wedding dress cost.
If you had to special order your gown, you will need to remember to set aside some money for shipping and handling costs. And don't forget alterations!
As well, you will need to have your dress cleaned and preserved after your wedding. This only adds to your budget. For those seriously considering renting a bridal gown, you will save the money and time of having to have your dress cleaned, pressed and preserved.
Remember to take all of these factors into consideration when determining your average  wedding gown cost. If you think about these details before you start shopping, you will save yourself a lot of time, aggravation and money during your shopping experience.
No matter what your budget, we are certain that you will find the dress of your dreams!