A common dilemma for a bride getting married during the colder moths is what to wear to a winter wedding. A backless or a strapless wedding dress would certainly not be a wise choice due to the need to stay warm. Also, you should carefully consider which type of material your dress should consist of since some fabrics are warmer than others. Lace and chiffon would be much too thin unless you layered your dress with multiple skirts to provide added insulation against the elements. Another thing to consider, is the ability to accessorize your dress with various embellishments you can add to your wedding outfit. You want to make sure you choose accessories that blend with your dress and don't forget to choose the proper shoes! Let's explore some tips and tricks to make your wedding day perfect. From choosing the perfect gown to the perfect accessories we have you covered from head to toe, literally!
Perfect Fabrics For A Winter Wedding Dress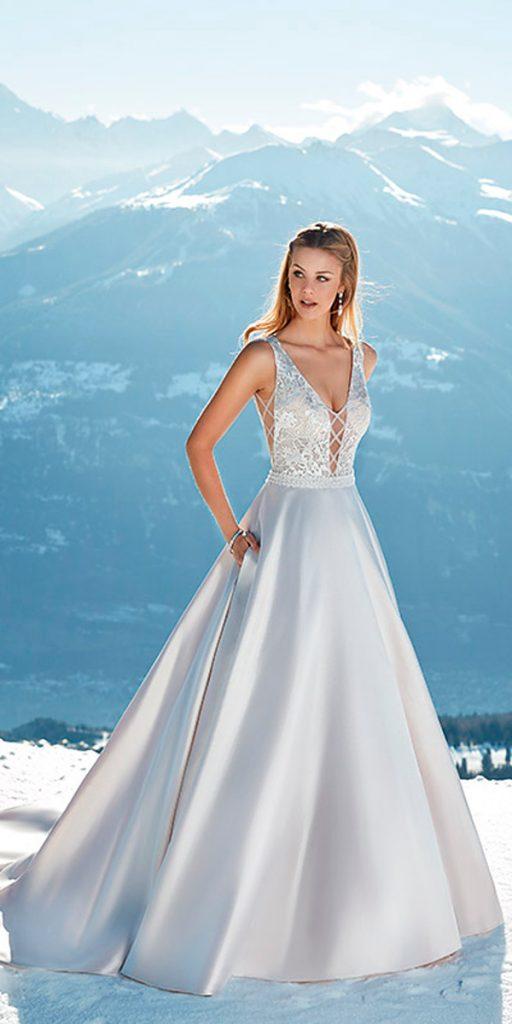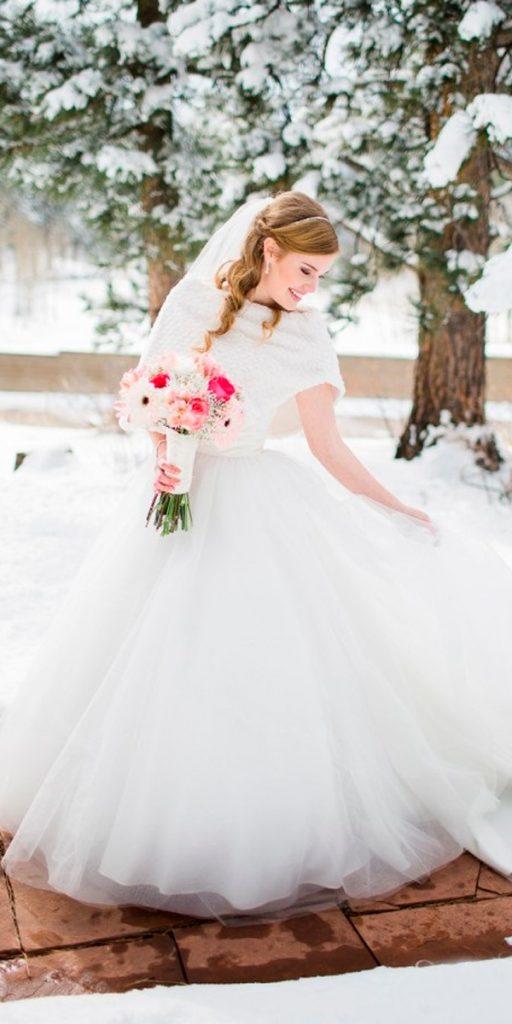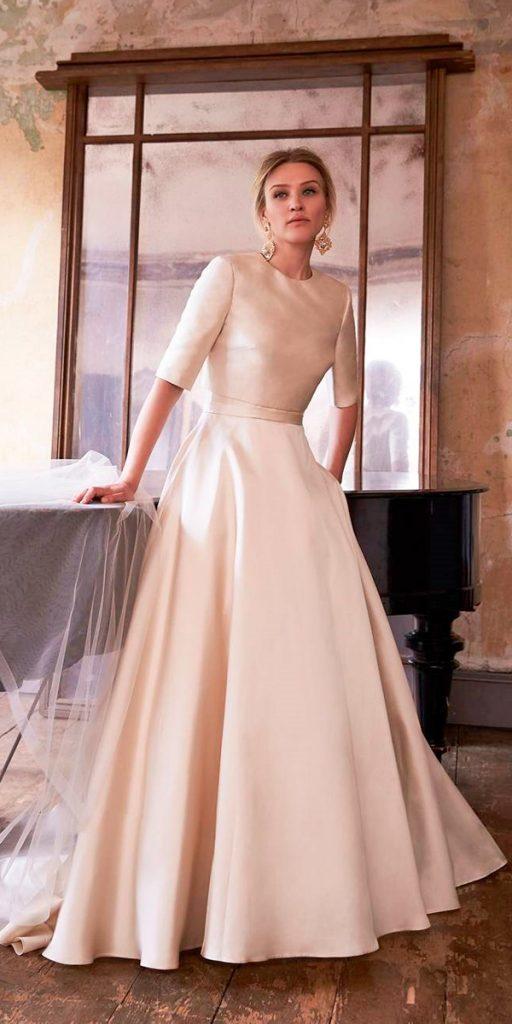 If you have winter nuptials planned, then you should apply careful consideration to which fabric your dress is made of. While there are plenty of options for wedding gowns suitable for the warmer months, winter wedding gowns are far less common. One feature that you may want to avoid is the backless and strapless options. These would be problematic when trying to keep warm during the ceremony. Even if you are having an inside wedding and reception there are still issues that arise with this type of dress. A better option to choose may be an array of velvet bridal gowns or one of the A-line winter wedding dresses. Some other options may include a silk with lace layer or a heavier silk version if you are in a semi-controlled environment where there is at least some form of heat available.
It is vital that no matter which type of material you settle upon for your winter wedding that although you want to remain warm you don't want to end up too warm. Heavy lace, crepe, tulle and thick satin are a few of the material options for your winter wedding dress. These materials will allow you to maintain the glamorous look and remain comfortable both in fit and temperature by the materials allowing a breathable aspect.
Long Sleeves Please! Why This Is A Great Option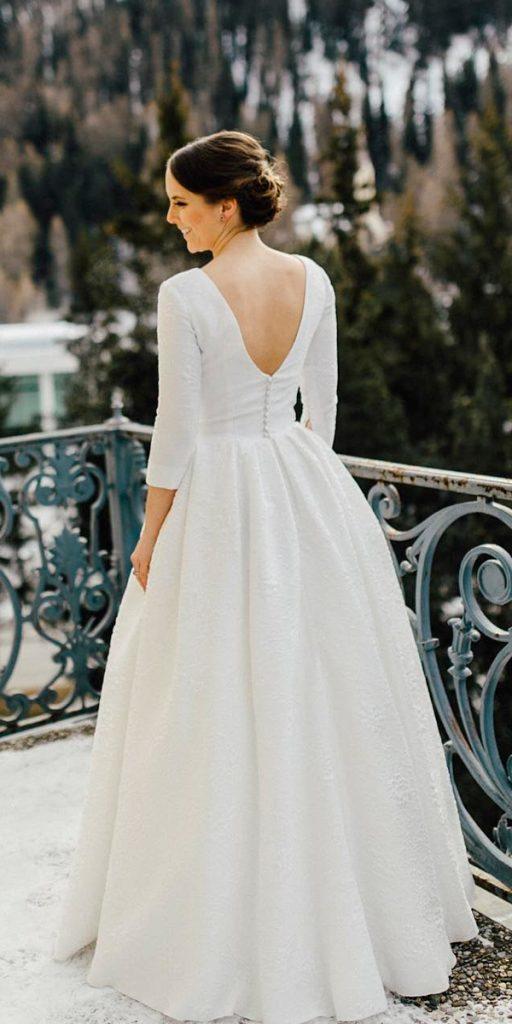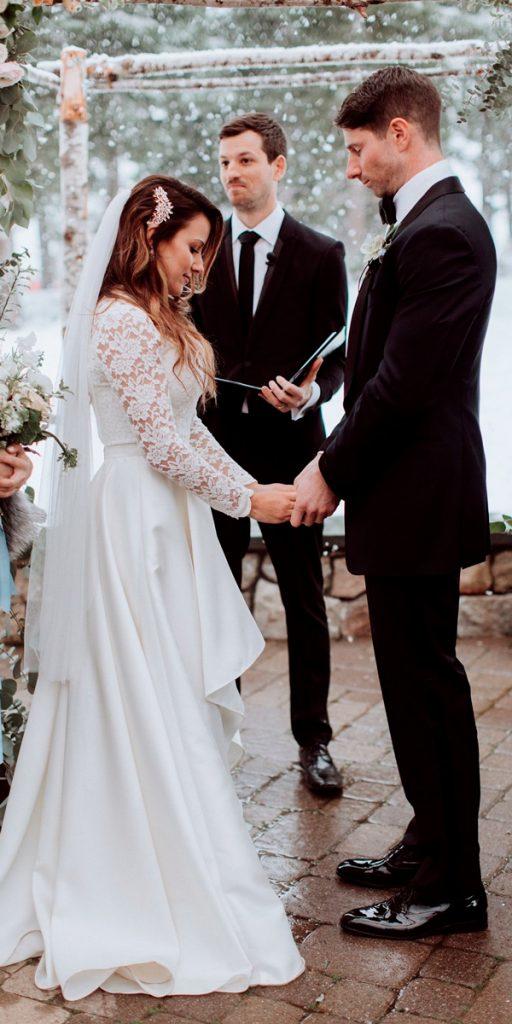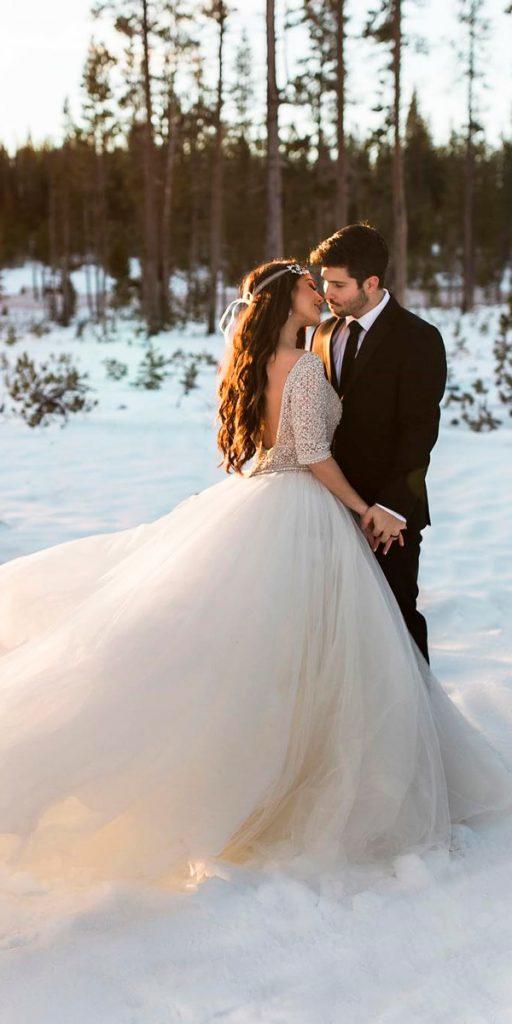 Now let's look at the option of gowns with sleeves. A wedding dress with sleeves can be a beautiful thing. A winter wedding is the perfect excuse to lengthen the sleeves to include long sleeves. The elegance that accompanies a long-sleeved wedding dress is undeniable. An added bonus of this alluring attribute is that the sleeves will help you stay warm without adding a jacket or cape to your wedding attire. A popular option for the along sleeve dress is to have a layered dress. The layer underneath could cover up to your breasts and the top layer could incorporate the sleeves.
You should still remain aware of the they type of material that you have your sleeves made out of. While you want to remain warm you do not want to get too warm. There are other sleeve lengths to consider as well such as the ¾ length sleeves and sleeve caps but there is no mistaking the elegance and beauty of the long sleeve for a winter wedding dress. It is also preferred among some women who prefer to opt for a more modest look and the long sleeve is perfect for just that purpose. The long sleeve is a gorgeous option for bridal dresses.
Wedding Dress Embellishments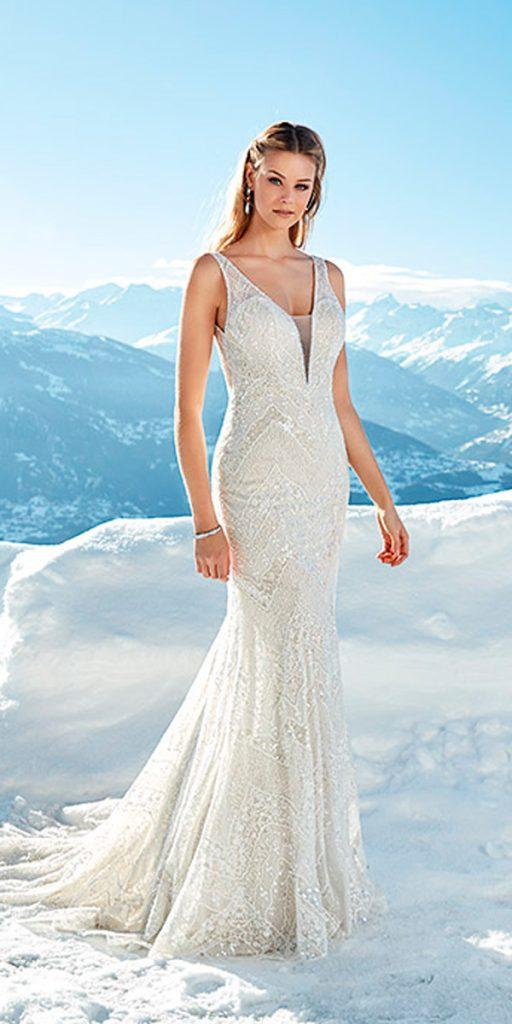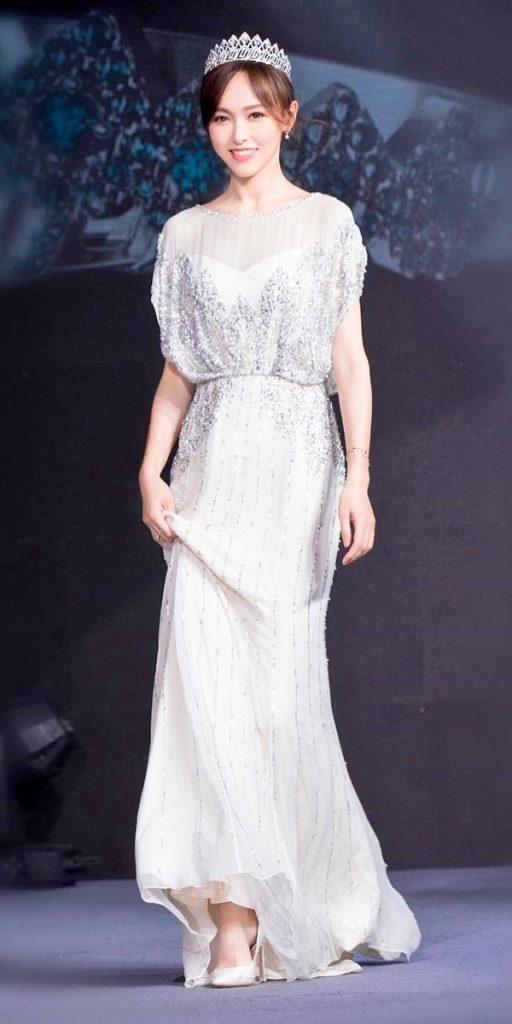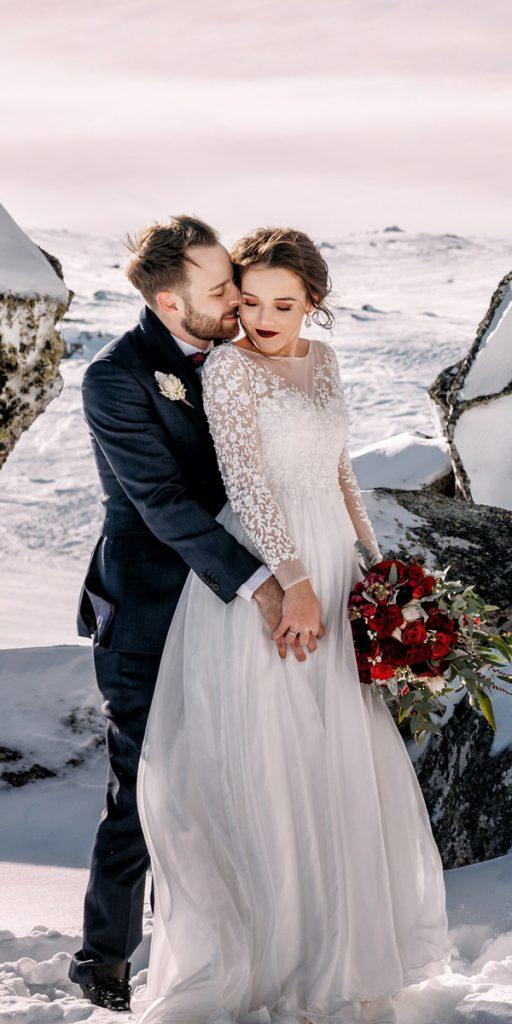 There are several different ways one can embellish their winter wedding gown. A favorite option is the sparkle metallic elements that seem to give the bride a fairy-tale look. This option is especially popular for winter nuptials due to the sparkle being reminiscent of snow and frost which are common-place during this season. If your wedding is scheduled around the Christmas holiday, then you should look for a dress that has some gold beading or ornamentals incorporate din to the design. Silver and blue accents are also acceptable to add some color to your dress as well as sparkle too.
A winter bride is unique due to the fact that most brides choose a warmer month for their big day. With this somewhat uncommon choice for a wedding this makes a winter bride a special thing. Along with the colored embellishments that can be incorporated into the dress design don't overlook the simplistic beauty of the ever-common pearls and white beads that are found in a large number of wedding dresses. Another popular option for this seasonal wedding is faux fur stole. Incorporating fur option into the lining sleeves cuffs and or hem of the dress is also an option that is typically only seen in winter wedding dresses.
The Best Color For Your Winter Wedding Gowns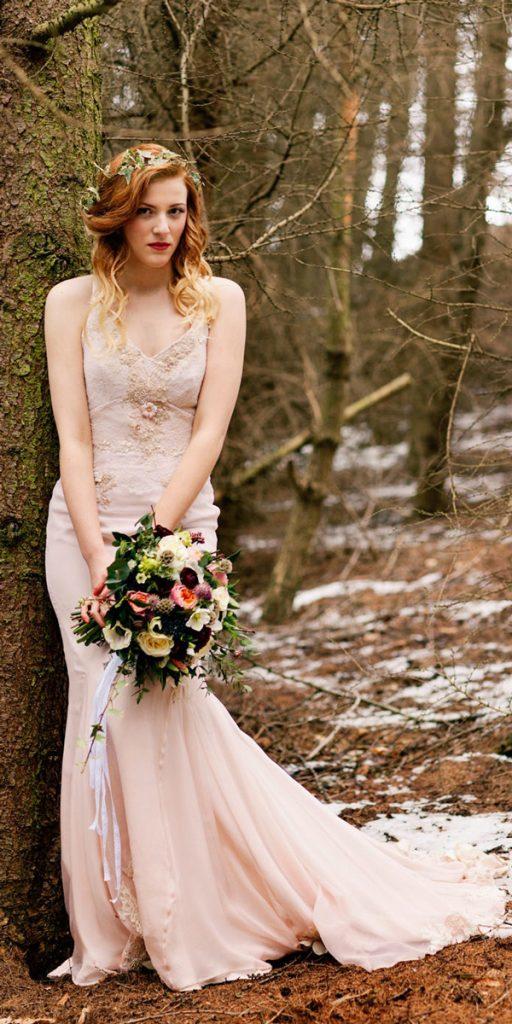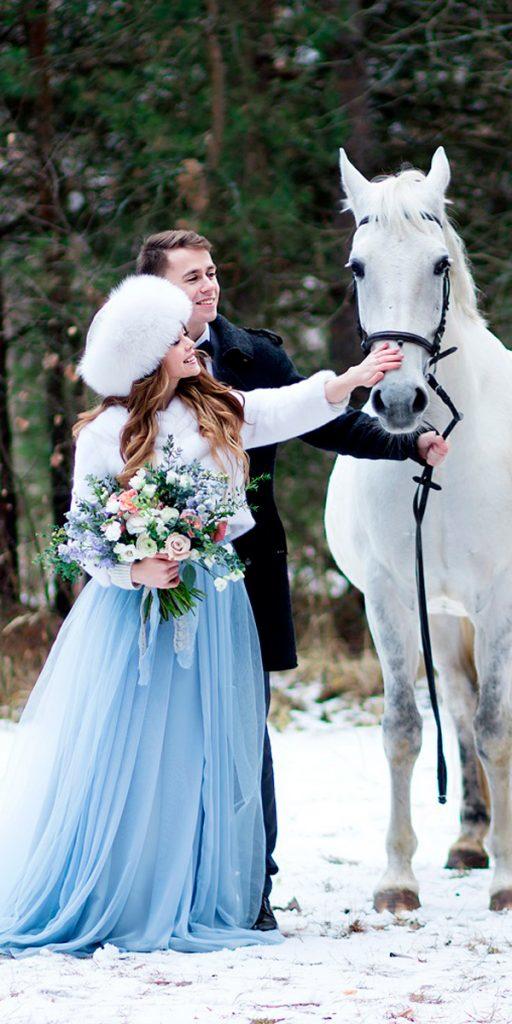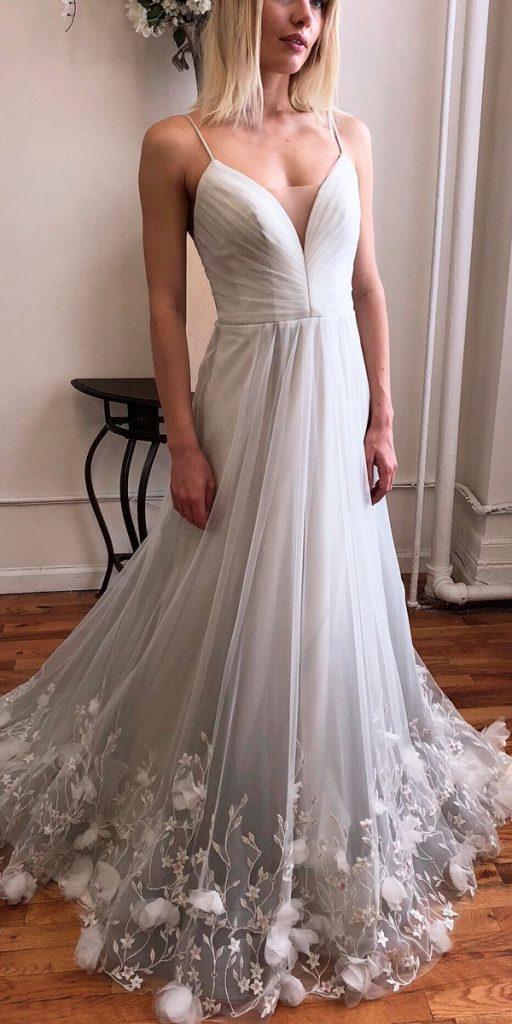 If you are planning a winter wedding don't assume that a white gown is the perfect choice. More often than not when considering a winter wedding, women are found asking themselves what to wear over a wedding dress in cold weather. The better choice is to pick a color that will help you stand out from the potential snow that may be present. After all, why else would you choose a winter wedding if you weren't hoping for some of that white, fluffy stuff to create the perfect background for some phenomenal wedding photos. While you could choose a very bold color the more acceptable option would be choosing an overlay that has a blue tint. Ivory and cream are very popular options along with other pastel colors.
In the upcoming 2019 season brace yourself for the potential for bolder colors becoming a more popular option for wedding dresses. The traditional colors are rapidly becoming tired and old and with a more daring, color-loving generation the bold colors are quickly coming to the forefront of the wedding dress scene. Brides are even wearing black satin wedding dresses and not simply in the traditional long length either. Short winter wedding dresses are becoming popular too. What was once considered a cocktail dress can now be considered a wedding dress. Long gone are the days of being stuck on the white wedding gown.
Various Wedding Gown Cover-Ups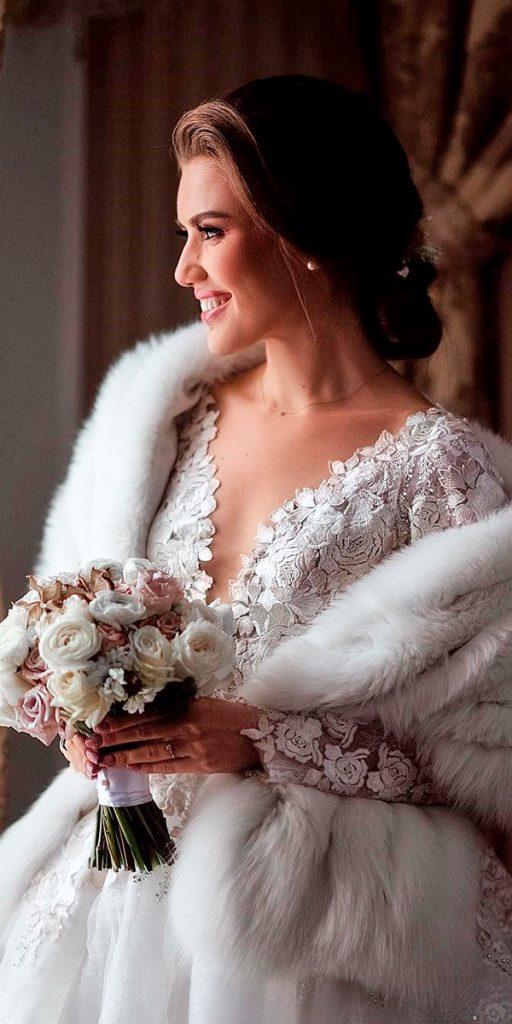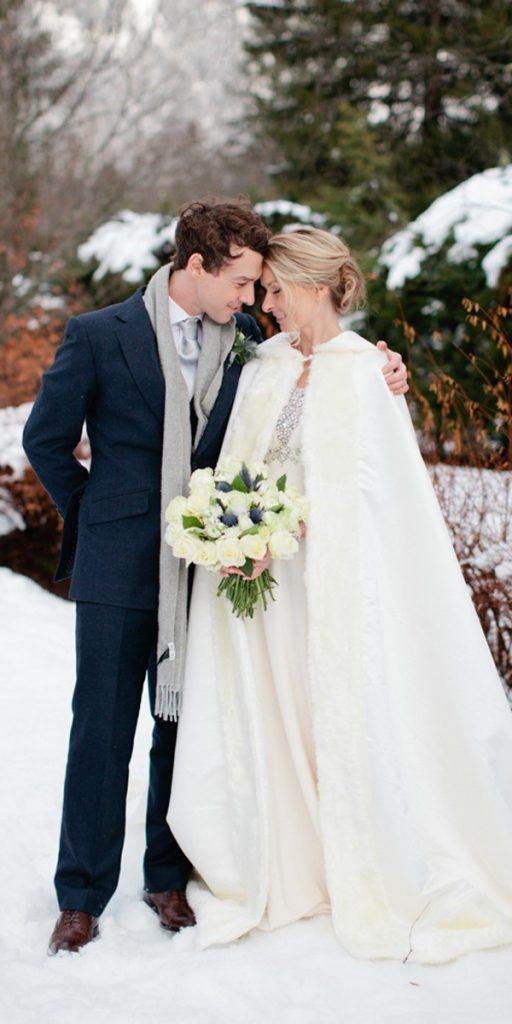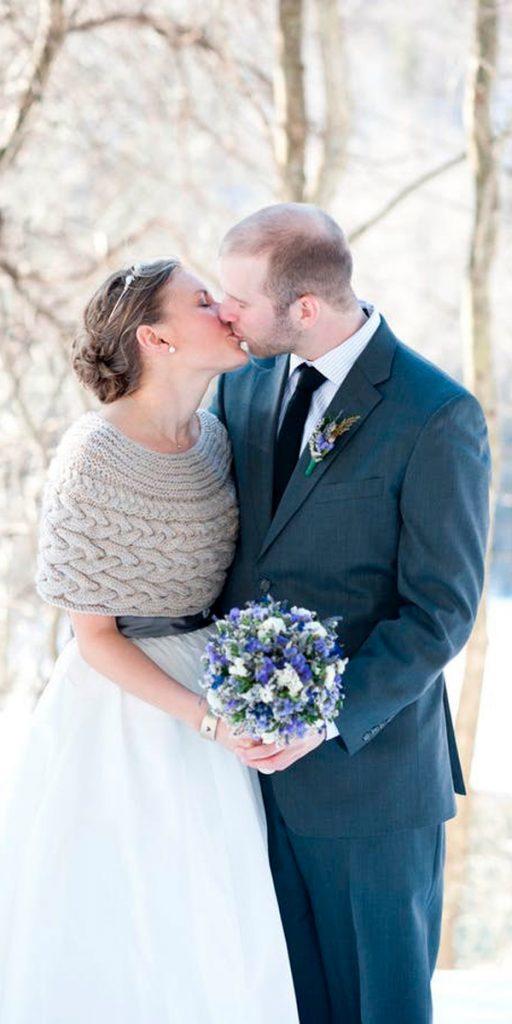 Now that you are preparing for the perfect winter wonderland wedding you can consider creative ways to stay warm during the ceremony. There are several options that can be incorporated into your wedding theme and design. From chic and modern to bohemian and non-traditional brides there are beautiful options no matter which look you want to achieve.The following is a compilation of various types of cover-ups with descriptions to help you choose the perfect cover-up to accessorize for your wedding attire.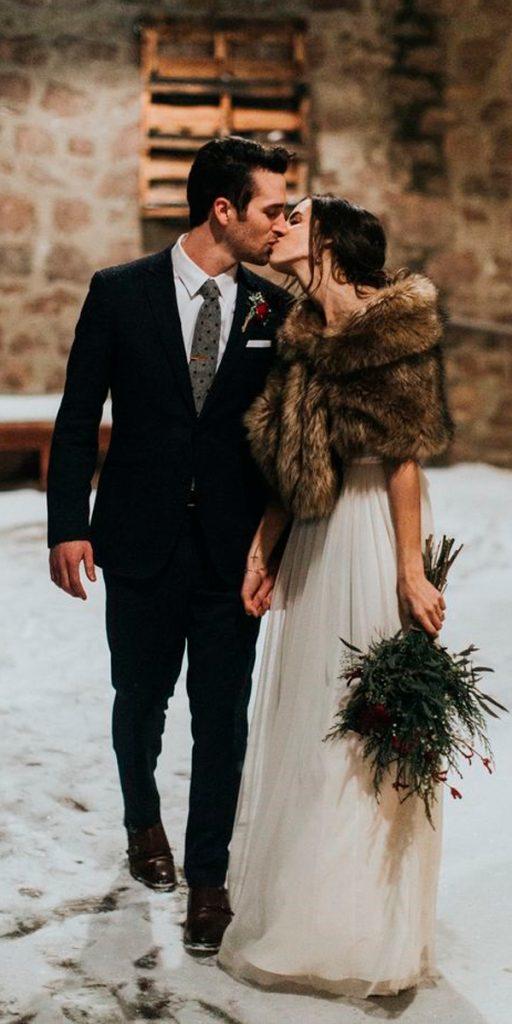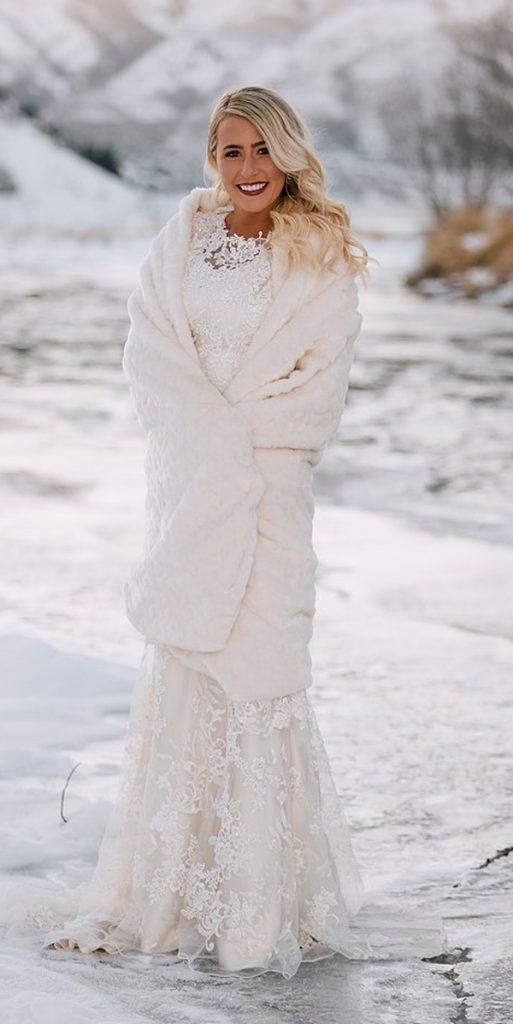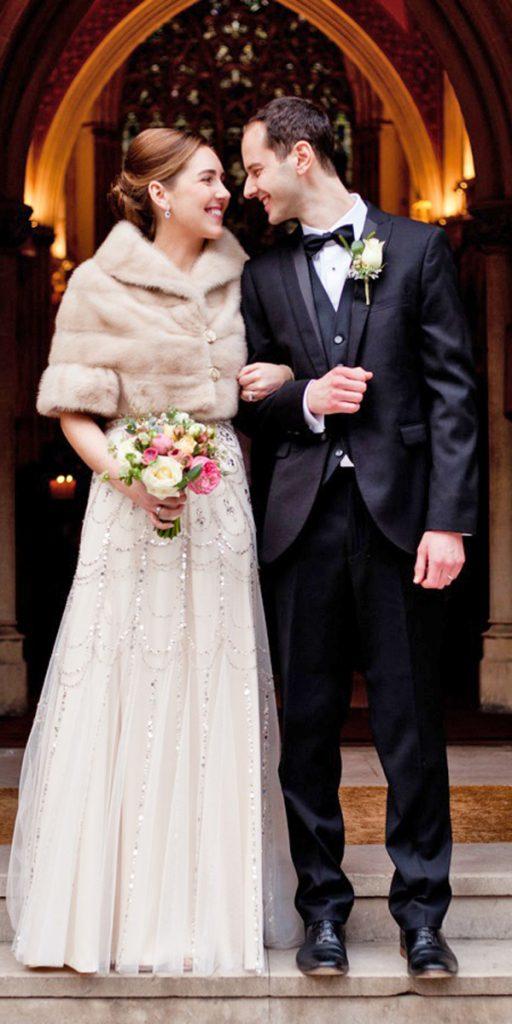 Read about various cover-ups!
Laced Bolero- covers the shoulders and adds bling to your strapless dress;
Faux Fur Wrap- perfect for an outdoor wedding;
Beaded Capelet- delicate piece more for adornment than for warmth;
Tuxedo Jacket- sophisticated and chic for a more modern look;
Sequin Cardigan- full on sparkle that can tie your color theme into your dress;
Faux Fur Jacket- plenty of warmth and glitz to draw everyone's eyes to the bride;
Velvet Blazer- perfect for warmth and contrast, also multi-functional for use after the wedding;
Denim Jacket- perfect for country themed weddings;
Leather Jacket- perfect accent for a biker wedding or a more edgy theme;
Lace Crop Top- modern look that couples with a variety offull skirt options;
Pattern Sweater- great way to incorporate color or potentially use a family heirloom (grandmothers sweater) in your wedding;
Flannel Shirt- looking for elegant yet down to earth vibe, wear his or your favorite flannel;
Feather Shawl- romantic and retro accent to your attire;
Colorful Cardigan- yet another way to add color and incorporate family heirloom pieces into your look.
As you can see these are only a few options to give you an idea of various types of cover-ups. No matter what your taste, style or theme is, there a cover-up to suit your needs.
Acceptable Accessories For Outdoor Winter Wedding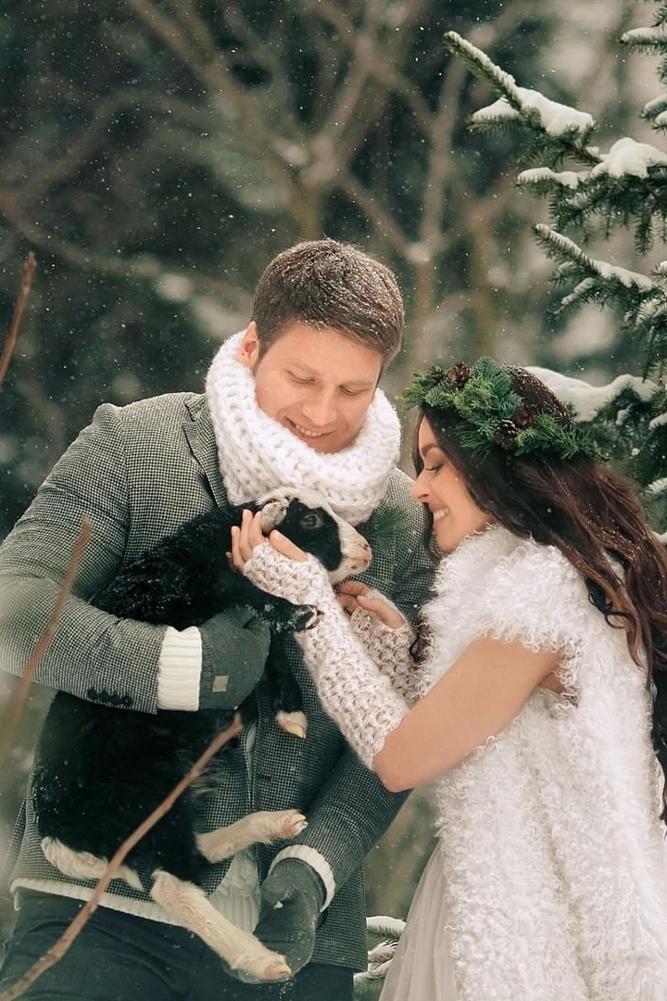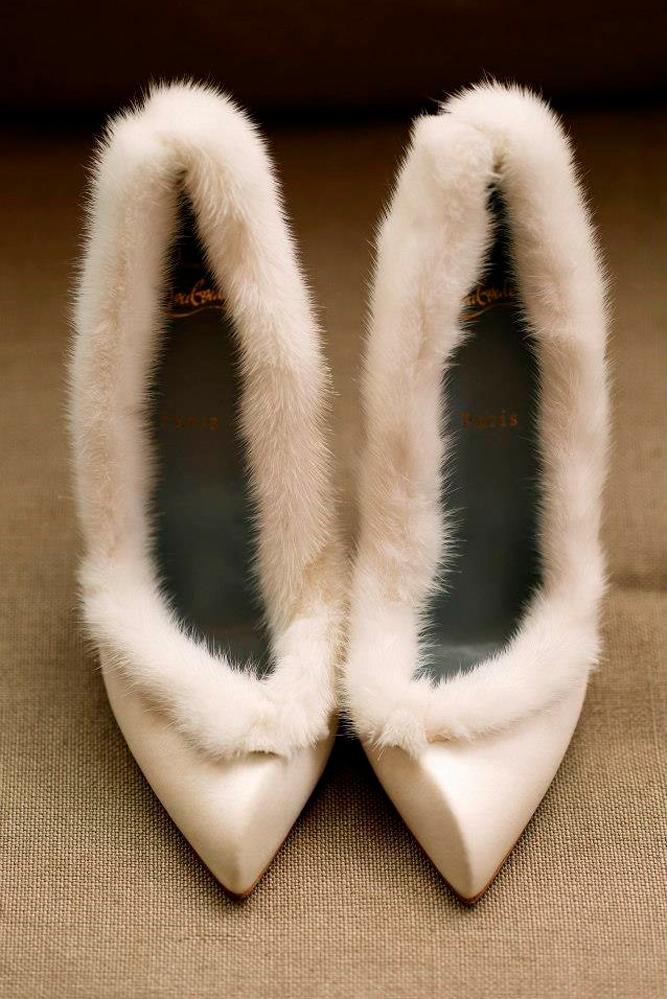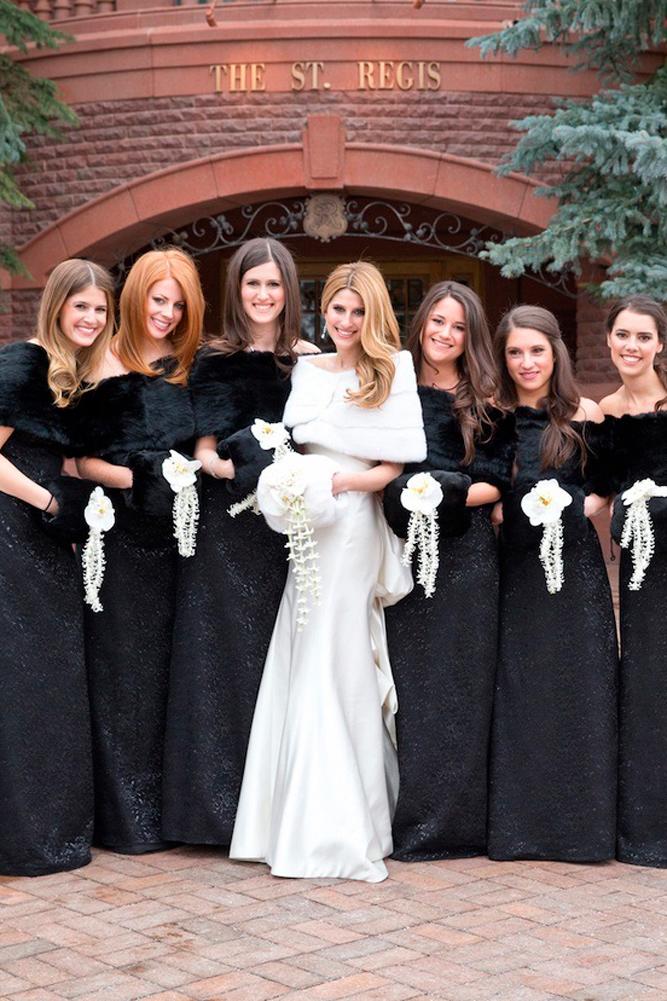 While the cover-ups mentioned above are one of the most popular accessories for an outdoor wedding a close second would have to be something to keep the hands warm. One of those options, winter wedding gloves, is rather obvious but can be somewhat cumbersome. For instance, if you are exchanging rings the gloves can be a hinderance during this part of the ceremony. Another option would be a faux fur hand muff, but this too can get in the way making if difficult to manage a bouquet.
Some additional types of accessories include headpieces, trains and hats. There are some important things to consider when weighing out these options. If you are looking for an option that is optimal for warmth it would have to be the hooded cape. If placed properly this option doesn't interfere too greatly with the bride's hairstyle. On the contrary on that statement a hat option wreaks havoc on any hope of a presentable hairstyle should the need arise to remove the hat. There are several different kinds of headpieces that can be customized to fit perfectly into the design of your dress. These include but are not limited to tiaras, headbands, winter flower crowns, etc.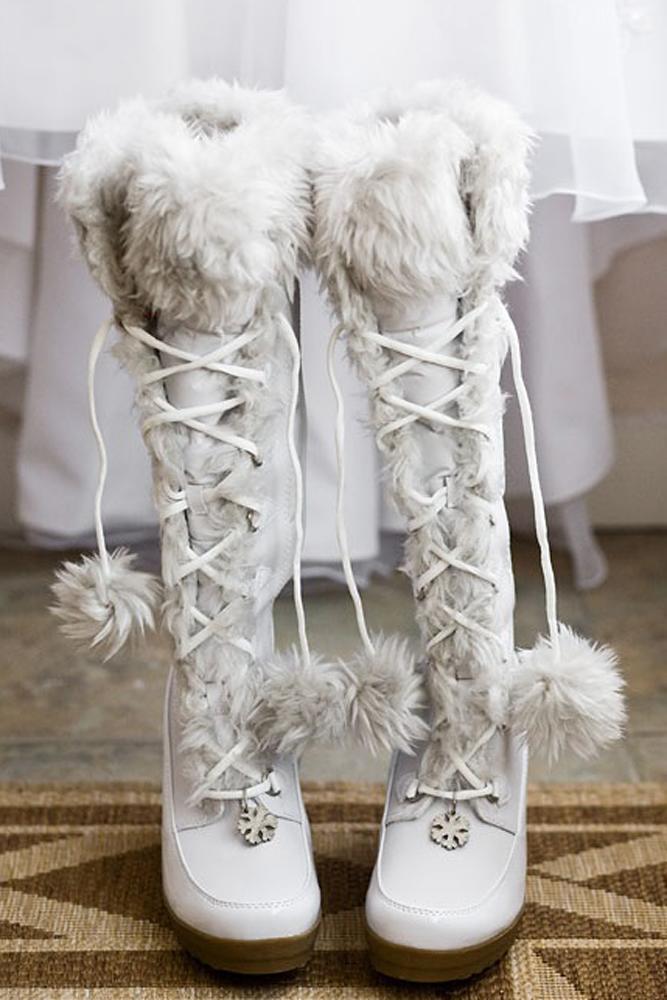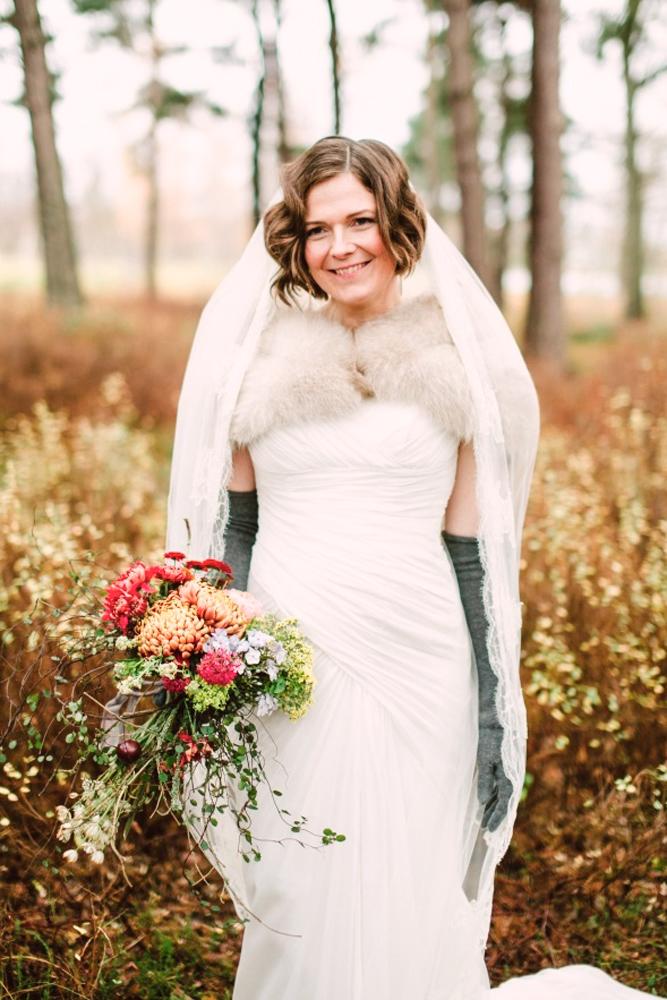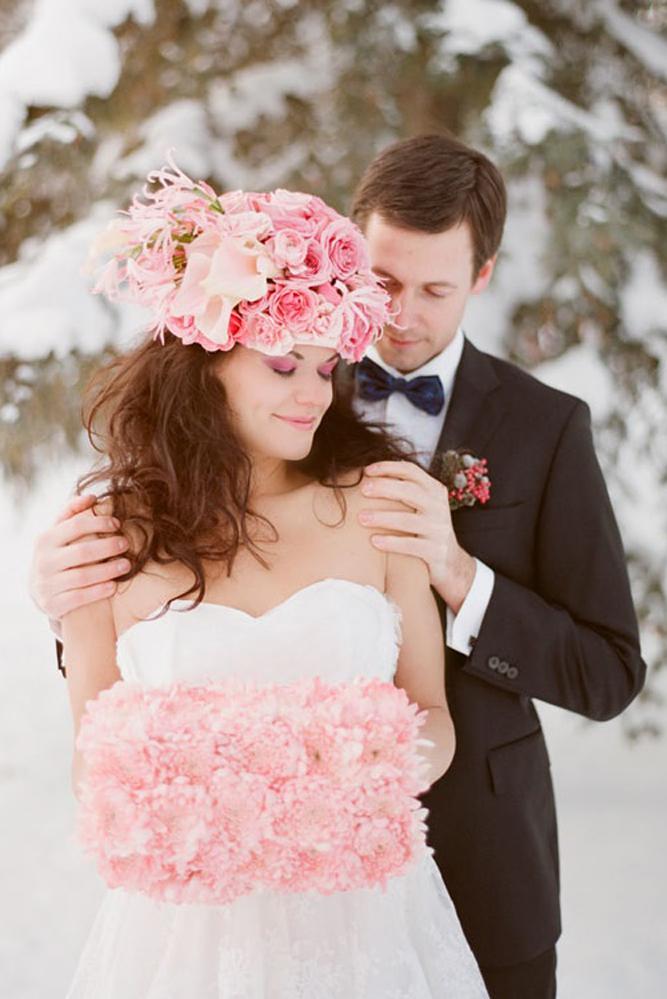 It is important to take into consideration if you are planning on having a train added to your look that you need to be acutely aware of the length and the conditions. If a train should get weighted down or damp with snow it can not only get damaged but be a pain in the neck for the bride to manage, literally!
One of the brides most important accessories would have to be the ones that adorn her feet to get her down the aisle. For a winter wedding boots are certainly an option, especially if it is a country themed wedding. Another option for the winter theme may be velvet shoes. These accommodate the fairy-tale theme rather well and manage to keep the piggy's warm at the same time.
Wrapping Up the Package
The real secret to finding the perfect dress and accessories for your look is to try on several and even many different looks. Something that may appear hideous on the hanger may look phenomenal on you once you put it on. Keep in mind to not get pulled towards the summer dresses and to try to stick with the dresses that are made of heavier fabrics. Chiffon wedding dresses in the style of a ball gown would be an exceptional choice. There are other options that one can look into as well that may seem foreign as a consideration. One of these being a velvet bridal gown another being a winter mermaid wedding dress. The mermaid style dresses are typically reserved for formal events such as proms and dances but there is no more special of an occasion than a wedding.
If you should get stuck on a summer wedding dress all is not lost. If you are set on that dress and nothing else will do, then have your seamstress add a satin lining to the dress to make it warmer without adding too much bulk.  Don't be afraid to add some flash and bling to your get-up. Blankets are also good things to incorporate into your wedding, especially if these blanks have some sentimental value such as being hand-made by a loved or even a hand me down. These can be easily included in the wedding photos and used as a back drop or in other various ways. In the end, your wedding is your wedding. Whatever options you decide you like are the options that you should choose. Don't allow the wedding party or loved ones to live vicariously through you and attempt to make your wedding their own. Satisfy your tastes and preferences and you are sure to have a day you won't forget.