Unless you've arranged otherwise, most wedding ceremonies involve the exchange of rings to symbolise the union you have undertaken. As there are no legal obligations to wear a ring, some people choose to exchange rings at the ceremony, but not wear them everyday.
Wedding rings are one of the hidden costs of a wedding. Many couples get so caught up in the organisation of the day, that they forget to budget in the cost of the rings. It is usually best to select, order and pay for your rings quite early so that you've completed one aspect of your organisation.
Some couples choose matching wedding bands, but there is no tradition that says this is essential. Bands may be ornate or plain, and can be chosen in a variety of materials such as yellow gold, rose gold, white gold, platinum, and silver.
When selecting a ring, the bride-to-be should be aware that if she is wearing an engagement ring, the wedding ring will need to compliment it, so it is a good idea to choose both at the same time.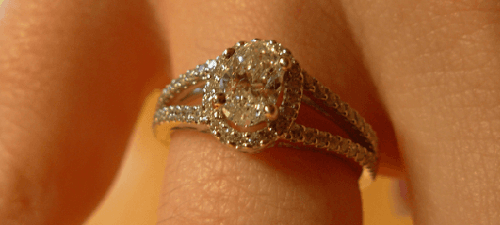 It is also important to be take note of the carat of these rings if they are gold….it is not wise to mix the carat of your rings as the more vulnerable ring may wear with time. For example, a 9 carat gold ring has less gold content than an 18 carat ring, and instead is combined with stronger metals. If you pair a 9ct and an 18ct ring, the stronger 9ct ring may rub against the softer 18ct and cause damage over a period of time. The rule is, the higher the carat of the gold, the softer the ring is as the gold content is higher. Most engagement and wedding rings are made in 18ct gold, but 9ct is acceptable as a stronger and cheaper alternative.
At the wedding ceremony, the ring is usually held by the best man until required for the service, or tied to a pillow held by a ring bearer (usually a young boy). The bride should remove her engagement ring for the ceremony (maybe wear it on the ring finger of her other hand), so that the wedding ring may be slipped onto her left ring finger by the groom. Once the ceremony is over, the engagement ring may be put back on without removing the wedding ring. The idea is that the wedding ring is closest to her heart.