When many people think of wedding cakes, they think of a fruit cake and marzipan. Although you can still go for a traditional cake, it is also possible to choose modern options, or even combine both!
Some cake specialists require eight to ten weeks notice to prepare your cake. Make sure that you don't leave this aspect until the last minute, particularly if you want an original cake for your wedding.
Before selecting a cake and placing an order you need to decide what purpose your cake is serving and let your cake specialist know.
If your cake is a coffee cake (i.e. not being served as dessert at your reception), then slices per person only need to be about finger size, and usually only about 70% of your guests will have it with coffee or to take home.
A cake which is to be used for dessert should be more generous in size (about 3 times larger than the coffee serve) and you need to ensure that every guest attending is included when calculating portions required. Remember also that some venues will charge you to serve your cake as dessert, due to the labour involved and any extras they add to it for presentation.
Savour the Flavour
There are so many flavours of cakes you can choose from for your wedding. Try something new, or try a combination with different flavours for the different layers or tiers of your cake!
Choose from flavours such as:
Traditional Dark Fruit Cake
Chocolate, White or Caramel Mud  Cake
Hazelnut Torte
Vanilla Sponge
Continental Italian Torte
Blackforest Cake
Rum Torte
Carrot Cake
Chocolate, Orange or Coffee, Butter Cake
Grand Marnier Cake
Croquembouche (Profiteroles)
Before you choose the flavours for your cake, ask your cake specialist if you can have a taste. Remember, not only do you have to enjoy it, so do your guests.
Icing on the Cake
Wedding cake icing, known as Peltinice, or Plastic Icing, can go on any cake flavour.
Marzipan is an almond flavoured icing that is applied beneath the Peltinice. It is not essential to have marzipan on your wedding cake. Cakes with a marzipan layer tend to have a much thicker icing.
When discussing the cake decoration with your specialist, take material and flower samples with you so they can make a cake that truly coordinates with your wedding.
Storing Your Cake
To keep a fruitcake for any extended period of time, it is advisable to preserve it in an air-tight container and inside a deep freezer. You do not need to remove the decorations or flowers.
If you do not have a suitable container, you may wrap it in foil or plastic wrap in order to protect it from any outside flavouring. If the cake is preserved properly it can last up to 5 years.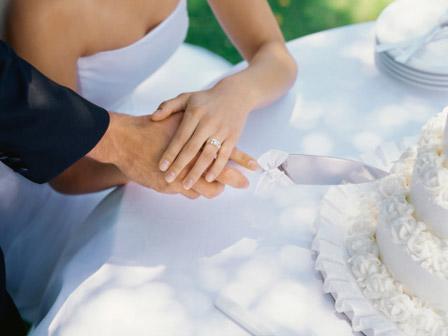 To thaw the cake out, take it out of the fridge one week prior to using it and leave it in the bottom section of your fridge, or at room temperature. It will initially look "wet" and like it might collapse, however it will take on a normal appearance within a day.